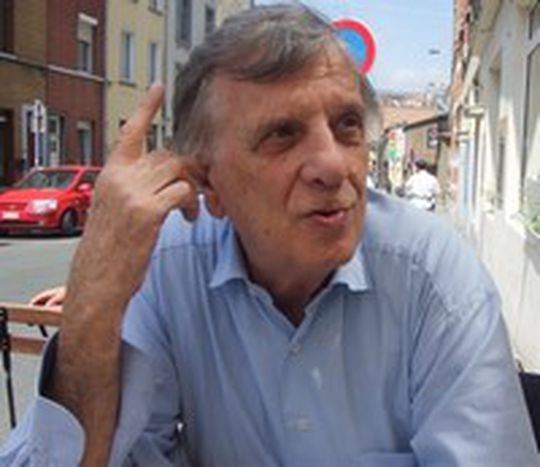 Ferdinando Riccardi: 'the meaning of Europe is reconciliation'
Published on
Over the last 50 years, the 77-year-old has witnessed the initial stages of the evolution of a Union undergoing total transformation. Editor and columnist for daily bulletin Agence Europe, the EU's press agency, this Italian in love with Brussels is still an unwavering federalist
A large building, laid out beneath the Brussels sunshine, red bricks and a small park, a printing press on the ground floor, three stories of offices buried under mountains of paperwork, with cartoons and newspaper articles stuck on all the walls. Daily bulletin 'Agence Europe' is a key source of information for European business professionals, and is translated into three languagesm before thousands of copies are distributed across both the physical and electronic world.
Ferdinando Riccardi brings his morning editorial meeting to an end - 'I'll be there in 5 minutes! Did you get my article okay?' The journalists add the finishing touches before the newspaper goes to the printer. Next, a quick coffee en route to the corner cafe for brunch. A tall, handsome man with grey hair and bright eyes, Riccardi sits in the sunshine, a large coffee in front of him. He begins to tell me how he began his journalistic career writing about sport. He financed his studies in modern literature working as a sports reporter. 'It wasn't really my passion, but I enjoyed going to watch the football matches,' he explains.
Riccardi settled in Brussels in 1958. At the time, Agence Europe was based in Luxembourg and was looking for a journalist to open a small branch in Belgium to follow the first steps of the European Economic Community (EEC) and Euratom which were opening in Brussels 'on a provisional basis.' Riccardi, then a sports journalist based in Paris, accepted the position immediately. Since then, he hasn't left the field of European current affairs. 'The provisional situation has simply continued,' he adds, with a smile on his lips. 'Next year, it will be a provisional half-century!'
The importance of peace
'Firstly, I'm not politically motivated, but just in favour of a united Europe… because everything I love is European.' Riccardi understood the importance of peace at a very young age. 'When I was 14 or 15, my elder brother was arrested for 'anti-fascist' behaviour by the militia,' he remembers. 'He died in a concentration camp at 16 years old.' Silence. In 1945, the two brothers wrote pleas on their little typewriters imploring the Italians not to respond to Mussolini's call to arms in defence of northern Italy after the Allies landed in the South.
'I could have ended up hating or resenting Germany,' Riccardi continues, 'but I couldn't because I adored German culture. For me, the meaning of Europe is reconciliation.' This view contrasts with that of former president of the Commission, Jacques Delors, who calculated that, on average, Europe was at war every twenty years. 'According to him I should have lived through another three wars,' says Riccardi ironically.
After more than half a century, he still works for Agence Europe. This is surprisingly loyal for his profession. On behalf of all journalists who seriously question their role in society, I ask him whether he thinks that his editorials have had an impact on community debates. 'Perhaps,' he replies, with passion in his eyes. 'In any case, I hope that I have played a role in improving understanding of the Common Agricultural Policy (CAP)' - a badly managed programme which, according to Riccardi, should not be based on commercial objectives but rather on protecting the environment, self-sufficient farming, and the global fight against hunger. One thing is certain: discussions on the matter are far from over.
Dreamer at heart
Even after his long years at the heart of the Union, Riccardi still wants to appear realistic. On 21 and 22 June, the European Council reached an agreement, described as 'modifying', concerning the new document which is to replace the constitutional treaty. 'It's all about compromise,' he emphasises.
'So criticism is inevitable; if everyone in the world was happy, it wouldn't be a compromise…What matters is that it allows Europe to move on and overcome the rigid institutionalism resulting from the French and Dutch vetoes in May and June 2005. The essential elements of the Constitutional treaty will be upheld; that's the most important thing,' he adds.
Nevertheless, it is not forbidden to dream. What does this honoured observer of European development ask for from the fairy godmother Europa, this long haired creature, kidnapped by Zeus and turned into a bull? A funny question. Ferdinando Riccardi laughs. 'To be able to witness the emergence of individuals as brilliant as Praxiteles in Greece, Dante in Italy, Bach in Germany, and obviously Shakespeare in England.' The list is long, the future wide open.
Translated from Ferdinando Riccardi : « Le sens de l'Europe c'est la réconciliation »