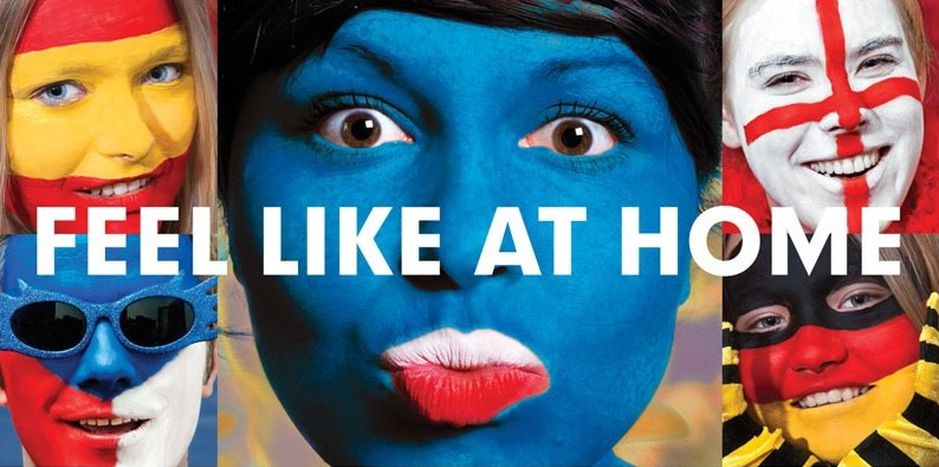 Feeling at home in Warsaw, 'migrant magnet'
Published on
Translation by:
Ian Winstanley
Upon arriving in the Polish capital during the euro 2012 football championships, visitors were greeted by a poster on the front of the Warsaw central railway station inviting them to 'feel like at home'. Yet it's not only football fans who are flocking to the up-and-coming metropolis on the banks of the Vistula, but increasing numbers of people to study and work in the city too
José Villacampa works on the 21st floor of one of Warsaw's tallest and most modern buildings. When he came to the Polish capital six years ago 'for matters of the heart', people said he was crazy. At the time, the Poles were the ones who were leaving in search of work and heading for the west. Yet the lawyer, who specialises in Spanish and Polish company law, has no regrets about his decision. His clients, mostly Spanish construction companies, are becoming increasingly interested in the eastern European markets. This can be put down to the economic crisis back home. 'In Spain, houses have been built which no-one needs as well as airports which never see any planes land,' explains José. 'In Poland, by contrast, there is a genuine demand for roads, motorways and railways.'
Prosperous Poland
Since Poland joined the EU in 2004, Spanish companies have not been the only ones drawn to the country. After London, Warsaw is currently the most attractive city in Europe for entrepreneurs looking to start a business. There is a lot of investment, living standards and income are constantly rising, and the growing middle class is believed to consist of particularly enthusiastic consumers. The country's image is undergoing a transformation. José believes that euro 2012 has also had a role to play in bringing about this change. 'For Spaniards, coming to Poland is something of an adventure. They think of it as a cold, grey, socialist country. When they arrive, they are surprised to find shopping malls and fast-food chains; they are surprised to discover that they can have fun here too.'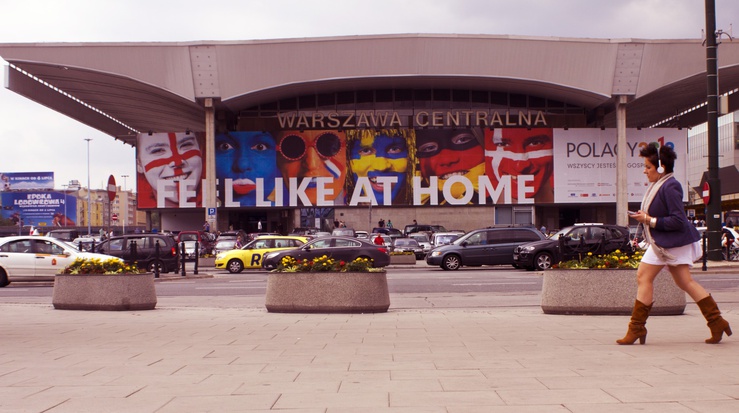 There are entire house fronts covered with promotional posters advertising cars and films; the glitter and sparkle of shopping malls light up the city; meanwhile, eye-catching flyers are being handed out to passers-by on every street corner, and in street cafés, people are sitting under parasols printed with advertisements. Warsaw is a colourful city. In fact, it is literally brimming with colours. Yet when it comes to matters of cultural diversity, the city is rather monotone. Those who adore the mixture of different languages, religions and cultures typically found in major cities will find themselves disappointed. This is because Warsaw practically has no foreigners. Nevertheless, José enjoys living in Warsaw and speaks Polish fluently. 'To be successful, you have to become Polish; you have to fit in,' he points out. As a rule, Poles tend to be mistrustful of foreigners, but there is a sense that things are changing, he adds: 'Many people have worked abroad themselves and come back with new experiences, a greater sense of open-mindedness and perhaps even a foreign partner.'
Economic growth: the Warsaw I know
'Five or six years ago, a foreigner in Warsaw was still considered out of the ordinary,' says Piotr Bystrianin of the Ocalenie foundation (literally 'salvation foundation'), an organisation which provides assistance to migrants in the form of language courses and support in looking for a job. With foreigners making up only 2% of the total population, Poland has the lowest percentage of foreigners in Europe. 'However, this figure is now noticeably rising,' says Piotr. The influx is not made up of Europeans alone. The majority of foreigners come from beyond the country's eastern borders, in other words, from Ukraine, Belarus, Russia and Georgia. In days gone by, these migrants would continue their journey into the west; nowadays, they stay here.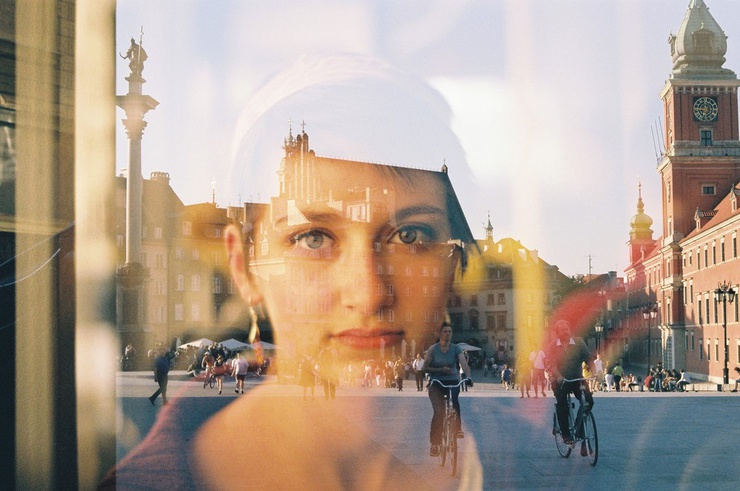 Olga originally wanted to study in her home country, Ukraine, 'but to get a place to study at university, I would have had to pay bribes,' she explains bluntly. 'I found that unfair.' Olga is now studying international relations at the university of Warsaw. At first, she struggled because of the language. 'But many of the professors and students have been abroad themselves and understood that it was difficult for me,' she says. Olga's residence permit is tied to her place at university. If she were to fail her exams and lose her university place, she would have 45 days to leave the country. For her residence permit, she has to provide evidence once a year that she has sufficient savings to cover one year's studies, rent and living costs. 'It's a lot of money and I don't come from a wealthy family,' she says.
'To get a place to study at university in Ukraine, I would have had to pay bribes. I found that unfair, so I came to Warsaw'
As a Ukrainian, finding well-paid, legal work is no easy feat. 'Many of us work as cleaners, construction workers or strawberry pickers. The Poles think of us as cheap labour.' For two years, Olga was unable to travel home and the visa which her parents needed to visit her cost half a month's salary. Moreover, Polish friends had to write them an 'invitation', a document certifying that they would be able to support their guests financially should it be necessary. Immigrants entering the country from the east have been subject to strict regulations ever since Poland's eastern border became a Schengen border in 2007. Nonetheless, Olga believes that her decision to come to Poland was the right one. 'There is no future in Ukraine,' she says.
Lost generation
'A lot of things still have to happen before Poland becomes a country of immigration,' says Piotr. He believes there is less of a problem in Warsaw, where people are wealthy and educated, but in the countryside, where unemployment is high, it is difficult for foreigners to integrate. Up to now, migration has hardly been an issue in public and political debates. None of the parties indicate a position on it in their manifestos. Organisations such as Ocalenie foundation receive little support. 'We work from one project to the next,' says Piotr. 'At the end of the year, we often do not know how the future is going to pan out.' Piotr believes that Poland is benefiting from the migrants. Because of the high numbers of people emigrating to western countries, there is a skills shortage. Moreover, like many other EU countries, Poland has an ageing population. 'Somebody has to take care of the elderly,' he explains. He views the country as being old-fashioned, conservative and not very liberal. 'It can only make progress if it opens up.' Piotr hopes that Poland will learn from the experiences of other immigration countries. 'We have a chance to do things better because immigration is only just getting underway here.'
'We have a chance to do things better because immigration is only just getting underway here'
Euro 2012 has given Warsaw an opportunity to try its hand at playing the host. The 'Feel like at home' campaign, meanwhile, has caused a stir because the slogan's authors failed to spot a mistake in the wording, which actually ought to read 'Feel at home'. The little gaffe will soon be forgotten. The football fans have made their way home, so the welcome banner displaying its message of hospitality at the central railway station will be taken down anyway.
This article is part of the fourth edition in cafebabel.com's 2012 feature focus series on multiculturalism in Europe - thanks to our local hosts, cafebabel Warsaw, who you can find on facebook
Images: main (cc) wszyscyjestesmygospodarzami.pl; Warsaw central railway station © Johanna Meyer-Gohde; girl (cc) [Anna Peters]/ flickr
Translated from Richtungswechsel: Europa zieht es an die Weichsel