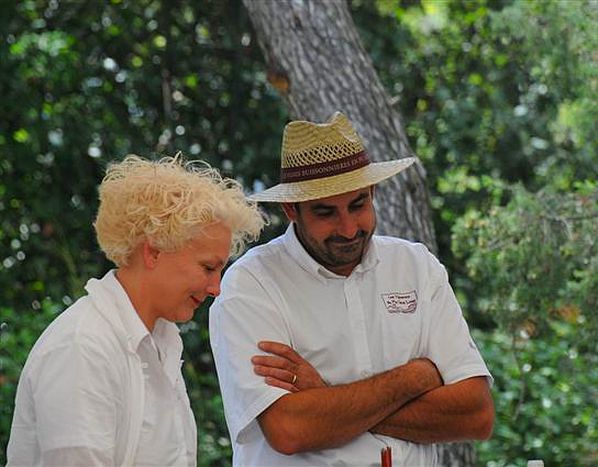 Fabienne Bruguière: 'the agricultural world can be hostile to women'
Published on
Translation by:
John Smith
The forty-something winemaker from the Pic St. Loup commune in France's Langeudoc region on love, green fingers and the increasing role of women in wine-making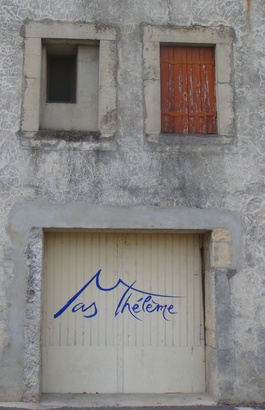 'Mas' means house. 'Thélème' is the abbey that Gargantua filled with all sorts of pleasures. Put together, Mas Thélème is a home of infinite pleasures; it is also the name of French couple Fabienne and Alain Bruguière's winery in the Langeudoc region, where the couple are one of 36 individual wine producers.
Fabienne's adventures in wine-making seem predestined. She describes it as 'a beautiful story. Before world war two in 1940, my Belgian grandfather emigrated to Languedoc with his parents and my father. My great-grandfather and grandfather worked in the vineyards. Later, after finding his grandfather's logbook with photos of this long stay in 1940, my father wanted to go back to the place where he spent his childhood. The trip didn't end in nostalgia; we ended up buying a house in Languedoc in the seventies. We have come back every summer since, and I moved to the small village of Lauret in 1999.'
Langudeudoc, wine and love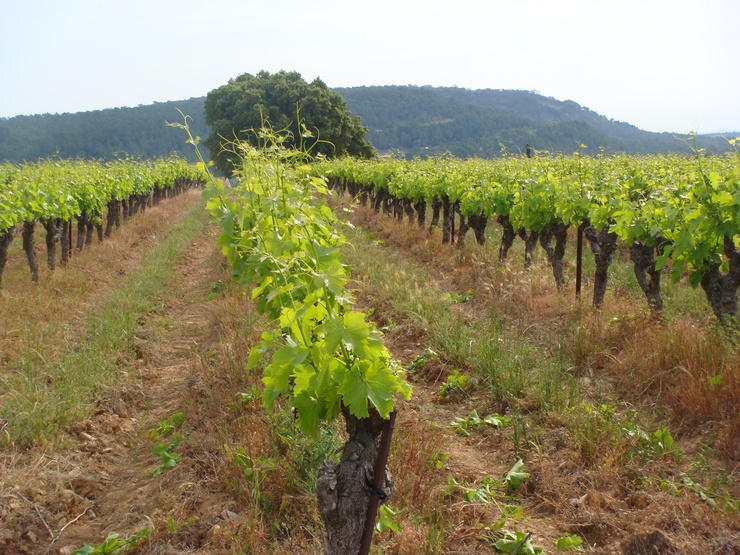 In the main commune of Pic St Loup, the couple have 20 hectares of vineyards, an amount that they are able to work by themselves for an annual production of around 7, 000 bottles. 'It's really very little,' frowns Fabienne, 'but each vine must be able to give good wine and be produced over an area which we can fully deal with.' Their garage is connected to the cellar, a cave where every single corner is occupied by wine fermentation, aging in their bottles. Europe's wine market owns 45% of the world wine output, and EU sector reforms will come into force on 1 August. Bruguière says it won't affect her small company. Her two first vintages were commercialised in 2005. 'We don't have much hindsight. We're staying wary.'
Collaboration with other wine producers is the result of sincere and neighbourly relationships. For the business school graduate, it's a completely different life from the one she was leading before. Fabienne was the assistant of a marketing director in a big advertising and marketing agency, where she had to face a world of harshness and severity. She had jobs in smaller communication companies in Brussels and Paris. 'I always loved working in smaller companies because you had to be versatile.' But Fabienne's past experiences are not going to waste. She designs the logos for the Mas Thélème wines, which represents Pic St Loup. For Fabienne, passion is 'a major factor in creating wine that one likes. It also gives us the strength to compete in the trade, and aim for quality instead of quantity here in Languedoc.'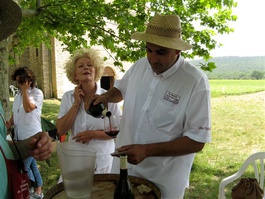 Fabienne quit 'simply because I met the man of my dreams when I moved to Lauret.' The pair have worked together since their first vintage of 8,000 bottles in 2003. 'We were frustrated at working hard in one of the region's three collectives all year round and not being able to participate in the final product. ' The couple haven't had a free weekend ever since. 'Alain has been a wine-grower since 1989,' says Fabienne. 'From the beginning, he made sure I had a long, arduous training period, even though I didn't have green fingers. I always appreciated wine but I never thought I'd become a wine-maker one day.' What rewards has it brought for her? 'Defining control over the wine we produce, and the feeling that we're not alone in our quest for developing a specific taste in Languedoc. Here, the wine's fragrance is tinged with lavender and rosemary.'
Bad wine, good wine
Mas Thélème's origins date back to 600 BC. 'The Greeks cultivated vineyards for their own needs. Later, the Romans took up wine making from mercantilism, sold it, but also used it for themselves. Because of an increased demand, the quality of wine began to fall,' Fabienne Bruguière explains, 'and so the quality of wine from Languedoc began to decline.' In any case, it was the Greeks who unveiled the value of Languedoc's climate and soil.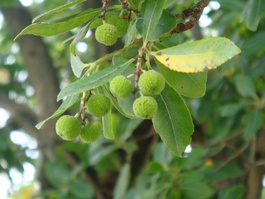 From the beginning, Pic St Loup provided a cheap and light wine in the market in northern France. The industrial revolution increased the need to supply workers with large quantities of inexpensive wines. Sometimes the wine was mixed with water by producers. 'After the phylloxera epidemic, the quality of wine deteriorated even further. There were fewer vineyards, but the demand for wine didn't decrease.'
More women
Fabienne has plans for a 'wine-feminist' project. 'I'm thinking about buying uncultivated land that can be worked exclusively by women,' she says, confident that her idea would be more than worthwhile. 'I've often had the impression that the agricultural world in one or two parts of the southern region are hostile to women. I have often felt frustrated when any proposals I made during meetings were ignored, when if the men came up with the same ideas they were listened to. It's the feeling too of not being taken seriously. I find for example that in wine tasting events, I get more customers when my husband is around. Thankfully, I've noticed that more and more women are getting interested in the wine business. Now, there are quite a few women in Pic Saint Loup: we are close, interdependent, witting and very determined.'
Translated from Fabienne Bruguière: Pani na winnicy