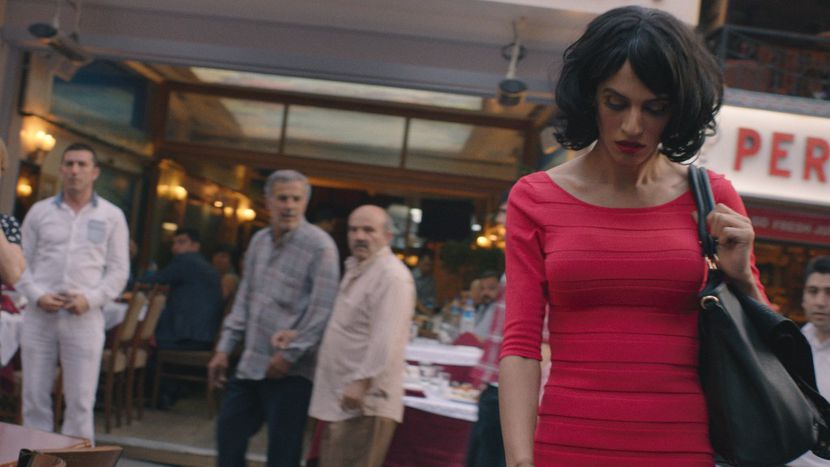 !F Istanbul 2016: Our top 10 independent films "made in the Middle East"
Published on
The 15th F! Istanbul Independent Film Festival ended on Sunday, the 28th February. Here are the 10 films from the Middle East that shone most.
The 15th F! Istanbul Independent Film Festival ended on Sunday, the 28th February. Here are the 10 films from the Middle East that shone most. The independent and underground cinema scene has been buzzing these ten last day in Istanbul.
We remember that another big film festival had been cancelled last year after a documentary on Kurdish rebels was censored. But no need to be scared for the !F Istanbul 2016 programme. This time, the freedom to create and to broadcast were safe since the two most rewarded movies were shot in the Kurdish region and quite political.
Although it's an international festival, the program was clearly anchored in this geographical area. Rather than coming back to movies that have been around the world of film festivals already, we suggest a recap in the form of a top ten (without any particular ranking) "made in Middle East" with the aim of discovering the region, seeing it from another angle, with outrage, tenderness, laughter and tears.
Hidden
Ali Kemal's Hidden is indisputably the festival's grand winner as he collected two awards. It's the story of a guy whose overnight sex change questions his marriage and entire life, in a traditional Kurdish society. A lovely take on gender issues, which dares to use very ambitious black and white photography, with dialogs employing counter-shots (the speaking character is not on screen). He perfectly achieved his goal: to depict each character's relationship to gender, these boxes created for everyone and made legitimate by the highest authorities, as we hear from a speech given by Erdogan, used as background sound to one the movie's scenes.
Baglar
Another Turkish film awarded this year, Baglar, by Becke Bas and Melis Birder, is a documentary following a basketball team from the Diyarbakir region, right in the middle the Turkish-Kurd conflict. The team is a promising one and has all its chances to get into league 2, but the circumstances have decided otherwise: when air raids kill 34 young Kurds, the emotion is so strong that, of course, it affects the young basketball players. It's a real prowess from the directors' side to depict a youth confronted with violence as well as with the political and identity-driven symbolism of sport.
Speed Sisters
Staying in the sports documentary but changing countries we have Speed Sisters. Whatever your background, we promise: you're going to love a car movie. Needless to say this one is not your traditional car movie as women are behind the wheel and the action takes place in Palestine. This documentary doesn't just tell you "look, women can be free in the Arabic world", but it is also painting the portrait of four strong personalities, with a political backdrop. The director, Amber Fares, confronts paradoxical reactions from "You should cover your head", to "You should become a doctor" and the pride these women inspire with these car races becomes a national symbol. The weight of tradition and perceptions is tangible when our four pilots stay in front of decisive choices: "If you had to choose between your husband and the car races, what would you choose? My husband of course…"
Sonita
Another woman's destiny, in Iran this time, is Sonita's. In this eponymous documentary, the young Afghan illegal immigrant discovers her passion for rap music. As her brother wants to marry, the family needs to find 9,000 dollars' worth of dowry, as tradition requires. The only way for them to get that much money is to marry Sonita. Made desperate by this fate she didn't choose, the only thing left to do is to ask Rokhsareh Ghaem Maghami, director of the documentary, to "buy her off". The rest of the movie consists of the torment of Sonita's uneasy dilemma and her only passion in life: rap.
A Syrian Love Story
Here is another documentary in which the director, Sean Mcallister, finds himself having a bigger part that initially planned. In Syria, which is opening up to tourism, he meets Amer, a Palestinian freedom activist, who fell in love with Raghda, an imprisoned Syrian rebel. Once civil war has been triggered, the authorities arrest Mcallister and watch the videos already shot by this family. Threatened, Amer, Raghda and their three kids have no choice but to flee to Lebanon and then to France. A Syrian Love Story is a documentary covering a long time, almost 4 years, in which you have the time to get attached to an uprooted family, carefully moving forward in order not to implode. The strength of the characters is overwhelming and the place the director made for himself in their lives, more than just following the journey of the refugees, allows for proximity and identification, with a family like any other, full of love and hatred, and hopes of ambition and despair.
Köpek
Our true crush of this year's edition, Köpkek (meaning "dog" in Turkish), is a first feature film of director Esen Isik that shows us with four different characters for one day in Istanbul. At first glance, they all seem very different: there are the two boys who sell tissues to passers by, there is a woman from a small village that finds herself living in the big city after an ordinary marriage, and there is a transgender woman. Actually, what they have in common is that they are invisible in the machinery of Istanbul, subjected to the violence of those who dominate them (the father, the husband, the passer by, the police). Köpkek is a film filled with love and melancholia, a sensitive production inviting you to view the big Turkish city with a completely different eye. This movie won't leave you indifferent.  
Kedi
After the dogs, it's the turn of the cats. Kedi ("cat" in Turkish) is a documentary full of promises; its trailer had recently gone viral in the Istanbul loving Internet sphere. Director Ceyda Torun follows the cats in different neighborhoods of the city, while interviewing those who see them every day and know them better than anyone. Even though the film has some postcard moments, the feline angle is a captivating approach to a city that would definitely be different without them. By the way, after having viewed the film, it is impossible not to consider stray cats of every street corner as an important person with a unique personality.
#Resistayol
Submersion in the LGBTI activist milieu of Istanbul in a period of change. Rüzgâr Buski initially planned to follow a transgender activist. But at the same time, Gezi demonstrations started, followed by Gay Pride and other demonstrations, which were the chance to meet, through the director's gaze, colorful characters as well as their engagement in activism and hopes for this vast movement across Turkey. The film is framed in an exuberant manner, with a couple of scenes on acid, Buski experiments breaking away from a too traditional narration, and it works perfectly.
Yallah! Underground
Another long spanning documentary, Yallah! Underground by Farid Eslam, presents a five year journey through the Middle East (Egypt, Lebanon, Palestine, Israel, Jordan) under a particular angle: young underground musicians in the region. Before, during and after the "Arab spring", in addition to occasionally discovering young promising talent, this film is a way of taking the pulse of creative youth regarding political and social issues: the role of women, religion, the occident, Arab fraternity, oppression and freedom of speech. Farid Eslam proposes a beautiful panorama, a must see for those who know that the present and the future of the Middle East also ferments "under the ground", in the hands of its young creative people.
Paradise
Let's finish with the first featured film from Iran, and a very independent one, as it was illegally shot and co-produced by Yousef Panahi, Yafar Panahi's brother (Iranian director forbidden to film for a 20 years period, but who masters censorship bypassing, as demonstrated in his last film Taxi Teheran, ed). Paradise follows a young teacher in a girl school, where Islamic morals are norm. The director Sina Ataeian Dena commits to a movie that aims at showcasing violence endured by women, and often reproduced by them, in a society that is polarized between the progressives and the conservatives. Between the charisma of the lead actress and the wonderful shots on a desaturated geometric palette, I bet you will soon hear more about Paradise, already on the programmes of several European festivals, including the Locarno Film Festival in 2015.
Translated from !f Istanbul 2016 : notre top « films indépendants made in Proche-Orient »