EYE 2016: when the youth meets the politicians
Published on
The French Railway strikes did not stop the motivated youngsters from all over Europe to come to the European Youth Event (EYE) 2016. Around 7,500 participants met in Strasbourg to discuss about the main themes dealt by the European Union.
"Together we can make a change" was the motto of the European Youth Event that gathered 7,500 youngsters between the 20th and the 21st May in Strasbourg. The idea is that young Europeans make their voices heard in debates and workshops with MEP's and other political decision-makers. "Normally you have to live in Strasbourg or Brussels to meet them but here you get the chance to meet them", commented Dobriyana Tropankeva, facilitator of the group TV Show at the European Youth Media Days (EYMD). 
More than 100 panel discussions, debates, performances, games took place during those two days. Everyone could attend a session that suited its own taste. Few examples: Samantha Cristoforetti, the Italian astronaut working for the European Space Agency, made a presentation about how it is to live in a space shuttle in a full hemicycle. Another panel was also dedicated to a game called "Democracy 3". In this game, you could be president and deal with crime, unemployment, national debt, climate change... For the ones who wanted to enjoy the good weather, they could make some tags graffitis at the Yo' Village or take part in a debate about diversity in a tepee.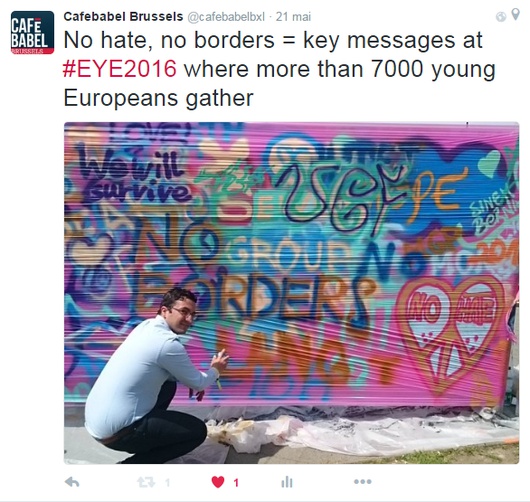 European Youth Media Days
This year, another event took place before and during the EYE: the European Youth Media Days (EYMD) 2016. 120 young journalists from all over Europe gathered in the European Parliament in Strasbourg to cover the European Youth Event (EYE). EYMD participants joined one of the seven workshops. They produced content in five media formats (print, photo, radio, TV, and multimedia).
In the workshop "TV show" about 15 young journalists from 12 different countries made interviews with several MEP's. "Learning by doing is one of the most important aspects about the EYMD. Participants are gaining skills and experiences that would be normally hard to achieve. They are working in big international teams and they get to interview high level politicians", explains Dobriyana Tropankeva.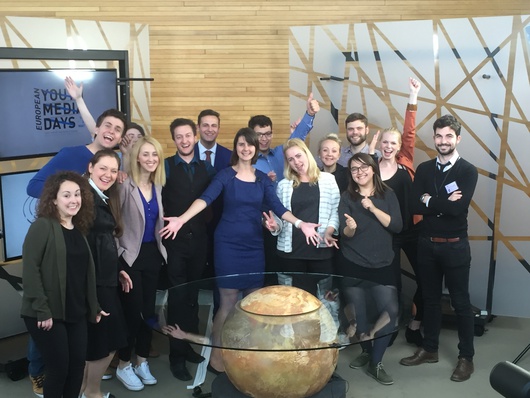 The final outcomes of the EYMD were broadcasted at the European Youth Event and published online for the broader audience. Dobriyana concludes: "It is amazing because the Parliament makes the effort to invite people from the 28 Member States. They discuss all the important topics on the agenda of the EU. They also have rapporteurs who take out the most important conclusions and present them to the European Parliament. MEP's might consider them and hopefully there is going to be a follow-up after that…"
Cafébabel is a media partner of the European Youth Media Days.