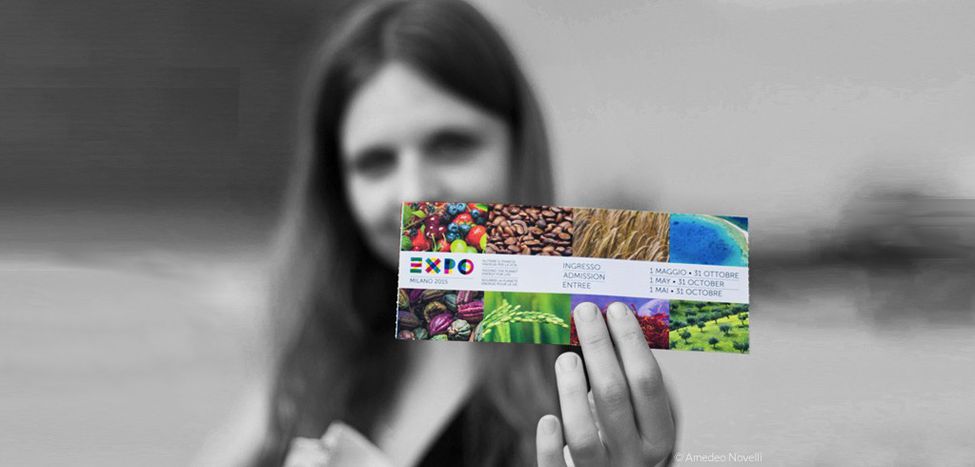 Expo Milan 2015: wanderlust and world hunger
Published on
For years, Milan had waited impatiently for the big event. Finally, the World Expo opened its doors in the economic capital of Italy. A wave of euphoria and patriotic pride came with the opening, but was also shaken by a string of corruption scandals, burning cars and violent incidents at the fairgrounds.
Even back when I studied in Milan a few years ago, you couldn't overlook it. Signs everywhere proclaimed: "The Expo is coming!" Countless construction sites for huge infrastructure projects gave the impression of a city of commotion that wanted to present itself as a clean, sophisticated and innovative metropolis in time for the beginning of May 2015. And they did it, albeit at the last minute - it has always been this way at world expos, Milan's mayor Giuliano Pisapia commented beforehand.
Glitter and tear gas
Despite the negative headlines (which hardly anyone remembers anymore, anyway), I witnessed a country in upheaval and pride. The crisis is over. Now it's a thirst for action and looking toward the future. At least that's how the opening was staged - like the Olympic Games, colourful, eurphoric, the whole world invited to Milan. A successful start with much pomp and circumstance. Prime Minister Renzi stated what many people hadn't believed possible, at least until it happened: "Everything is ready, just in time!"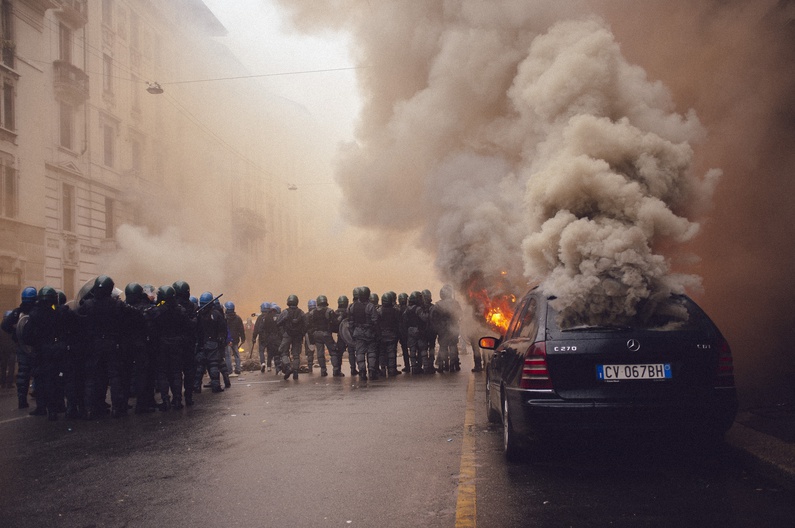 The opening spectacle, however, was overshadowed by violent protests. Opposition from anti-expo activists was expected - but the riots were not. Demonstrators set off fireworks, spraypainted their outrage onto house walls and lit cars on fire. The police fought with water cannons and tear gas.
Is it really just about food, or about the next vacation?
Feeding the Planet, Energy for Life is the expo's motto. Global, ambitious, but perhaps a bit too big? In a world that's heading towards nine billion inhabitants in the next few decades, the expo focused on one of the greatest challenges of this century. I traveled there with appropriately high expectations. While waiting in the hour-long line (the security measures were a bit chaotic), these expectations grew even higher. And then suddenly I was there. 
Into the huge UN Pavilion and to the "Zero Hunger Challenge." A trip through the history of our food production and consumption began. From "how did we feed ourselves centuries ago from agriculture?" to food speculation and trash islands in the ocean. I was excited about the artistic execution and my appreciation is justified. I contemplated about plastic for a while. A successful beginning.
Onwards to the Nepal Pavilion. Oddly, it wasn't even close to being finished. In the wake of the earthquake, many Nepalese people had left for their home country to help with the rebuilding. Therefore, they stopped construction of the pavilion. Nepal wanted to use this event as an advertisement for tourism - but at this point it was probably more of a charity campaign. This example spoke for itself on how catastrophes threaten not just people's physical safety, but also their food security.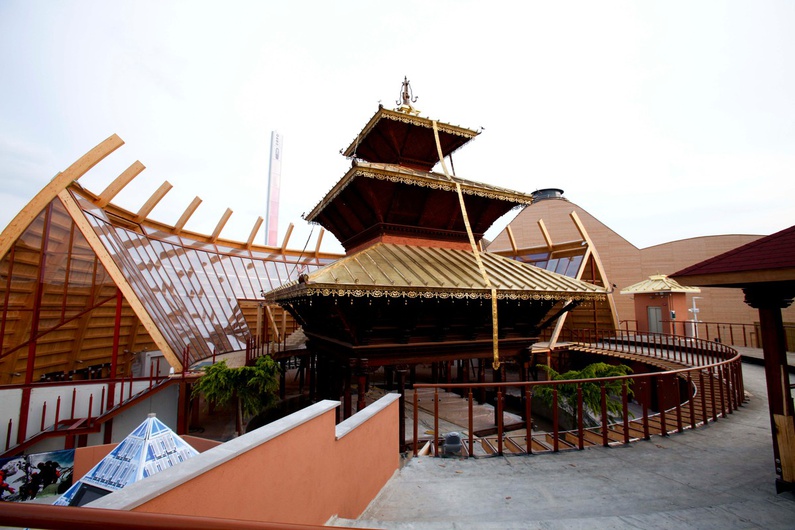 A trip around the world and a concert of culture
And so I wandered from land to land. Sudan, Belgium, Cambodia. I met smiling people who presented their countries and its treasures with pride. I toured through a travel catalog and experienced a rush of wanderlust. Here an Ethiopian coffee ceremony, there a pop star from Kazakhstan. At that moment, it was about food, with a coffee pavilion and an excess of rice. I kept discovering large UN spoons, grapics and explanatory texts. Who produces too much, how dependent countries are on these products, which effects climate change might have on food production. What would happen if sea levels were to rise? Who would be underwater? What would happen if there were more droughts? How many people will suffer from hunger in the future?
In some pavilions, you could learn about the connection between climate, catastrophes and food production - at least if you left the main drag and checked out the edges of the exhibit (a few signs here and there were extremely helpful). All the way to the back, I came across this theme. For many of the very poor countries at the exhibit, the doors were still shut.
A back door stood open. "Can I come in?" - "Of course, welcome to Mali!" A few cables were laying around and the shelves were bare. "We're ready!" the Mali representative told me. He sat alone in the pavilion behind a small counter. "It didn't quite work out with the organizers, so that's why it looks like this here." He tried to smile at me and asked me if I knew where Mali was on the world map. I said yes, but that I hadn't yet traveled there. It made him happy. I wished him good luck and drew back into the large pavilion of the desert areas.
I visited Senegal, where everything revolves around food. I had no idea they grew so much rice and peanuts. I went further through the desert. Djibouti, Somalia, Palestine. All the doors were shut. I thought about Renzi's words. Not everything was finished, after all. The developing countries still needed a bit more time. I was disappointed.
Orgoglio: A world without Italy?
I had to see Italy's pavilion. How would our host present itself? It celebrated itself (as had all of the countries in the expo, to some extent), and not just a bit, either. The countryside and the diversity of its regions, beautiful. The cuisine, a pleasure. "A world without Italy?" This question dominated the entire space. In videos, non-Italians explained how a world without Italy wouldn't make any sense. The word orgoglio was everywhere - pride. Okay, I like Italy, and you can be proud of your country, but did it need to be plastered everywhere? I was annoyed.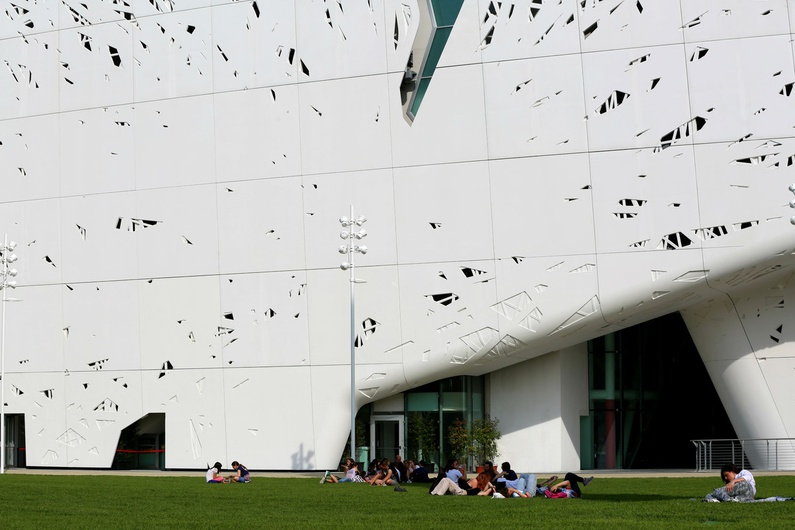 One thing was clear from the Italy exhibit: Italians do it better. As I left the pavilion (through a walkway that still had cables dangling from the walls), I remembered the headlines about the incidents in the expo arena in the first few days: two Italian politicians were stranded in an elevator.
At the Turkish pavilion (next year's expo host) a metal plate fell down, hitting a woman and sending her to the hospital. Free food - false advertising. "You have to try everything, you're going to do nothing but eat all day." No. Whoever believes that the food at the expo is for free is sadly mistaken. Given, you can try a lot of things: an Indian mango lassi, chocolate crêpes kebabs, Belgian beer, spanish tapas. On the hunt for lunch, I noticed: there were hardly any vegetarian dishes, and no vegan ones. I eat pretty much anything, so for me personally it wasn't a bit deal. But I asked myself, where are these options - especially when we're talking about healthier, more sunstainable food of the future?
I finally decided on a French sandwich. After nearly ten hours walking around the exhibits, waiting around, and being amazed, my feet started to hurt (and I hadn't even seen everything). The fast-forward world trip was intoxicating. I've never met so many positive people who fascinated me with their way of life in one day. Granted, I was probably a bit naive in my expectation of discovering a whole new galaxy of sustainability and saving the world. The ticket wasn't so cheap - 27 euros in advance - but for a trip around the world, it wasn't too bad.
Translated from EXPO Milano 2015: Wanderlust und Welthunger