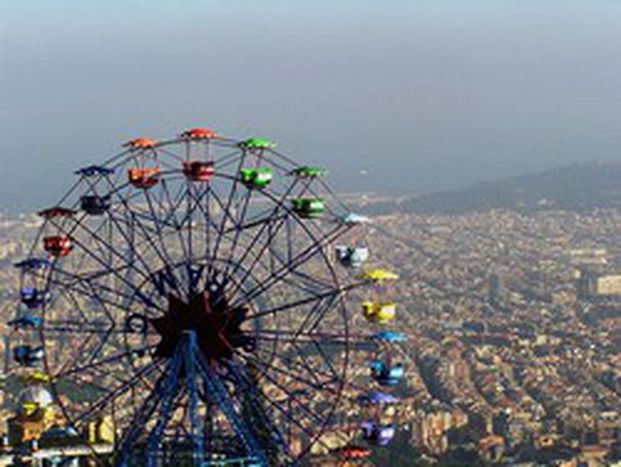 Experiencing Barcelona
Published on
Avant-garde Catalan figures, such as Miró, Dalí and Gaudí, have put Barcelona on the map as a modern cultural pioneer. But there is more to the city than its fabulous art scene.
For a weekend away, Barcelona is the ideal destination: sea and mountains; superb international and traditional Catalan cuisine; a hedonistic nightlife and a wealth of sophisticated, cultural activities… But living in Barcelona for a longer period of time also comes highly recommended. Penetrating the city's tourism-dominated surface exposes you to its rich historical background and enables a better understanding of the fervent minority nationalism that gives the city and its people their distinct character.
The Catalan factor
Learning Catalan is advisable if you are going to live in any part of Catalonia. Whilst the region is officially bilingual (both Spanish and Catalan are spoken), many Catalan people speak in Catalan amongst themselves. But this should not be seen as a deterrent. To the contrary, Catalan is an acoustically attractive Latin-based language that is simple to learn. The Catalan people typically encourage foreigners to learn it in such a welcoming manner that most foreigners living in Barcelona find it difficult to resist.
Apart from having their own language, the Catalan people have their own characteristic traits, including an industrious work ethos and a cosmopolitan outlook. The truth behind these stereotypes is reflected in many areas of Barcelona's daily functioning: the efficient public transport system; well-organised cultural events; Catalonia's dynamic regional government, the Generalitat; and an increasingly international demographic makeup. On the other side of the coin, Spaniards from other parts of Spain tend to perceive Catalans as considering themselves culturally superior to the rest of Spain. This alleged superiority complex is certainly not true of the majority of Catalan people, but it is easy to see how others believe in it. Catalan society has somewhat disassociated itself with Spain's trademark attributes, such as bullfighting and flamenco, and instead embraces its own set of national symbols.
Necessary adjustments
Apart from the Catalanism, there are many other cultural aspects to life in Barcelona that most foreigners will need to adapt to. The working hours and meal times are considerably different to some other European countries. For example, it is quite normal to go out to dinner as late as 10pm. Many businesses do still observe the siesta, though larger shops will remain open all day, and it is polite to acknowledge a shopkeeper on entering and leaving their shop. Smoking is commonplace in most public places, including inside most banks and shops.
Any necessary adjustments, however, are a small price to pay for living in such a beautiful city. The sun shines throughout the year, the food is wonderful and the people love to talk and socialise. Living in Barcelona is really a rewarding experience and if the Catalan people's aim is to win over the rest of the world, then they have made a good start.
PRACTICAL INFORMATION
Language
The Universitat de Barcelona offers excellent Catalan and Spanish courses at decent prices for both students and non-students. If you are looking to make English-speaking friends, visit www.barcelonaconnect.com, a website that caters for the practical and social needs of foreigners arriving in Barcelona.
Universities
The main universities are the UB, UAB, UPC, UPF, and Ramon Llull. Many offer summer schools and language courses, in addition to the normal semesters. Also, there are many Erasmus opportunities with these universities.
An original place
The restaurant Els Quatre Gats, C/Montsio 3 (Metro station: Catalunya) – a small eatery serving Catalan dishes. A favourite hangout of Pablo Picasso and his contemporaries.
To do
Visit Tibidabo mountain (at the north end of the city) to see Barcelona's very own Rio-style statue of Jesus up close and for breathtaking views of the city and beyond. (Catch a FGC train from Plaça Catalunya)
Not to do
Don't settle for the first stretch of beach you arrive at (when walking from the city centre). This part of the beach is constantly crammed with bodies, whereas a leisurely stroll a bit further down will reveal miles of increasingly vacant and clean beach.
Accommodation
For student residences, see www.resa.es - a private firm with several residences of high quality in Barcelona. For flat shares, try www.barcelonaconnect.com or see adverts posted at the Barcelona Student Housing Service accommodation office at C/Calabria 147. The Barcelona Centre Universitari can help with both flat shares and student residences.