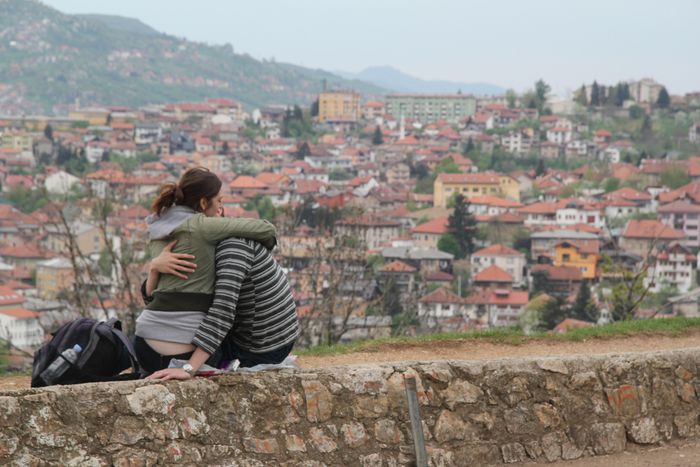 Expats: from London to Srebrenica this July
Published on
The difference between summer in the UK and summer in Bosnia-Herzegovina is much more apparent around the date of the anniversary of the massacre in July 1995, when 8, 000 Bosniak men were killed. Notes from an expat abroad on cafebabel.com's official Sarajevo blog
This is the time in the United Kingdom when the numerous seaside towns transform themselves from recreational wastelands into buzzing bazaars. The seasonal light switch is turned on and so the neon lights are dusted down and fired up, illuminating the path to entertainment. During these few months the sleepy lives of local residents are given a large dose of tourism, for some just the tonic to help maintain economic stability and for others a welcome break from the familiar faces. But for many, it is a reason to hide in one's home or leave for safer ground.
I am originally from the UK, but I now live in Srebrenica where I work with young people helping to organise cultural events. I first arrived in the eastern Bosnian town in 2009. I was not unaware of its history but I lacked the more usual international agenda of working towards healing the past. In Srebrenica I found a community which inspires me towards a contrasting and more preferable way of life than my previous one in London. Here, the town goes through a similar transformation in that the masses descend upon this small town for just a short period every year.
Read 'How to get to Srebrenica - if it still exists'  on cafebabel.com
However that is where the similarity ends. This period is for both visitors and residents a time of remembrance and memorial. People come from all over the region, and further afar, to remember the lives lost during the 1995 massacre by the Bosnian Serb troops (army of Republika Srpska, VRS) on Bosniak civilians and members of the army of the Republic of Bosnia and Herzegovina (ARBiH), with the key memorial service on 11 July. Let us not forget the memorials which take place in the near region, for the Serbs who lost their lives at the hands of the ARBiH in 1992.
It is this conflict of feelings which I find difficult to deal with. As a resident of Srebrenica, I go to the same bar every night, with the same people. As much as I enjoy my life in this small and quiet town, I cannot deny the excitement which is brought about by the numerous students and visitors; new faces, new opinions...new lives to investigate. Similarly a shop-keeper or cafe owner, whilst maybe wanting to pay his or her respects to lost family and friends, cannot ignore the importance of this period for their annual income. But people from Srebrenica live all year round with the memories of what happened here, and continue to live they do.
Read the official cafebabel.com Sarajevo blog
Image: (cc) Patrick Rasenberg/ Flickr