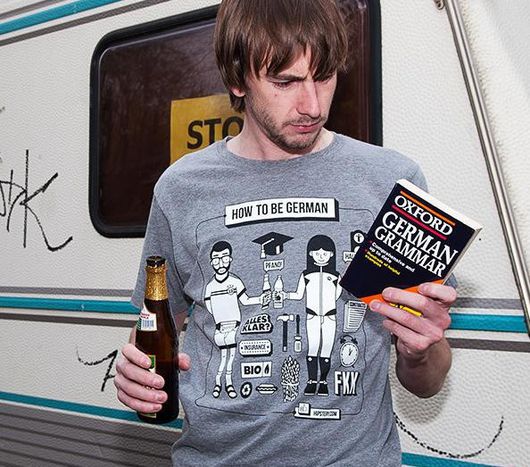 Expat lifestyle: do you have to learn German to live in Berlin?
Published on
A debate is raging on English language blogs and on twitter over whether those who have moved to Berlin should learn German or not. Isn't it a bit arrogant to go through your Berlin life exclusively in English?
Julie Colthorpe moved to Berlin twelve years ago and now speaks really good German. In her article for the English-language city magazine EXBERLINER, 'Sorry, no German!', she vents her ire over how more and more expat residents haven't mastered the language at all, nor have they any intention to do so. The trigger for all this anger over 'smug shirkers' with their 'blasé nonchalant attitude' was a visit to an Australian restaurant in the city's district of Neukölln. There she found that her German didn't get her very far because English was almost exclusively the language of choice.
Expat culture
However if you start to shout about something, it won't be long before someone else turns up to shout back - in this case it didn't take very long. Lauren Oyler, also an expat living in Berlin took up the debate, writing a reply to Colthorpe's original post. The American in Neukölln felt victimised and took to her blog überlin to give her side of the story. 'Anyone who can read a wikipedia entry and memorise some definite articles is not some kind of culture crusader making the world a better place,' she ranted. For Oyler, expat culture forms an important part of Berlin's own culture.
For three years I have shared a flat with a girl from the Netherlands. These days she speaks pretty passable German even though her friendship group is almost exclusively English-speaking
Since the start of the debate there has been a lively exchange of verbal volleys on twitter between readers of EXBERLINER and überlin. As a follower of both magazines, I will now give you my two cents on the subject (#juliecolthorpe). I am a German native speaker, even though I only learnt dialect-free standard German during a year spent in the USA. For three years I have shared a flat with a girl from the Netherlands. These days she speaks pretty passable German even though her friendship group is almost exclusively English-speaking. Let's compare a typical Josie-week with a typical Sandra-week (aka my week) and see if we can narrow down what aspects of Berlin's culture Josie and her expat friends are missing out on.
Typical week in Berlin
Monday: Josie went swimming at Neukölln's municipal swimming baths. I watched Revenge of the Restaurant-testers on RTL. She has missed out on such wonderful German words as 'Mehlschwitze' (roux) or 'Rotweinsud' (red wine sauce).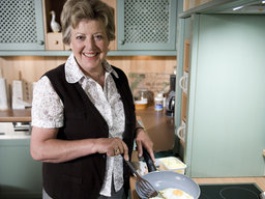 Tuesday: Josie is at the opening of an exhibition in the district of Schöneberg. It's about 'How to disband yourself without actually disappearing'. On Tuesday evening I do disappear, but only into the bathtub. Afterwards I stream a couple of episodes of the soap-opera Lindenstraße. Josie is missing out on a little piece of my youth as the seemingly-undending series has been an integral part of my life for two decades.
Wednesday: Josie goes to a Prinz Pi concert. Josie likes it, perhaps because she doesn't understand everything he says as he raps in both German and English. I've curled up on the couch with a copy of the Spiegel magazine. I quickly flip past the interminable politics pages and get stuck into an article on 'Why stress makes you fat' (all the while munching unselfconsciously on a chocolate and peanut Riegel bar). Here there can be no doubt, the English speaker has experienced more of Berlin's culture today than I have.
Thursday: Josie has a visit from home. The three lads already have good connections here so off they go to a flat party. In Neukölln, naturally. I go to see my boyfriend. He has a pay-TV package and the football is on every channel. Josie isn't really missing much here although Benfica does thrash Leverkusen so she could have learned a few lovely German swear words.
Friday, Saturday, Sunday: The weekend. This we spend mostly in the same way. We go to the same bars, together or separately, we like the same drinks and we have the same hangovers afterwards which of course leads to the same excuses not to have to go to the gym (we're too cold/ it's too far/ we're too weak).
The upshot?
In the course of a typical week it really does seem that Josie gets out more and visits more new places or meets more people than I do. That probably has a lot to do with the fact that I spend most of the winter playing the part of the couch-potato. It is also typical of the expat lifestyle that a large group of people who are strangers in a strange land create their own culture together. It's clear that a purely English-language expat life is not going to be the same as having a German-speaking friendship group - one where you'd watch Tatort (that's actually a national pastime, from university canteens to evening pub meetups - ed), discuss lyrics by K.I.Z. and come up with puns for subjects like 'Schwaben-Bashing' and the horse meat scandal (Josie doesn't find words like 'Gaultaschen' at all funny whereas I'm still laughing myself silly) -  'Maultaschen' are little pasta squares filled with meat and spinach, whereas 'Gaul' is an old German word for horse.

Many expats can't speak German because they don't really have to. Lauren Oyler calls it a 'harsh economic reality' and she is justly entitled to do so, just as an Australian restaurateur is entitled to only write their menus in English. It's no different to a baker from the region of Swabia in Southern Germany calling their bread rolls 'Weckle' instead of 'Brötchen'.
'It is typical of the expat lifestyle that a large group of people who are strangers in a strange land create their own culture together'
Recently Josie asked me for help with a letter which had come in from her health insurance provider. All of a sudden I found myself admonishing her to 'Learn German!' It would seem that tolerance only goes so far as long as being tolerant doesn't start to become inconvenient. However, if Julie Colthorpe finds it annoying that her English-speaking fellow citizens don't want to learn German, that is really still a little arrogant. I do however have a proposal to sort this mess out. Dear Mrs. Colthorpe, translate this article into your native language so that even the arrogant slackers can understand it. That would make me and, doubtless, Josie very happy. Danke!
More from the folks at cafebabel Berlin, where this article originally appeared in German
Images: 'Denglisch' startup in Berlin © The Hipstery, photo of Mother aka 'Mutter Beimer', a character in a popular soap © lindenstrasse.de; K.I.Z. © official K.I.Z. facebook page
Translated from Sorry, no German-Debatte: Sollten Berliner Expats Deutsch lernen?