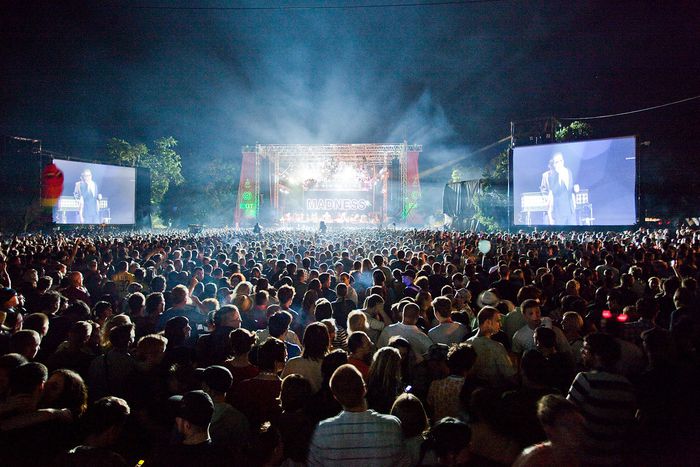 Exit: the student movement turned major European festival
Published on
Exit festival in Serbia, one of the biggest festivals in Europe, is celebrating its fifteen years this summer. Though it might seem like yet another commercially-minded summer music festival, well it's not. Or at least it wasn't in the beginning.
Exit festival was founded in the year 2000, evolving from local student protests that were happening that year. Students in Novi Sad, Serbia were protesting to end the Milošević political regime. Gathered in the city they shouted: "Exit out of ten years of madness!"
''It began as a political uprising - a coming together of hundreds of thousands of people looking for the banishmemt of a hugely unpopular and corrupt regime,'' a journalist wrote in the Liverpool Daily Echo on 26th of October 2010.
The first year the coming together of young people lasted for a full hundred days. The process ended with a parliamentary vote that slowly ended Milošević's long lasting regime, which left Serbia in the midst of war, social inequality and corrupt politics. It was a step for young Serbians to self-organise and do something for changes in their local surroundings, do something for their community and families.
The gathering transformed into a festival, which though based on music also tries to be an active political tool or at least a platform for talking about current political ideas and questions, especially those considering the youth and problems in the region. An Exit door from the situation with activism, self-organising and creating something good for themselves.  
Members of this year's Exit organising team explain: "At the beginning, after the tragic nineties, Exit was dealing with Serbia and the whole Balkan region stepping out into the world. A world from which most young people were cut off, a world they will get to see the same as their parents. Our generation was eager for everything, and this desire was the magic ingredient of the crazy atmosphere of which foreign performers spoke about and the media in Europe and elsewhere reported."
Today, more than 2,5 million visitors 
Today, after fifteen years of action, over 2,5 million people from more than 60 countries have attended Exit festival in Novi Sad at the famous medieval Petrovaradin Fortress in the centre of the city at least once. 
The organisers comment, how the biggest change in the festival is its crowd, which has switched a few generations already - those that were born the year the festival have begun to attend. Another change has also occured: "During these 15 years, the situation has somewhat turned and now Exit is the entrance for the world to enter Serbia and the region - more and more are we dealing with social issues with an importance on today's society on a world scale," the organisers explain.
The ideological aspects of events
Omar Moufakkir and Tomas Pernecky analysed different global festivals in their book Ideological, Social and Cultural Aspects of Events and wrote about Exit. 
"Festivals around the world provide youth entertainment, but the Exit movement continues to promote its impact locally, nationally and regionally. It continues to retain its sociopolitical foundations, and is responsible for supplemental awareness initiatives involving workshops, panels and a host of mini-campaigns focusing on more contemporary universal values, such as tolerance, human rights and environmental issues/concerns."
When discussing the festival's local impact, one can not ignore it. It helps the city, brings tourists, it spreads a good name for the country, it keeps the youth active with something of a social value. If Exit promotes an idea, a lot of people will hear about it.
However, when we talk about activism and political impacts, real improving changes should follow, new solutions and changes should arise, real questions should be asked and answered. Can that be done with a festival with millions of different worldwide visitors? Do they even know about the festival's origin and beginnings? 
What can happen to an event like this is commodification - a current impulse in society where an idea gets marketed and transformed into a commodity. The impulse is real at the moment of creation - it is promising, from the grassroots - but it can lose its momentum and turn into a sellable good. That same way 15 years ago a protest arose from a significant struggle; today you can just buy your Exit ticket if you like the performers, and still support a cause with no real outcomes.
-
This year the festival will take place between the 9th and 12th of July. cafébabel will be at Exit 2015 to see if the mindset, which started the festival 15 years ago, still exists. Does it still drive the festival and the visitors who attend it?