Ex-communication
Published on
The lack of proper means of public communication in Dubai is a factor that makes many a carless person feel a bit excommunicated. And even if you have a car, if you live in certain areas of the city you risk being stuck in traffic all morning, afternoon and evening - or the "rush-24-hours" as we like to call it here.
However, the UEA government does care. They're building two metro lines.
Again, I would love to see the second line of metro in Warsaw be built as quickly and efficiently as the Dubai metro is. Just to give you an approximation, building a 1km element + one station in Warsaw takes approximately the same amount of time that it will take to build 52 km of railroads and 29 stations in Dubai! Embarrassing, isn't it?
The first line, located along Sheikh Zayad Road on a viaduct, is to be completed in September 2009. It really sounds like making the impossible possible, because right now there is hardly anything done! Well, when I arrived in Dubai in August, there was nothing. Right now there is an outline of the cement poles which will support the viaduct all the way along the Sheikh Zayad Road. The second line is to be completed in March 2010 and is to connect most popular destinations of the most traffic-stricken district of Deira.
Here is a map on the metro project underway (photo from: http://www.dubaimetro.info/en/map/):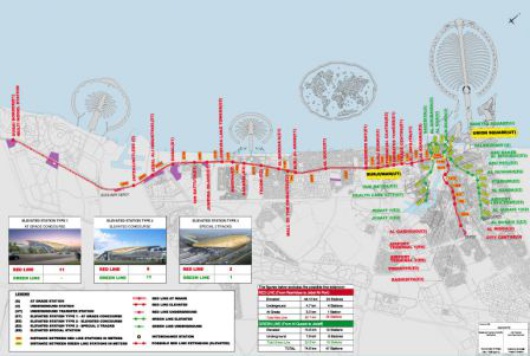 In order to understand the extent of this project, please note that the red line in 52km. What in means for people living in Dubai now is that if you want to go to a party from where I live (next to the airport, end of the green line) to where most of the clubs and bars are located - the Marina (between the first and second palms on the left) you have to take a taxi. Or drive.
Neither is a particularly appealing option so the arrival of the Dubai metro is eagerly awaited by the inhabitants of the Emirate.