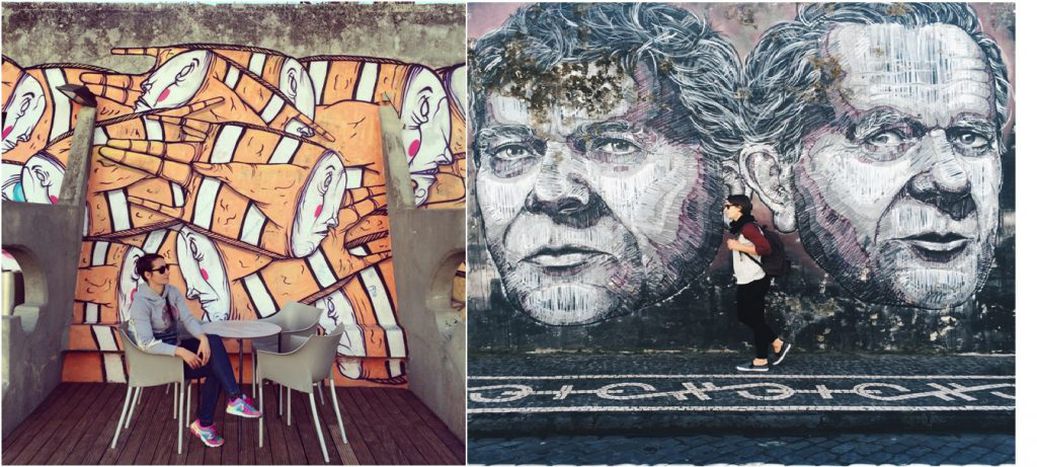 EVS Means One Common Label « GOOD FRIENDS»
Published on
It's already been six months since I moved from a city of 3 million to a town of 3 thousand people in the middle of nowhere.
It's already been six months since I moved from a city of 3 million to a town of 3 thousand people in the middle of nowhere. I changed my active busy life that I had in Kyiv, Ukraine, to a slow motion way of living in Góis, Portugal. This is all because of my European Voluntary Service (EVS) placement in an organization with a name nobody-can-pronounce – RAIZVANGUARDA – Associação Cultural.
I live in an old house together with another volunteer Claire from London, a tiny snail in the bathroom and a grey mouse under my bed. We are working in an Old Primary School in Bordeiro on top of a hill. By "we" I mean Claire and I.
The school closed almost one decade ago, but RV opened its doors to the community with the Escola-Estúdio RAIZVANGUARDA project and Artist in Residency programme in 2014. Artists from all over the world visit our residence: painter Tom from Tennessee, contemporary dancer Dominique and Monica from Florida, artists Jessica and Shengjie from Dresden, Umit from Istanbul, art curator Hanna from Chicago and many more. My first six months were filled with new people, friendships, wide range of art events: exhibitions, performances, movie screenings, creative workshops, cultural days. Sometimes it seems really strange – how is it possible to live in such a rural area and to have small pieces from all over the planet?
But still, it is Central Portugal. And it takes time to adjust to the cultural differences. First thing that impressed me here in Portugal after Ukraine was how cold it was during the winter. Knowing that Portugal is one of the warmest countries in Europe and a country with the largest number of sunny days per year, I expected cozy winter, especially after the -20° C back in Ukraine. Reality turned out quite the opposite – freezing nights under piles of blankets, in a thermal underwear and woolen socks, with an old radiator next to my bed. Old houses simply don't have central heating systems, so we had to survive with the help of the hot tea and portable heaters in every corner of the house. Moreover, in February we had the biggest flood this region has ever seen in the last 50 years, with houses and bridges under the water. Never I could have think that rubber boots and a raincoat would become my winter outfit in Portugal.
Now, when the summer is finally here, I remember those winter days as a nightmare. But a new treat is on the horizon – the burning sunlight. The sun is merciless here, so sunblock is my best friend now. Portugal does not simply accept mediocrity.
Traditional Portuguese cuisine is among the most mouth-watering dishes in the world. Beef, pork, chicken and blood sausages with a bit of vegetables in one dish? That is what Cozido à Portuguesa looks like. Rice and potato together in a same plate? It is so typical that nobody pays attention to these double complex carbohydrates. Plenty of bakeries and pastry shops around are selling heavy on cream, egg yolks and sugar sweets. Why not try them all! As well as all 365 recipes of the salted cod fish, bacalhau – one for every day of the year. I was so eager to get to know traditional Portuguese cuisine better, that I gained couple of kilos over the month and had to take some medicine to treat liver disease. And there is no way to escape this constant full belly feast. Dinner is a big affair here, and people are so kind here – they invite you to their family meals, and you just cannot refuse. Last week when I was cycling back home, I was stopped by a group of local senhores in their early 80s, and found myself making group selfie at a table full of wine and piri-piri chicken with spicy rice. Portuguese hospitality is usually shown though food and wine.
So yes, Portuguese people are absolutely nice. But when it comes to football there is a whole different level. Ronaldo is a national hero without any doubts. No single newspaper dares NOT to publish the news about Ronaldo's everyday life even if there is no news. They show his mom's Instagram page on sport TV channel. You can even easily tell who lives in the house nearby. Just take a look if there is a lion or an eagle on the gates: Sporting vs Benfica, green vs red. The only situation when red and green are combined together, it is when Euro 2016 comes and the flags of Portugal are hanging outside the windows all over the country. No need to mention what was happening on the streets when Portugal won their first European Championship!
Every morning we greet other villagers in a warm Portuguese manner: Olá! Tudo bem? We spend lunch breaks discussing topics that for many people are still in the taboo list.  We drink Turkish coffee, Ukrainian "compote", Portuguese wine. During the evenings we make BBQs, watch social change documentaries, and on the weekends we dance together in the local river bar. Sometimes we travel to nearby villages, or far away islands in the Atlantic Ocean.
But the most precious thing is that I live surrounded by so many different and beautiful people: Muslims, Jewish, atheists, vegetarians, radical feminists, socialists … All together, with no labels. Except a one common label – «good friends».
That's what being an EVS volunteer means to me – to be open to new things, to respect others' point of view, to expand our own understanding of "norm" and to get rid of prejudices. To build, based on common values, whilst celebrating differences. Be yourself and allow others to remain unique.
Article by: Iryna Kolotylo; volunteer in RAIZVANGUARDA-Associação Cultural, Portugal
Edited by: Dimitar Chatleski and Ivana Petriskova
The post EVS Means One Common Label « GOOD FRIENDS» appeared first on Mladiinfo