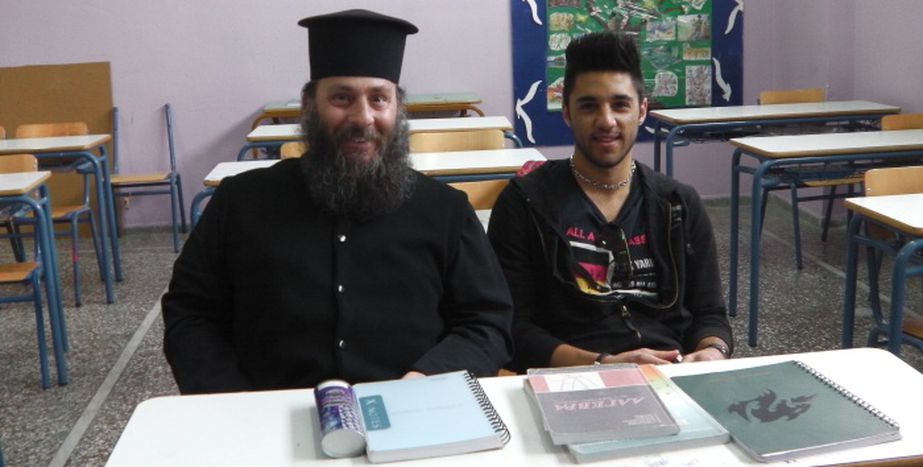 Evening school on Greece coast, where clergymen, footballers and grandmothers learn
Published on
In a nod to the 'European year of active ageing and solidarity between generations 2012', the Argostoli Evening School works with students aged between 14 and 60 from all walks of life: high-school dropouts, shepherds, housewives and builders. Established in 2004, it's also a multicultural hotspot, with Greek-Albanian-Roma and other nationalities and backgrounds
Greece, late spring 2012, at around 7pm. Sotiria, a 45-year-old mother of three, Chrysa, 48 and already a grandmother of two, Father Demetrios and 17-year old Nikos are busy trying to form English words or phrases by combining the symbols of elements in the periodic table. The team to create the most words in ten minutes – using 'LaDy GaGa' as a cue – wins the game. Next door, Father Andreas, Father Vassilis and Makis, a 20-year-old Greek-Cuban footballer on the rise who left school last year to train with Barcelona youth academy, are conjugating Ancient Greek verbs. Downstairs, Soula, a 52-year-old hospital employee and grandma, 56-year-old Christoforos and 16-year-old Dennis from Albania are getting to grips with equations. It's just a typical evening at the Argostoli evening secondary school (Esperino Gymnasio-Lykeio Argostoliou) in Kefalonia, an island on the Ionian coast of Greece. As you can probably gather, this is no typical school.
Importance of Educating Greeks
Greece has at least one evening secondary school in all of its prefectures. These schools usually operate between 7 and 11 pm and provide graduates with a fully equivalent certificate as morning schools. Whilst the curriculum is largely identical to that of morning classes attended by youngsters, and the same books and teaching materials are used, class hours are ten minutes shorter (35 min), and several 'less important' classes such as music and art have been removed to save precious time. Having completed upper secondary, or 'Lykeio' (Lyceum) pupils are awarded a secondary education certificate and are entitled to sit the Greek university entry exams. Evening school graduates are also eligible for entry, under a different examination scheme for a specified number of places in tertiary education institutes to compensate for the extra effort required in balancing work and school obligations.

That wasn't the case a few decades ago, when many youngsters would finish primary school and then seek a job. For girls, there was sometimes no other option than to stay at home to help with chores and work in the fields, marry at a young age and then take on the responsibilities of raising a family. Thus the institution of evening schooling was established to enable adults who had to abandon school when young for whatever reason to have a 'second chance' at earning formal qualifications, but also to offer the same opportunity to youngsters who have to make their own living, especially now during the crisis: employment is legal in Greece from the age of 15, and evening schools accept working pupils from 14 upwards to accommodate for this need. Another important aspect is the need to help immigrants obtain access to schooling and qualifications, as well as the desire to integrate the 'Roma' community into modern Greek society: evening schools play a decisive role in achieving these targets, as they are generally more flexible in catering to such a diverse crowd.
Crisis, innovation and faith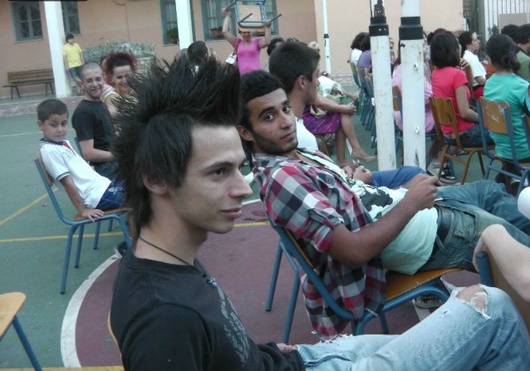 'I spent 7 years traveling back and forth every evening by ferry between Lixouri and Argostoli to attend the school,' says Voula Antonelou, 61. 'Last year I graduated with a high school diploma, but I've become 'addicted' to learning: in June I sat the university entry exams, and I'm keeping my fingers crossed to find out in August whether I will be continuing. You're never too old to learn and evolve.' The first grade successfully completed two different crisis-related projects. For the first term, they devised a system for the delivery of meals to those in need via an online platform named 'a plate of food' and presented the project at the National Hellenic Research Foundation in Athens. For the second term they chose to interview five successful Greek companies enduring the financial crisis and created a video take on the ubiquitous initials 'IMF', but turning them into something positive: innovative motivation fuel. The school has contributed over 50 articles and 200 multimedia files to Greek wikipedia.
'You're never too old to learn and evolve'
'It's not easy for schools like ours to survive,' says principal Vaggelis Detoratos, 'especially now with all the cutbacks from the crisis. We don't have a steady flow of pupils like morning schools do. The work we do and the distinctions we earn have nothing to envy from the more 'privileged' morning schools.' Perhaps the most representative project carried out in the school over the past school year was by male students, Christos and Demo from Albania and native Kefalonian Gerasimosy. The teenagers interviewed female scientists in chemistry research at FORTH/ICE-HT Greece and submitted their video to a European school competition. Innovative learning that transcends age, nationality and gender in a multicultural setting with strong bonds of friendship and solidarity is typical of such a school, whose pupils are most certainly winners in working hard for a better future.
Images: main and in-text kefaloniapress.grl school yard of evening high school of Argostoli in Kefalonia, Greece, with and without pupils © Mina Theofilatou (cc) Saintfevrier/ wikimedia