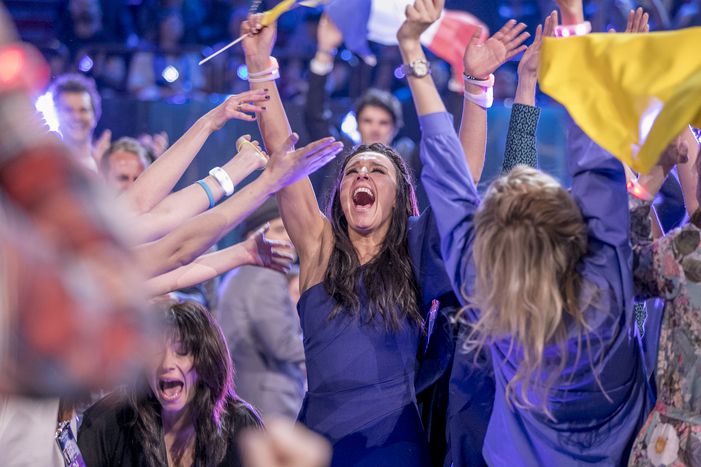 Eurovision: Europe should be proud of its bonkers carnival 
Published on
It's often approached with a sense of awkwardness and embarrassment, but this year, the Eurovision Song Contest was an altogether more serious affair. Not only did hosts Sweden go all out to promote the show to a new American audience, but it ended by crowning victorious a ballad invoking the forced deportation of Crimean Tatars in 1944 – while still making time for a man in a hamster wheel.
When walking across Stockholm's Strömbron Bridge you get an impressive view of Swedish Parliament. Crossing in the direction of the Royal Palace, I catch sight of a man wearing a Ukrainian flag as a cape. Purple and blue banners flutter in the wind that read: "Come together". Eurovision is in town.
What started as a contest between just seven countries is nowadays a lavish two-week affair, boasting semi-finals to whittle down its 42 participants. It's hard to think of anywhere more suited to hosting than Stockholm, chosen after Sweden's Måns Zelmerlöw won in 2015 by performing a duet with a holographic toddler. 
Sweden: Eurovision heroes of our time
"I love it when it's hosted in Sweden," says a man sporting a Union Jack waistcoat, "They get the balance right between making fun of it and taking it seriously." Sweden is good at Eurovision. It understands the nature of the bonkers beast, where latex zombie metal can share a stage with a bread-baking sextuplet of Russian grandmothers without anyone batting an eyelid.
Sweden has won six times over Eurovision's 61-year existence (only Ireland outstrips them). The Swedish entry is chosen by the year-long Melodifestivalen – the country's most watched TV show. Winners become household names; it was rare to walk into a bar in the days before the final without hearing this year's winning song.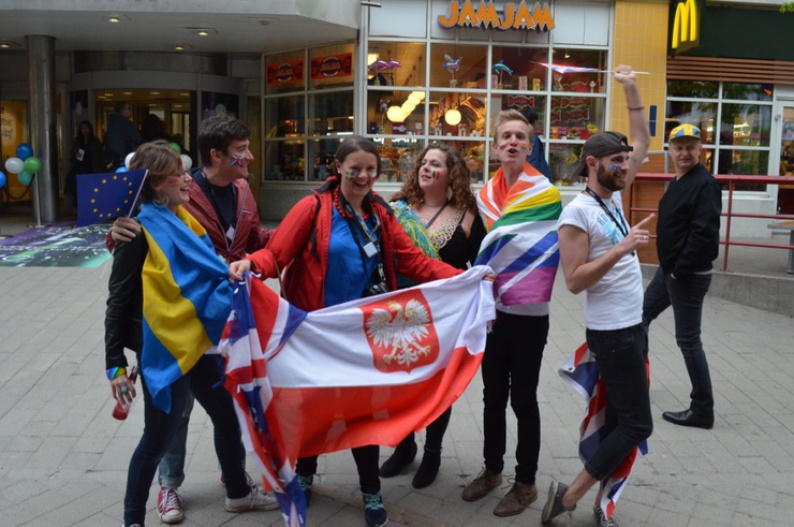 At the ABBA museum – Swedish champions in 1974 – fans can enjoy a special ESC exhibit, including original costumes and even Eurovision karaoke. It's not just the fans that are singing; certain traffic lights have been programmed to play winning Swedish entries to passing pedestrians. 
Such dedication is a world away from the embarrassment that Britain usually affords the contest – a view that may be stuck in the past. "The UK is trying to enter people for a contest that doesn't exist anymore," says John, a British fan I meet the day after the final. Sweden on the other hand, is looking to the future. 
"I would prefer that this song didn't exist"
Prior to the final, the bookies favoured Russia's Sergey Lazarev, who when not competing in Eurovision runs Poodle Strudel, a business providing custom made pastries for the dogs of St Petersburg. Top of the pack as the scores rolled in was Australia's Dami Im, who performed while manipulating a holographic computer console worthy of Minority Report. Her song invoked the heartache involved in modern long-distance relationships. (You don't get more long-distance than Australia's inexplicable relationship with Eurovision.) 
This year, to create "a dramatic finish", a new voting system was implemented, separating the scores of expert national juries from their respective public votes. The result was a tense reveal that saw Australia dethroned by Ukraine – with Russia ending third. 
Jamala's winning entry 1944 evoked the deportation of Crimean Tatars by Soviet authorities, and is dedicated to her grandmother. It's a world away from the lighthearted subject matter of previous winners, or indeed the singer's surreal attempt to qualify for the contest in 2011. "You can't get a more depressing song," says John.
The title alone evokes memories of dark moments in European history for people all across the continent. "I would prefer these horrible things didn't happen to my grandmother," Jamala said at a press conference following her win, "I would prefer that this song didn't exist."
She fought tears as a Crimean journalist informed her how much the victory meant to people from the region. Suddenly the assembled media were forced to slide seamlessly from inquiring if a naked Belarussian man would perform on stage with live wolves, to reminding readers of the two-year old Russian occupation of Crimea. The usual glitter and pyrotechnics were now served with a dollop of geopolitical analysis.
"Welcome to Ukraine"
After the live broadcast, Jamala performed at the official after show party, to an audience that included members of the OGAE, an organisation of ESC fan clubs from all over the world. While fans may be sympathetic to her tragic family history, it's not the easiest track to dance to. John argues that it's unlikely to get major play in European gay clubs. 
Tradition dictates that Jamala's triumph bring next year's contest to Ukraine. According to Rainbow Europe's ranking of LGBTI human rights across the continent, the country ranks 44 out of 49 – meaning a big part of Eurovision's fanbase may not feel safe attending.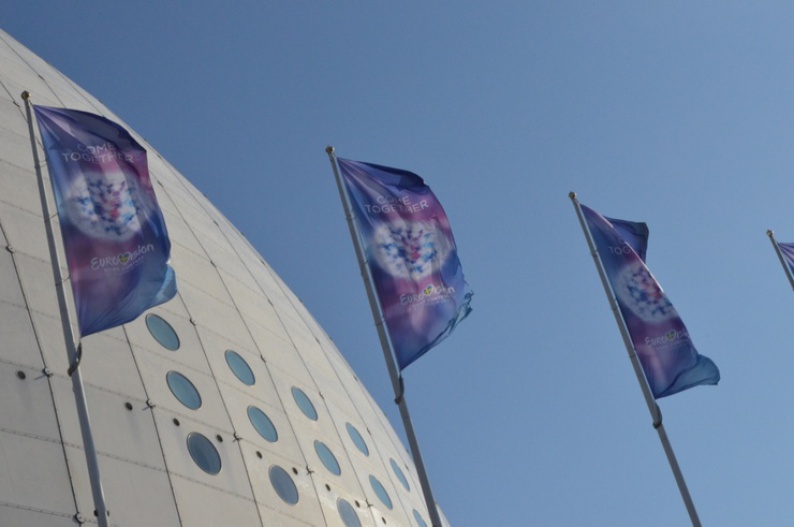 At the after party I speak to three British OGAE members; two say they won't travel to next year's contest. A third is open to the idea "so long as they assure the safety of everybody". Current UK Government travel advice relating to Ukraine only places restrictions on those traveling to Crimea. 
Whether or not Kiev hosts Eurovision 2017, it's clear that the contest is only getting bigger. Last year the event was shown in China, and this year saw its first American live broadcast – and featured a special guest appearance from Justin Timberlake. It's evidence of the contest's unique charms that such a global megastar felt oddly out of touch. Europe should be proud of this mad thing it's created, which mixes outrageous performance and meaningful international politics without even breaking a sweat.