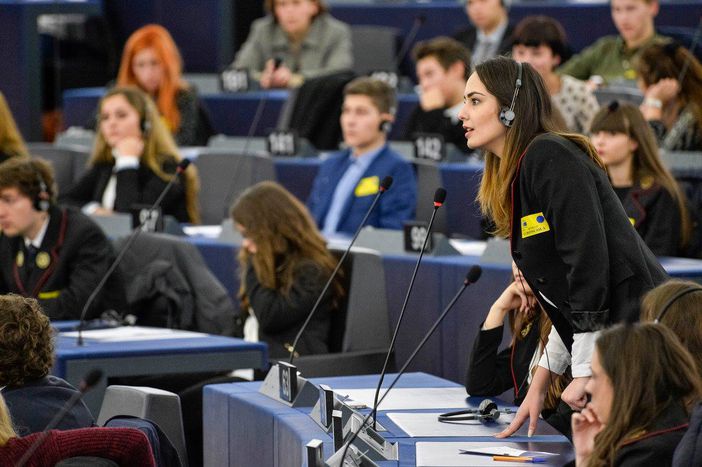 Euroscola, or how to be an MEP at 17 years old
Published on
How many of you have heard this buzzword? This unfamiliar lexeme? Euroscola is a precious opportunity for high school students to be an MEP for a day at the European Parliament in Strasbourg, France.
During this day, they will mostly discuss, analyse and debate the important topics of the European actuality such as immigration and integration, youth unemployment, conflicts in the world, renewable energies, the future of Europe and other important themes. One of the main goals is to promote intercultural dialogue, discussion, debate and participation among the youth coming from so many different EU member states. 
About 500 students from different EU member states come with their teachers for this particular and busy day of parliamentary activities. Some of them are dressed in business suits like the MEPs, others more informally. About 0.1% of them, sometimes, come dressed up in national folk costumes. Nonetheless, it is a distinguishing contrast when one takes a photo of the hemicycle, that is, the chamber where the MEPs have their plenary sessions. You can see pretty girls in high heels, with tight bras and pants. Some have red hair, others piercings, other wear more traditional national costumes as if they wanted to emphasize a peculiarity of their own. They all mix more or less according to nationalities in the chamber, but of course, some nationalities stick together and some rivalries also show up between the different nationalities. 
Play it like your MEP
Students look at each other more or less pleasantly, frowning, smiling, laughing, scratching their necks and heads to think of a question to the audience. Or of something else. You can read the curiosity on their faces, their questions, their answers. They care about the EU and its challenges. Their engagement indicates they want to get involved and help to solve the challenges, but they are still a bit young to seriously be welcomed to the "EU board of directors". In the meantime, they can obviously get involved in different youth projects, but lots of them would like to be the ones calling the shots at a higher level. At least they do so when they vote during the Euroscola session on different EU themes such as immigration, the future of the EU, is EU a good or a bad thing, etc. They get the chance for one day to democratically express themselves and represent EU citizens.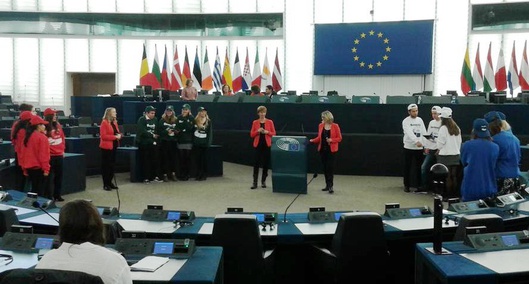 Euroscola, a way to make the difference?
This, because lots of young people feel they do not have a voice on EU matters and issues. Therefore, Euroscola is an appeasing opportunity for the youth to give them the impression that they can actively participate in the EU. The goal is to eliminate that frustration and powerlessness that some youngsters feel when it comes to politics. It is obvious that the Euroscola participants are aware that they are playing a game, but is politics not a game when everything is said and done? The best player is usually the one who speaks more, intervenes most of the times, states his ideas in a very rhetorical way and he is dressed in a suit.
They start the day with introducing their schools. Then they receive a presentation of the EU from different speakers. Afterwards, they can fire up questions about the EU and its actuality. Some of those questions are really smart and insightful. Then, it is time for lunch and a quiz game of 24 questions in the 24 EU official languages, together with the teachers. Then, students work in different workshops on the 6 different EU themes before presenting a report in the hemicycle. Once back to hemicycle, they listen to the rapporteurs on the different themes and get questions from the audience. Finally, the day ends with another quiz game and the defile of the EU national flags together with the EU anthem. That is it for the day.
How did this experience change the young students? Perhaps we will never know. Some will be more optimistic, others more pessimistic and so forth. Will it matter when you go to bed? 
Next Euroscola days:
If you want to know more about Euroscola you can do it on the European Parliament' website and watch online a Euroscola session or   Calendar: 
Thursday 17 March 2016

Friday 15 April 2016

Thursday 21 April 2016

Friday 13 May 2016

Saturday 21 May 2016 (EUROSCOLA – EYE)
By Victor Beres