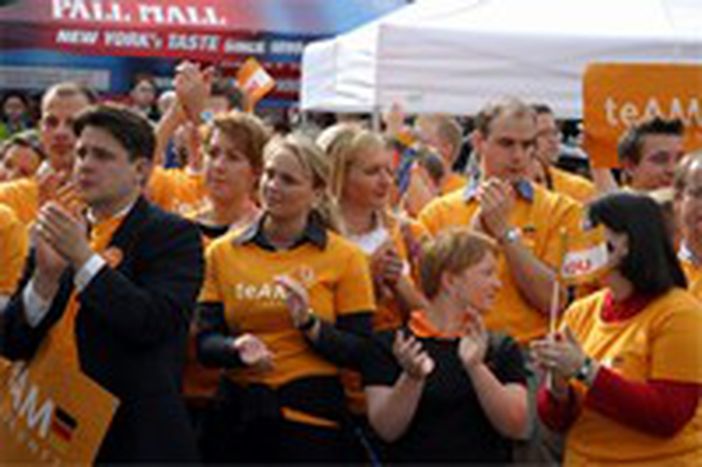 Europe's new triumvirate
Published on
Angela Merkel, Germany's potential new chancellor, and tipped Chirac-successor Nicolas Sarkozy are getting in with Britain's Tony Blair. Are we looking at a new balance of power in Europe?
Sometimes small gestures tell the big story. When Angela Merkel, German opposition leader and expected winner of September's general election, visited France earlier this year, three official encounters where scheduled: President Jacques Chirac and Prime Minister Dominique de Villepin were obvious ones. But also on the list was Nicolas Sarkozy, France's interior minister and head of the right-wing UMP party, who is hotly tipped to take over the presidency from Chirac in 2007.
Sitting next to each other, the language gap bridged by translators, the two politicians' facial expressions and nods of agreement left observers in little doubt: here were two prospective leaders that understood each other perfectly. So, while Chirac politely declined a shared picture opportunity with Germany's first potential female chancellor, Merkel and Sarkozy took full advantage of theirs and parted in high spirits.
A special friendship
And indeed, behind the friendly facade, Merkel, 51, and Sarkozy, 50, have a lot in common. Both are what you might call modern conservatives, whose shared belief in pro-market policies and the need for reform both within their own countries and, to some extent, in the EU is widely known. Another shared characteristic, and the one that most drastically distinguishes them from their predecessors, Schroeder and Chirac, is their pro-Atlanticism. Both Merkel and Sarkozy, occasionally dubbed Sarkozy l'Américain by the French press, strongly believe that the bridge between Europe and the United States and, more to the point, between Germany, France and the United States, needs to be rebuilt.
No wonder someone else is watching with keen interest. Britain's Prime Minister Tony Blair, who has often clashed with Schroeder and Chirac over a whole range of issues, would undoubtedly welcome a change in the political elite of Europe's most powerful countries. It isn't difficult to see why Blair would welcome the Merkel-Sarkozy duo. Their desire for market-led economic reform; their questioning (albeit carefully) of their countries' generous social models; and, above all, their openness towards the United States, are music to Blair's ears.
Steps towards joint policy-making?
And Blair isn't afraid to express his approval. When the Prime Minister visited Germany in June, it wasn't Chancellor Schroeder's office that was topping his list of destinations. Instead, in a breach of protocol, Blair's first stop was the British embassy, where a smiling Merkel was waiting for him.
And Merkel, dubbed Germany's Iron Lady in reference to Britain's Lady Thatcher by some, is happy to return the favour. In the recent row over Britain's controversial rebate, a Thatcherite legacy that assures Britain gets back some of the money it pays into the EU budget, Merkel expressed sympathy for the prime minister's tough negotiating stance, arguing that Britain, as a net contributor to the EU, gets back significantly less than other countries in agricultural subsidies.
Sarkozy, too, makes no secret of his admiration for Britain's premier. The Times reported him saying in July that France needed "a Thatcher and a Blair to kick life into its economy and scrap 'the policies of 50 years ago.'" Judging by this mutual admiration, it seems that a Merkel-Sarkozy-Blair triumvirate could indeed become a working relationship, ready to blow the much-needed breath of fresh air through the corridors of the EU.
Not all plain sailing
But controversial issues remain a plenty, one of the most significant being EU membership for Turkey. While Blair wants the predominately Muslim country to be part of the Union sooner rather than later, both Merkel and Sarkozy are strongly opposed, favouring what they call a "privileged partnership" instead. Furthermore, Blair isn't likely to give up the disputed British rebate, while Germany and France are unlikely to give much ground when it comes to reforming the EU's Common Agricultural Policy (CAP), a subsidy of huge benefit to German and French farmers and still a thorn in Blair's side.
It remains to be seen how much of the current back-slapping between the three politicians will be just that, and how much of it will translate into real joint policy-making. Even more significant, however, could be another question: In a European Union of 25 member states, can axis-building of any kind be the right way to get the project back on track? There is little doubt that any new axis, be it a Berlin-Paris one, a Berlin-London one, or indeed a three-way one, runs the risk of offending other big member states, such as Spain or Italy, as well as influential new members, such as Poland.