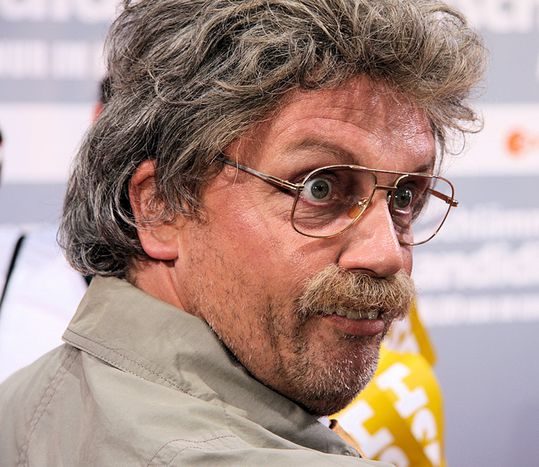 Europe's fictional politicians
Published on
Horst Schlämmer is to Germany what Brüno is to Austria. Yet while the candid fashionista can be seen grinning down from billboards across Europe, his German counterpart is happy to keep a lower profile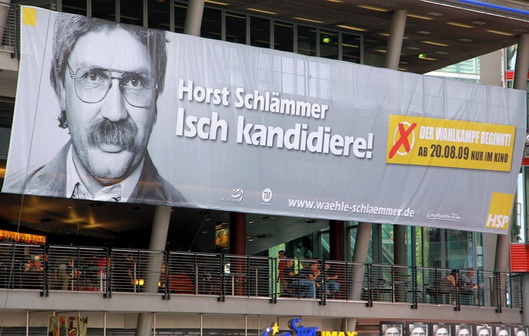 The first appearance of the countrified journalist with somewhat of an alcohol problem was just over 4 years ago. Fame, for the assistant editor in chief of the Grevenbroicher daily newspaper, initially came through his involvement in the German parliamentary election campaign. At that time, most Germans were asking themselves where exactly the town of Grevenbroich actually was. Horst Schlämmer established his own political party, and a media-effective election campaign launched him into the spotlight. Now, this proud manbag-carrier is on his way to the big screen. The feature film, Horst Schlämmer– Isch kandidiere (2009), was released on 20 August in German cinemas. It tells of the country bumpkin's ascendancy to the position of German federal chancellor.
Invasion of the alter-egos
Behind the politician – who campaigns with slogans such  as 'Sunbeds for all!' or 'Yes, week-end!' – is the much-loved comedian Hape Kerkeling. In the last few years his penchant for masquerading under fictional personalities has attracted much attention. Schlämmer has become his easily most famous character, and now he is making the move from fiction into reality. From now, it's for real; 'My name is Horst Schlämmer. I'm going to become your next Federal Chancellor.' It's a statement that's designed to provoke.
What is this person, Horst Schlämmer, exactly? A real-life journalist out of the Westphalia countryside? An alter ego of Hape Kerkerling? Maybe both? Perhaps the idea he is getting at is that of hyper-reality, that conceit out of the glory days of the postmodern era. The concept represents, in its simplest form, a condition whereby people's awareness can no longer distinguish between reality and a perfectly constructed illusion. Schlämmer himself was in no doubt of his real life existence in a Spiegel magazine interview, 'I'm no alter ego; I'm real. I'm a tad fake, but real in general,' he said. When asked how someone could tell the difference, he retorted 'you can touch me, and I stink.'
Fictional presidents and wannabes
Hape Kerkeing is not the only comedian who has caused furore in the political arena. The French actor Cristophe Salengro created 'the President of Groland' for a Canal+ television programme. The character is best understood as a parody of French behaviour. Like all real-life existing countries, Groland has its own national anthem and flag. You can even apply for a Groland passport at the broadcaster's television centre. Every citizen can apply to be the President of Groland, too. The only snag is that only the reigning President has the right to vote.
The Polish minority candidate with the unpronounceable name Ędward Ącki concerns himself with the business side to politics. The fictitious political figure, who was created by the journalist and radio host Szymon Majewski, wants one thing more than anything else; to thoroughly clean house in Polish politics. The name of his party, 'ĘĄ - Szczerzy do bólu' (honest until it hurts) shows that Ącki really does mean business. His anti-corruption speech in front of the Polish cultural palace, which symbolically should do the state's dirty, hauled him a large catch of fans. It seems that it doesn't take much to nominate yourself as a candidate. Perhaps Polish president Lech Kaczyński had better watch his step in 2010 to avoid the barbs of the red-bereted Ącki.
The parliaments of Europe are worried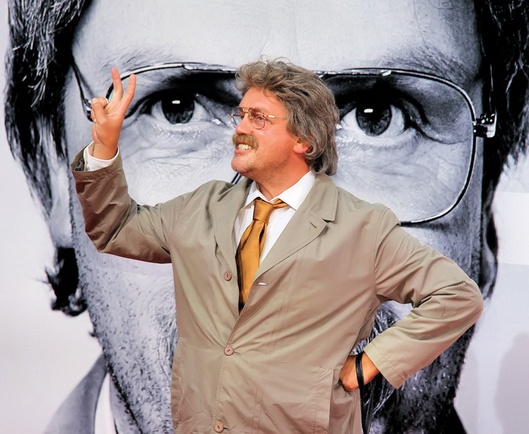 Is the concern of so many columnists at this invasion of alter egos into national parliaments justified? Kerkeling's larger than life Horst Schlämmer likes a society that cares more about its VIPs and less about its politicians. Though Schlämmer announced his candidacy to the media, he was scared off by the necessary formalities to found a political party and to register for the elections. Likewise with the president of the Republic of Groland; in 2007 he wanted to apply for seat in the Élysée palace, but he ultimately failed to get the required number of signatures. The same fate is most likely in wait for Schlämmer, should he ever muster the energy for all that paperwork. Aptly aimed slogans such as 'Liberal, conservative and on the left – there's something for all!" do leave one wondering whether some politicians are left hanging their heads in shame, or busy taking notes for their own campaigns.
Translated from Schlämmer for Kanzler: Wat die nich können, dat kann ich auch!