Europe's eco-cities
Published on
The German city of Freiburg im Breisgau is leading the way in sustainable local development. Although it is not an isolated case, more European towns and cities need to follow its example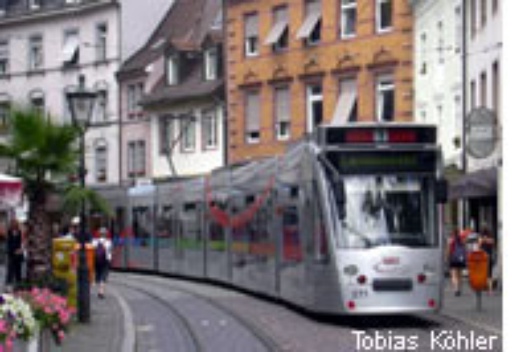 With over 80% of the population of the European Union living in metropolitan areas, environmentally friendly practices in an urban context are vital to improving Europe's impact on the environment. The concept of 'eco-cities', which incorporate an extensive and popular public transport network, recycling initiatives and renewable energy sources, is thus gaining ground.
The Green city
For several decades Freiburg has been a stronghold of the German Green Party. In the 2002 elections the Greens got almost 25% of the vote there, and Dr. Dieter Salomon became the city's Green Mayor. Since the early 1970s Freiburg has been continually implementing and extending new environmentally friendly, and often very innovative, measures. Between 1970 and 1973 cycle lanes were established, the city's tram network was improved, and the entire city centre was turned into a pedestrian zone. Following this, a flat-rate 'Regional Environment Card' was launched in 1991, offering unlimited use of public transport in the city and its surroundings.
Cycling is central to Freiburg's transport system. In the last three decades the city's cycle lane network has grown from 29 km to over 500 km in length. The Freiburgers themselves like pointing out that there are three bikes to every two residents – an impressive, if somewhat bewildering statistic! Key to the success of the transport network is the way the different modes of transport interconnect so effectively. For example, the main railway station sports both bus and tram stops, and a range of cyclist's facilities, including 1,000 parking spaces for bikes. The extensive cycle lanes and tramlines, as well as 'park-and-ride' and 'bike-and-ride' initiatives make public transport not only efficient but attractive. Further developments include the new €400 million 'Breisgau S-Bahn' – a fast suburban railway linking Freiburg with nearby towns and villages.
Renewable energy too
Known as Germany's 'Solar City', Freiburg has also invested heavily in renewable energy. Leading solar research institutes are based in the city and its use of solar power puts it at the top of the German 'Solar League'. At present, almost 5% of Freiburg's electricity comes from sustainable energy sources, and the city is on track to meet its aim of 10% by 2010, with subsidised solar panels on the roofs of houses, schools and businesses. Waste sorting and recycling facilities are also highly developed, and recently built neighbourhoods in Freiburg's suburbs have been planned and built with environmental concerns in mind. The districts of Vauban and Rieselfeld together consist of around 6,500 energy efficient homes, incorporating solar technology and connected to the various parts of the Freiburg public transport system.
But these various measures have more than just a positive environmental effect – they improve the standard of living as well. According to one resident, "living in an 'eco-city' like Freiburg inspires a positive, forward-thinking outlook". Efficient public transport, the community spirit engendered by Freiburg's ambitions and achievements, and cleaner surroundings can all take part of the credit for this. As a student at Freiburg University pointed out, "being devoted to improving our environment gives us a greater feeling of allegiance to our city".
Just the start?
Freiburg, however, is not alone. Although few (if any) towns or cities can really compare in many aspects of environmental protection, several can still be counted as fellow 'eco-cities' for their progress in certain areas. The Bavarian town of Erlangen, for example, implemented a pro-bicycle policy soon after Freiburg, subsequently seeing a 75% increase in bike use. The town also has a low rate of water consumption and has made progress in the field of solar power. The three winners of the 2003 European Sustainable City Award – Ferrara, Heidelberg and Oslo - have also made significant progress. Ferrara's recycling system is particularly impressive, Heidelberg stands out for its energy saving activities (led by the city authorities and the university – reducing their Carbon Dioxide emissions by 35% and 13% respectively), and Oslo's public transport system and waste-reduction programmes are both very successful. Another Scandinavian city known for its environmentalism is Stockholm – generally considered the world's most environmentally conscious capital city.
Meeting the requirements
What these cities show us is that it is possible to make real progress in helping the environment by making the task attractive to the public – without popular support public transport, recycling, waste-reduction and renewable energies would not work. Generally, authorities cannot force people to take part in all these areas, but establishing a community-led effort to do so can overcome peoples' initial reluctance. To do this, commitment is needed from of city authorities, especially financially. It is worth noting that all of the above 'eco-cities' are located in some of the wealthiest areas of Europe – and many of the schemes mentioned are not cheap. However, for Europe's impact on the environment to be improved, our governments need to give the necessary support, investing in the transformation of many more urban areas into 'eco-cities' like Freiburg. It's no good waiting for people to make their lifestyles more sustainable themselves; authorities should bring environmental consciousness to the masses, and if this comes at a price, it is a price worth paying.