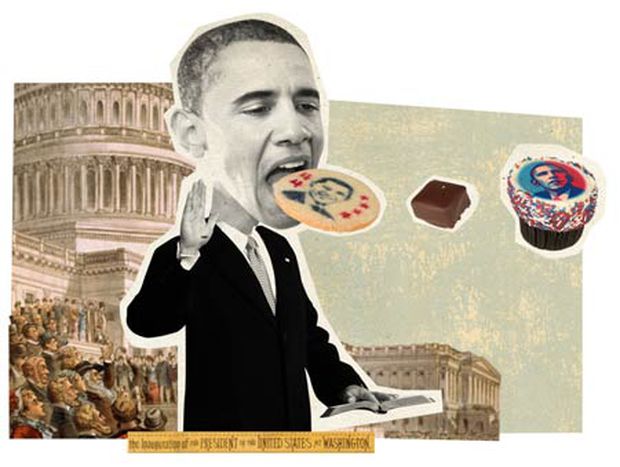 Europe's breakfasts: I'll have what Obama's having
Published on
Russia: Putin feeds Obama whilst a leather boot fans the flames. Italy: whilst Obama becomes president, Berlusconi serves his escort a hot drink. Germany: Merkel cooks brekkie for hubby: a round-up of European politicians' breakfast stories in the news, plus a pancake recipe for the bimonthly gastronomy column
The night Barack Obama was beginning his career as president of the United States, Silvio Berlusconi was employed in the less exalted business of serving breakfast to the escort Patrizia D'Addario. She taped him asking her if she would prefer tea or coffee. It was an important time for her career as well as for Obama's. She made such an impression on the Italian premier, she was allegedly put forward as a candidate for the European elections soon afterwards.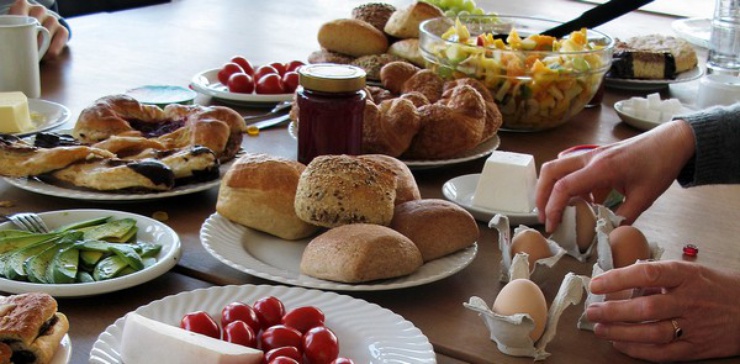 Meanwhile, the extravagant morning feast that Russian president Vladimir Putin served to Obama in July 2009 was one way of combating the American's jet lag. The press called it 'a traditional Russian breakfast': a rich spread of smoked sturgeon, pancakes, eggs with black caviar and quail dumplings was followed by ice-cream with sweet cherry sauce. Most complex of all was the tea. Water was boiled in a samovar, a traditional pot, as a waiter dressed in full national gear fanned the coals with a leather boot. It seems a complicated ritual to get right first thing in the morning.
British prime minister Gordon Brown has a less happy association with the first meal of the day. The Telegraph, TheMirror and TheDaily Mail have all called aspects of his leadership 'a dog's breakfast'. Like Brown himself, the phrase originates from Glasgow. It means a complete mess, and perhaps originates from the omelettes cooked for the first meal of the day that, if botched up, is given to the dog to eat.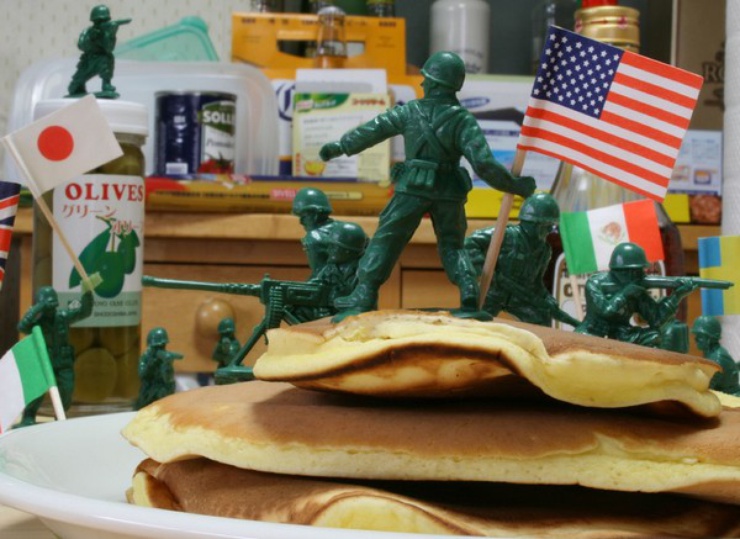 Breakfast is called Frühstück in German, meaning 'early bit' or 'early piece'. If Merkel is in a celebratory mood (perhaps not after the upcoming elections) she might have a glass of Sekt, sparkling white wine, on the side. This kind of breakfast has a name: Sektfrühstück. A German breakfast is sure to include Brötchen, little round rolls of bread that come in all sorts of varieties. To accompany that there should be coffee or tea, a plate of cold meats (sausages of course) and cheese too. Muesli is popular, as is yoghurt and fruit juice. Some Germans strictly hard boil their eggs: a gooey French style trompette (egg and soldiers) is considered disgusting! The more clean-living Angela Merkel still made time to prepare breakfast for her husband as late as 2006. At least, that's what the German chancellor told the tabloid Bild: 'Well, the breakfast that I am preparing for us is still the same.'
Recipe*: pancakes
Ingredients:
-1 1/2 cups all-purpose flour - 3 1/2 teaspoons baking powder - 1 teaspoon salt - 1 tablespoon white sugar - 1 1/4 cups milk - 1 egg - 3 tablespoons butter, melted
1. In a large mixing bowl, sift together the flour, baking powder, salt and sugar. Make a well in the centre. Pour in the milk, egg and melted butter; mix until smooth, consistency of thin cream
2. Heat a lightly oiled griddle or frying pan over medium high heat. Pour or scoop the batter onto the griddle, using approximately 1/4 cup for each pancake. Brown on both sides and serve hot
*courtesy of Dakota Kelly at all-recipes.com
*First published on 2 October 2009 on cafebabel.com