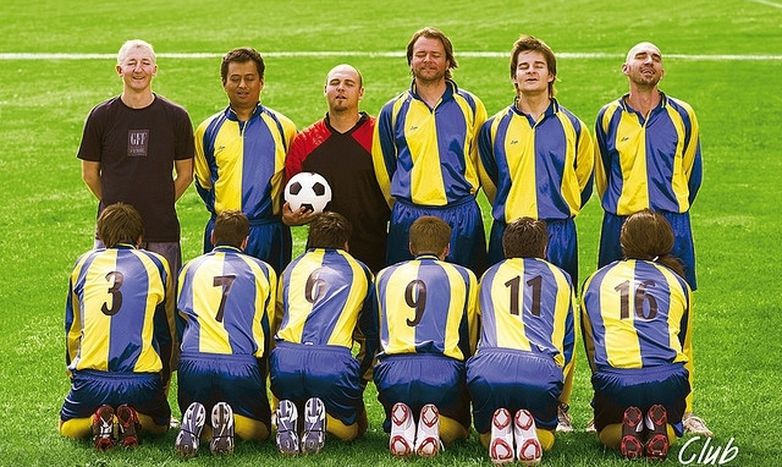 European sport gay-rometer: spanning the fear
Published on
Twelve years after the death of gay British black footballer Justin Fashanu, who committed suicide at the age of 37, homosexuality in sports is still a taboo. European case studies from the no-go area of football to the changing image of rugby and gay-friendly status of tennis
Many sports champions do not have a problem posing nude with their peers for various advertising campaigns and often saying they are proud to be gay icons. Nevertheless, declaring to be homosexual is out of question. Of the almost half a million professional football players in the world, none has ever come out as gay. What is there to be afraid of? Ellis Cashmore and Jamie Cleland, two British researchers from Staffordshire university, interviewed some 3, 000 players, coaches, referees and football fans. They came to the conclusion that one out of four (27%) of the respondents personally knew at least one gay football player. 'Not a single one of them has declared it publicly,' explained Cashmore to British daily The Guardian. It is hard to explain why. But one thing is sure; football fans are not the problem. The same study reveals that 80% of fans seem to be absolutely tolerant and in favour of greater honesty and openness by their beloved champions.
Doing the European rounds
There is a general sentiment that athletes are afraid. In Germany, the Financial Times reported that three national football players anonymously declared to be gay had promised to publicly come out once at least eight other team mates would do the same. Needless to say, their identity was not revealed. In Italy the atmosphere is the same. Azzuri's coach Marcello Lippi has come out with some crackers such as: 'There are no gay footballers' and 'In forty years of work, I never knew one'. However one footballer from Serie C (Italy's third division) told Italian journalist Paolo Colombo that he is regularly paid up to 2, 000 euros (1, 754 pounds per night) by several players from the national side in exchange of sexual favours. The interview is being widely broadcasted in Italian televisions. But who will tell the teenage girls to get rid of the posters of their 'heroes' plastered across their bedroom walls?
In Spain they try the impossible to put an end to 'evil gossip'. Barcelona football club stars Zlatan Ibrahimovic (who now plays for AC Milan) and Gerard Pique were photographedwere photographed in a scene that borders on romantic. That picture started rumours of a possible relationship between the players. Those rumours were, however halted by the Swede Ibrahimovic himself. When a journalist asked him about the photo, he responded: 'bring me your sister and see if I am gay'.
The rumours according to which Beşiktaş JK player Guti (José María Gutiérrez Hernández) kissed a man or that he used to date the transsexual model and actress Bibiana Fernandez from Almodovar movies were quickly denied. The thing is that at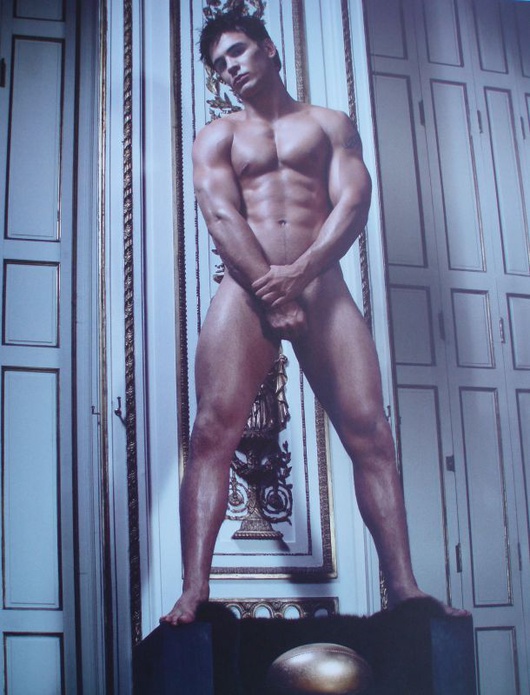 the El Bernabéu stadium the Real Madrid fans 'welcome' him to the taunts of 'maricon, maricon' ('faggot, faggot'). Meanwhile he continues to pose alongside the supermodel of the moment or is forced to pick up reporters during live broadcasting – like many others.
In France, the media has even suggested that the internal crisis that made the Bleus do so badly in the last world cup may have been caused by a case of homophobia. Yoann Gourcuff was the unlikely gay icon who made it on the cover of gay magazine Tetu (he was 'bomb of the month' in December 2008). However, that went down badly in a team featuring the machos of French football, Nicolas Anelka and Frank Ribery, who were accused of homophobia in some forums after singling the Lyon midfielder out by ignoring him both on the field and off it during this year's world cup.
Homosexuality in rugby?
If it is so hard to accept homosexuality in football, imagine what rugby is like. As Serge Simon, French former rugby player puts it in his book The Scrum ('La Melée', 2008), the sport is 'based on archaic values and the removal of any trace of femininity.' The issue of homosexuality was brought to everybody's attention once former Wales and Lions captain Gareth Thomascame out of the closet in December 2009. Italian rugby union player Mauro Bergamascoconfirmed the trend in an interview with Corriere dello Sport: 'I know that there are homosexual rugby players, but I have never met one.'
Marco Bortolami, former captain of the Italian national team, explains that it depends on the glamour twist given to the sport. 'It is not possible to associate rugby to homosexuality,' he said in an interview with Riders Magazine. It all started with the annual Dieux de Stade ('Gods of the Stadium') calendar in 2001, bought in 90% of the cases by men. 'We have to be careful of the image we convey into our own environment.'
François Rousseau, photographer of the 2010 edition of Dieux du Stade, agrees. 'Without a doubt, the calendar contributed to the evolution of mentality.' In fact, more and more athletes are becoming gay icons and even state that they are proud to be - take David Beckham. Nor do big fashion brands from Dolce&Gabbana to Armani let the opportunity slip away. Their adverts are full of naked men, whether in the newspapers or across billboards - Cristiano Ronaldo is currently plastered nearby one of the main squares in Rome, for example. 'Athletes love their own image and they love being wanted,' says François Rousseau, 'even by gay people. Of course, this is more obvious nowadays. In any case, homophobia is still very strong in western countries. Let's not forget about eighty countries in the world where being homosexual is considered a crime! There still a lot of work to be done against homophobia. The sportive world evolves at the same pace as the society; it is nothing more than its reflection.'
Tennis: gay-friendly?
Tennis trumps rugby as the most gay-friendly sport. This is according to 65% of the respondents of a survey conducted by Stonewall, a British organisation dedicated to LGBT issues – only 29% thought rugby was gay-friendly in the same poll. It is not surprising that tennis and homosexuality work together. Russian star Martina Navratilova and Frenchwoman Amelie Mauresmo are famous out tennis professionals.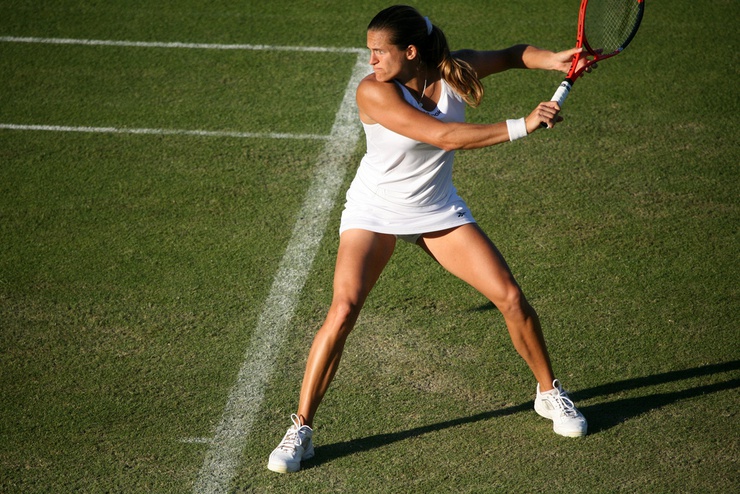 In fact, women seem more comfortable in declaring their homosexuality than men. The real taboo definitively concerns the gay male athlete, although it seems a paradox. François Rousseau sums it up pretty well. 'Nowadays, a father would consider it pretty funny to have a family picture with his wife and kid in the hall of magazines like Abercrombie&Fitch in New York with a handsome, almost naked man straight out of a porn movie,' he says. 'But if his son would confess that he was gay, I bet the father would laugh a lot less.' What do you think?
Images: (cc) degreeszero; (cc) zequouine/ (cc) Bruno Girin/ all courtesy of Flickr
Translated from Sport e omosessualità: tra tabù e vanità