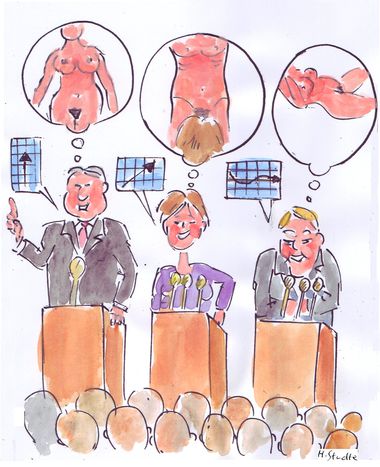 European politicians: Freudian slips
Published on
From a French MEP's 'fellation vs inflation' confusion to the Spanish prime minister's 'shag vs support' shambles, it's our weekly moment to delight in the continent's Lapsus Politicus
'I see some of them looking for returns of twenty or twenty-five percent, at a time when fellatio is almost nonexistent,' is the now-famous line uttered first in the world in French: Moi quand je vois certains qui demandent une rentabilité à 20-25%, avec une fellation quasi nulle. The culprit is Rachida Dati, MEP and current mayor of Paris' 7th district. In English it'd be pretty hard to mix up inflation with fellatio – but in French inflation and fellation are pronounced in a similar way.
Sexual innuendo is symptomatic in political French, it would seem. Prime minister becomes premiere penis according to one anonymous man at the beginning of this video below:
The Dati incident has reminded the media of the late French socialist minister Pierre Beregovoy, who spoke of a 'shag in taxes' as opposed to a 'drop in taxes' in 1992 – this time it was all in the 's' (baise vs baisse de l'impôt). Over in Spain, prime minister Jose Luis Rodriguez Zapatero spoke of 'stimulating, demanding and shagging' tourism – the latter unfortunate adjective confusing the verb follar (pronounced 'foyaar', meaning to shag) with apoyar (pronounced 'apohyaar', and meaning to support). 
The German chancellor has made more honest slip-ups. In December 2008, Angela Merkel called conservative MP and former rival-cum-ally Roland KochRoland Kotz ('Roland Vomit'). Maybe she meant it – Koch went on to resign as the leader in the region of Hessen in May 2010. In any case, the joke's on Roland in English. There's even a facebook group with a total of nine fans dedicated to the topic: 'the last name 'koch' is pronounced 'cock' not cook'. It all comes back to the phallic verbal connotation that Rachida Dati has been unintentionally making international headlines with; the prize for worst headline goes to German daily Die Welt who call the former justice minister '(S)Ex-Ministerin'.
Illustration: ©Henning Studte/ videos Rachida Dati (cc)Dailymotion; French politicians (cc) exarkun73; Zapatero's potty mouth (cc) Angela Merkel (cc) keuronfuih/ all via Youtube
Translated from Inflationistische Fellatio mit Rachida Dati