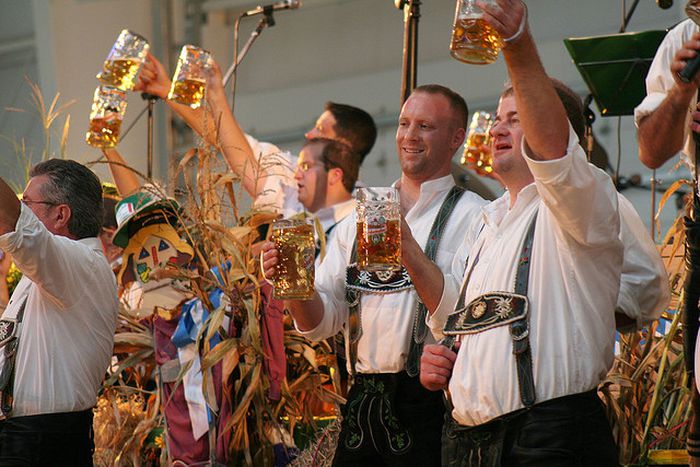 European Playlist of the Week: Oktoberfest
Published on
Like every September, we are enjoying Oktoberfest. This German tradition attracts crowds from all over the world to celebrate and, well, to drink beer and eat sausage together. The perfect Oktoberfest music can be found in our playlist. So then: Prost!
A list of the classics would be infinitely long. Every year new songs are added to the list while the old ones are still played. Here is a small selection.
Wir ham Durst! 
This song should be perfect to get you in the celebratory mood and remind you what it's all about: Drinking!
Dj Ötzi - Hey Baby
This it the classic song in the Oktoberfest tents. If you want to go, you absolutely have to be able to sing along!
Tim Toupet - So ein schöner Tag (Das Fliegerlied)
This song was originally a children's song, but in 2008 it became the ultimate Oktoberfest hit. You can see the official dance in the video below. Because at Oktoberfest, it's not just about drinking, but dancing as well. That's why this dance is especially challenging.
The Hermes House Band - Country Roads
The Hermes House Band has done several classic party songs, but none are as loved as Country Roads at Oktoberfest.
Das Esellied (Iha Iha Iha Ho) 
A typical Bavarian melody and lyrics that are made for you to sing along.
The White Stripes - Seven Nation Army
It's painful to hear this great song accompanied by drunken bellowing, but the "Bum, bum, bum, bum" is an easy refrain for the visitors of Oktoberfest.
Olaf Henning - Cowboy und Indianer
This song also has a dance. But it is not for the underage and therefore cannot be shown here.
Robbie Williams - Angels
Romanticism is not lacking at Oktoberfest. When this song comes on even the hardest partiers feel the tug on their heart strings. And everyone sings along, of course. So romantic!
Translated from Europäische Playlist der Woche: O'zapt is! Oktoberfest