European leaders: average age 55
Published on
True or false: younger heads of state have less experience but more liberal policies than older heads of state, who have more experience? Plus an interactive map of Europe's old - and not so old - fogies
The average age of European leaders is 55, with a 39 year age gap between the EU's most vintage - Lithuanian president Vladas Adamkus, 81, and the youngest - Swedish prime minster Frederik Reifeldt, at 42. Five heads of state in the European Union are in their forties. 16 are in their fifties, and seven are over 60. Does leadership style differ depend on age, and is there an ideal age for European leaders?
Popular: Spain, Sweden, Cyprus. Unpopular: Hungary, Italy
Spain's prime minister Jose Luis Rodriguez Zapatero was elected in 2004, age 44. During his term in office, he legalised same-sex marriage, reformed the educational system and made mass regularisations for illegal immigrants. A socialist with liberal policies, Zapatero reversed many of his predecessor's conservative policies.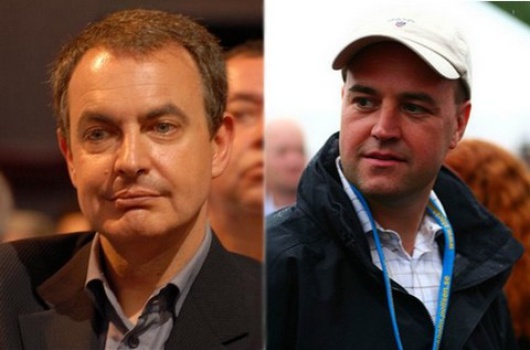 44 and 41: Spanish and Swedish PMs Rodriguez Zapatero and Frederik Reinfeldt (Photos: guillaumepaumier/ Flickr/ Mattias Olsson/ Wikimedia)
Young age seems to mean more liberal policies - Swedish prime minister Frederik Reinfeldt was elected in 2006 at age 41. A liberal conservative from Sweden's Moderate party, he cut taxes for low and middle income households and maintained present tax rates for high income households. But being the youngest doesn't automatically mean being the most popular. Hungarian prime minster Ferenc Gyurcsány, 46, was caught on tape claiming that his government were liars, causing widespread riots. The Economist amongst others accused him of 'turning a blind eye to police brutality.'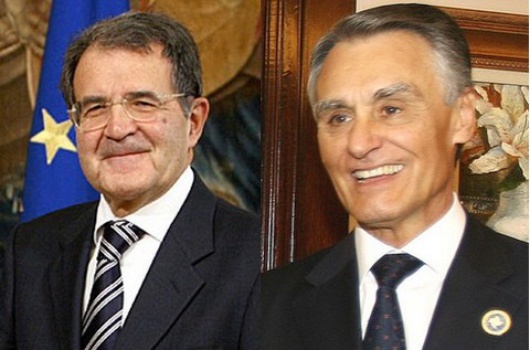 The 68-ers: Italian PM Romano Prodi and Portuguese president Aníbal Cavaco Silva (Photos: laurentius87/ Flickr / Ricardo Stuckert/PR/ Agencia Brasil/ Wikimedia)
Italian prime minister Romano Prodi and Portuguese president Aníbal Cavaco Silva are both 68, an age when most politicians retire. Prodi, president of the center-left Democratic party, was forced to hand in his resignation on 21 February 2007 when his government disagreed over foreign policy and Afghanistan. An eventual vote of confidence kept him in his post of prime minister. Cypriot president Tassos Papadopoulos, 74, seems to be more popular. He helped Cyprus join the EU in 2004 and meet the criteria to adopt the euro alongside Malta on 1 January 2008. He also launched negotiations for Cyprus' unification.
Brown, Sarkozy: over to middle age
The EU's most prominent middle-aged leaders, British prime minister Gordon Brown, 56, and French president Nicolas Sarkozy, 52, have different leadership styles. The leader of Britain's Labour party distinguishes himself by trying to modernise the United Kingdom by establishing a constitution in the long run - something the country never had - and by eradicating corruption.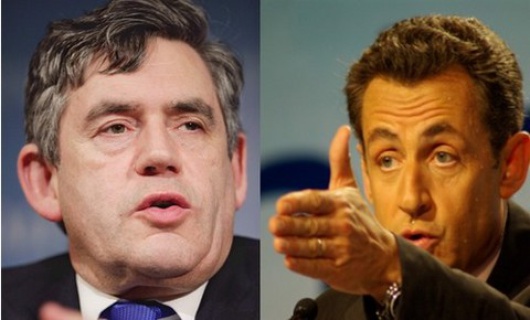 56 and 52: British PM James Gordon Brown and French president Nicolas Sarkozy (Photos: david_terrar/ Fr@nçois/ Flickr)
The French Union for a Popular Movement leader is often accused of having a selfish style, censoring the media when he finds (usually romantically linked) contents about himself inappropriate – although lately he has been open about his relationship with Italian model-cum-singer Carla Bruni. He also plans to subsidise churches, which would halt France's secular tradition. Despite 'hate speeches' on immigration, Sarkozy has some modern aspects in his policies. He proposed a plan to halt global warming and to review the law on inheritance tax, which is 50% in France.
Europeans have a clear preference for electing leaders who are in their fities. It seems impossible to be elected if you are older unless the leader is popular while occupying higher functions. Look at Aníbal Silva, who was Portugal's prime minister for ten years before becoming president, and Prodi who formerly was prime minister and president of the European commission.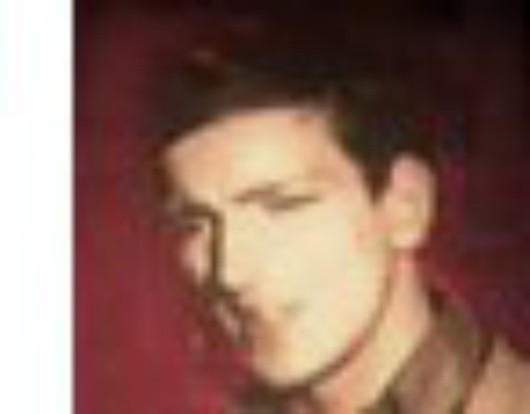 Those under fifty often enter politics at a very young age; Zapatero started politics in 1976, aged 16. And don't forget former Portuguese prime minister and current European commission head, Jose Manuel Durão Barroso, as a 19-year-old student communist.
How old is YOUR head of state?
(Click on any star to see how old your country chief is, and click and drag to see the rest of Europe)
In-text photo: When Barroso was a communist (sopo.pt)