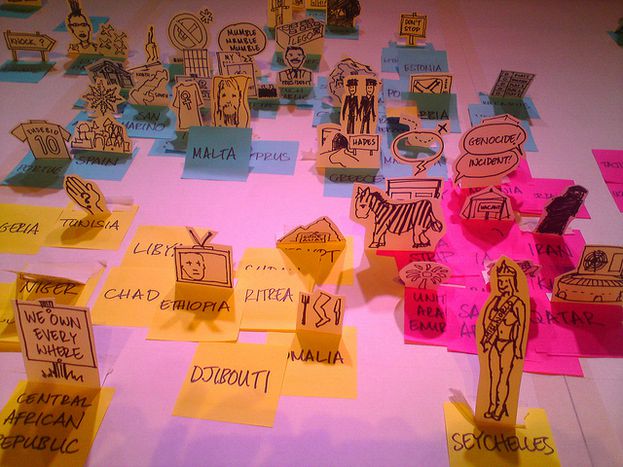 European Disputes: Does Europe have a Future?
Published on
Translation by:
Danny S.
The battle over the old continent continues! The debate "A Dispute over Europe" on May 2nd was so fascinating that there will be a second one on November 7th. The name "European Disputes" is new, but the concept remains the same. Come along and meet the Cafébabel Berlin team!  
Which direction will Europe steer in light of age fatigue, economic downturns and the Ukraine crisis? Does the old continent need a rejuvinating cure? What about it is even interesting anymore in the 21st century? Especially large heights were reached at "Dispute over Europe" on May 2nd in the Haus der Kulturen der Welt (House of World Cultures). Not only historians, philosophers and intellectuals such as Karl Schlögel, Jurko Prochasko and Camille de Toledo disputed the current state of Europe, but also Daniel Tkatch and Hassaan bin Shaheen, both representatives of the younger generation.
Because it was so successful in May, the facilitators of "Dispute over Europe" have decided to continue the concept of a debate discourse under the name "European Disputes." The next conference will take place on November 7th at 10 o'clock in the Staatsbibliothek zu Berlin (Berlin State Library). This time the topic will be "World in Motion - what next, Europe?" Among the discussion participants, Volker Schlöndorff, Jacques Rupnik from the Václav Havel library in Prag, Daniel Cohn-Bendit and Peter Schneider have signed themselves up. And even a Babelian will be in attendance. Elina Makri from Cafébabel Athens will represent the youth of Greece on the panel "Europe and its Southern Regions - Freedom, Equality, Prosperity?"
Which is another reason why Cafébabel Berlin will join the dispute, too. Following November 7th, you'll be able to read lots of interesting interviews with the panel members. If you want to follow the debate live, but can't be in Berlin, check out our hashtag #EuropeanDisputes. 
When? November 7th from 10:00-20:00 o'clock
Where? Staatsbibliothek zu Berlin (Potsdamer Str. 33, 10785 Berlin)
Who? Anyone who's interested in the future of Europe. Admission is free.
CAFÉBABEL BER­LIN DISPUTES THE FUTURE OF EU­RO­PE

Cafébabel Berlin is the official media partner for European Disputes. Following November 7th, 2014, you'll be able to read highlights from the conference and interviews with the panel members. More updates can be found on Facebook and Twitter.
Translated from European Disputes: Hat Europa eine Zukunft?