European Development Days - Will Climate Change Development?
Published on
Report from Lisbon by Diane Halley
Climate change was certainly an apt theme for this year's European Development Days in Lisbon, if only for the very reason that we left Brussels on a Tuesday evening of five degrees, and arrived to a balmy Lisbon where temperatures rose to their mid-twenties during consecutive days of abundant sunshine.
Something is up with our weather in Europe, let alone globally. Every Portuguese person I met remarked that the weather was extraordinary for the month of November. However, whereas our seasons appear to be merging in Europe, we are not suffering from climate change to the same extent as those in Africa and on other developing continents.
The second edition of the European Development Days was hosted by the European Commission and the Portuguese Presidency in the capital. This large scale event brings together many high-level speakers from the development policy world, as well as decision-makers, stakeholders and civil society representatives on development issues.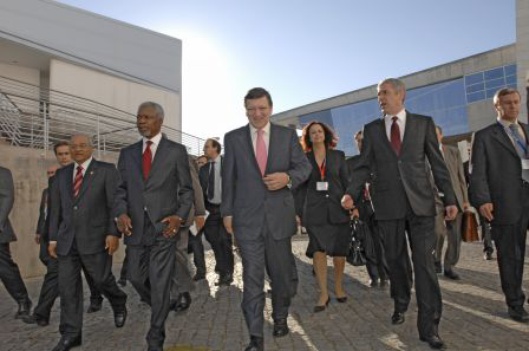 Having said that, the invitees were not as impressive as last year's contenders where many Heads of State were in attendance, from Africa in particular. The only acting President to grace this year's summit with his presence was Maumoon Abdul Gayoom, President of the Maldives, who was one of the keynote speakers of the opening ceremony along with the Prime Minister of Portugal, José Socrates and José Manuel Barroso, the President of the European Commission. During his address, President Gayroom focused on the human dimension of climate change - that environmental protection is a fundamental human right.
Poorest - least responsible but most affected
There was undoubtedly a consensus at this event that climate change is neither fiction nor media hype, but a reality to contend with. Another core point underlined continually throughout this three day event was that climate change is affecting the poorest people, despite the fact that these people - living in the most vulnerable of countries - are least responsible for the environmental phenomenon under discussion. It was concluded that climate change can no longer be viewed rigidly in environmental terms, but must instead be mainstreamed as a cross-cutting concept through varying policy areas including development. It is not a problem of the future, but of the present. The most disastrous environmental events of the recent past have all taken place in the last year or two and such events are becoming all the more frequent. Thirty million people have been affected by flooding in India, Bangladesh and Nepal. In parts of Africa and Asia, deserts are engulfing habitable land at a rate of seven kilometres a year. Climate change is attacking the natural resource base of poor communities including their land and water reserves and people are subsequently being forced to migrate for survival. Such migration flows can have destabilising consequences and can threaten the overall internal security of a particular country, region or border area.
But do Europeans care about those less well-off in developing countries?
Here lies the crux of the issue. It is a given that more funding must be mobilised within the EU for those most affected by climate change in developing nations. On the final day of the Lisbon summit, Louis Michel, Commissioner for Development and Humanitarian aid, called for major new cash resources to be made available for the poorest countries to tackle climate change in the form of a global fund/loan. It is important that concrete suggestions are put forward at such events - otherwise, it would appear that we all attended an expensive talk-shop devoid of any attempt at trouble-shooting.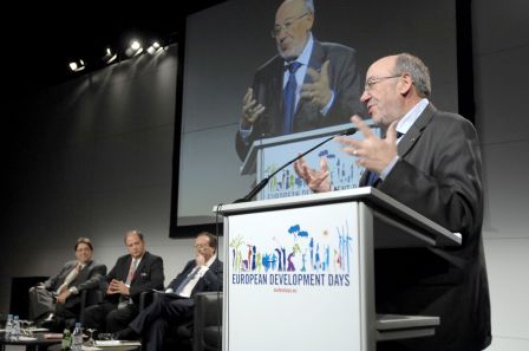 However, I question whether there will really be sufficient political will to make more money available for those less well-off. Europe is itself attempting to put preventative measures in place to mitigate against and to adapt to climate change. For example, the French government has invested € 500 million in programmes so that what happened a few years back - where many elderly people died due to a heat-wave in France - will not happen again. Similarly, the Dutch government is investing even more money in raising their sea walls so that they can hold back the prospect of severe flooding. It would appear that the European tax-payer is happy that his/her money is being spent to protect them and their children/grand-children from any future adverse effects of climate change. But is the European tax-payer willing for some of that money to be diverted away from assuring their protection to helping those more impoverished in Sub-Saharan Africa, for example?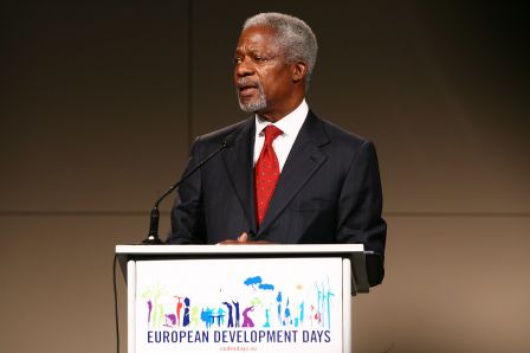 During his eloquent speech, Kofi Annan, former United Nations Secretary General said that if we remain indifferent to the suffering of others, we deprive ourselves of our own humanity." Europe has remained somewhat indifferent because not enough money has so far been put into the pot in aid of the poorest countries. We have a specific responsibility to make these financial resources available for the simple reason that we, in the North, are the greatest polluters. WE are droughting and desertifying Africa. WE are causing massive flooding in Bangladesh. WE are causing crops to fail in many countries. So WE need to take the requisite financial responsibility together with spending large amounts of money protecting ourselves, because climate change is a global phenomenon.

Politicians must attempt to engage their citizens to bring them to the realisation that they have a collective responsibility as well as an individual duty to mitigate against environmental degradation all over the world and not just in our own backyards. In September, the European Commission proposed a Global Climate Change Alliance (GCCA) which aims to encourage adaptation measures, reduce emissions from deforestation, take advantage of the global carbon market and help developing countries be better prepared for natural disasters. Here's hoping that something comes of this latest attempt to attract further funding.
Role of the Private Sector
The role the private sector can play in the fight to combat climate change was underscored several times during the main plenary sessions. Public and private partnerships, along with political leadership, are needed, said Achim Steiner, the United Nations Environment Programme Executive Director. Within the economy lies the key to confront this phenomenon. There is a real opportunity for the financial world to invest wisely and to contribute to preventative global action in this field.
Gender Imbalance
On an aside (and from someone who is always very gender-representative-conscious at such events), I was disappointed to note that the majority of panellists and speakers throughout the three day event were male. In a humanitarian policy sector like development, I had expected for there to be more female representation. Unfortunately, similar to the corporate world, women do not appear to occupy many positions in the higher echelons of the development society either.
Speaking to the Converted
There is sometimes a slight sense of futility at these events as everyone appears to be singing from the same hymn-book already, negating the purpose of convening at all. Such an impressive gathering of development experts is already converted to the reality that there needs to be greater altruism from the North to those more deprived in the South. Nevertheless, I still remain positive about the sentiment behind this event in that it acts as a very useful opportunity for all the faces of development to come together to exchange ideas and to coalesce on policy.
Bali Brokering
The United Nations Framework Convention on Climate Change will take place from the 3-14 of December and will be hosted by the government of Indonesia in Bali. It was emphasised that we, citizens, must encourage our politicians to go to Bali as global representatives with a global (and not a national) perspective. The importance of this conference must not be underestimated - it may be one of the last chances to boost political will to make significant advances towards a comprehensive and effective post-Kyoto climate change regime. Politicians must be prepared to engage in personal political risk-taking on this subject and must be given the space to lead, according to Mr. Steiner.
Economic giants like China, India, the US and Russia (who pollute to even greater extents) do not yet appear ready and willing to enter into genuine climate change action. Such players are key and need to be brought on board in Bali or Europe's efforts at minimising environmental degradation will be cancelled out by the polluting acts of others.
Keeping Promises
"The only promises that have any value are those that are kept," said Mr. Annan. When faced with a common enemy like climate change, humans must unite. Europe must do more to help its less well-off global citizens. "Climate change is not an issue of rich versus poor, of north versus south - it is a global issue."
"Climate change means recognising a duty of solidarity towards developing countries which are most vulnerable," concluded Mr. Barroso.