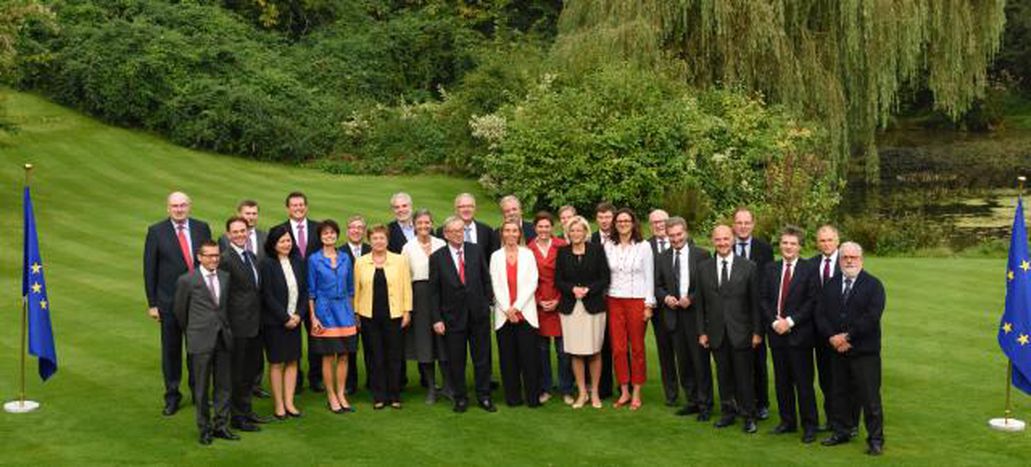 European Commission: And the Nominees Are ...
Published on
The to-do list for new EU leaders is getting shorter. Jean-Claude Juncker, President of the European Commission, announced the team for his term on Wednesday 10th September. A true political EU executive?
European elections, check. Parliamentary groups, check. The High Representative for External Affairs and the President of the European Council, both check. The College of Commissioners? Still a work in progress. The team of Café Babel, after a month of vacation, tells you where we are.
Leaks, counter-leaks and clear bullshit?
Just after the European elections in May, Member States proposed, one by one, after numerous debates, their 'national representative' for the next Commission College. Even if Commissioners are supposed to serve the 'general interest of the EU,' it is important for national leaders to run for the best spots. Indeed, getting an important portfolio means great influence. Every move, even the trickiest, is allowed.
Here is the kicker; basically, setting up a Commission requires dealing with 27 egos (Jean-Claude Juncker, elected President of the European Commission by the Parliament and member States, remains immovable). Getting a Vice-President and getting the portfolio target by National leaders is unavoidable, as it is a matter of pride. Negotiations hence were tough, and Juncker recognised it, having spent too much time on the phone lately.
At the climax of back-doors negotiations, on 2nd September, the website Euractiv published a leaked organigram, apparently freshly printed from Juncker's desk. But this leaked document was clearly unchecked and Euractiv was maybe a tad too confident about the liability of its sources. "I personally saw 25 versions of the organisation chart, and I am pretty sure they were more versions of it," confessed a civil servant of the European Parliament to CaféBabel.  "So, the only thing to do, was to wait for the official announcement."
The Commission-Academy
Let's go back to last Wednesday when Juncker eventually unveiled the mystery. He presented his team for about thirty minutes in a crowded Press Room.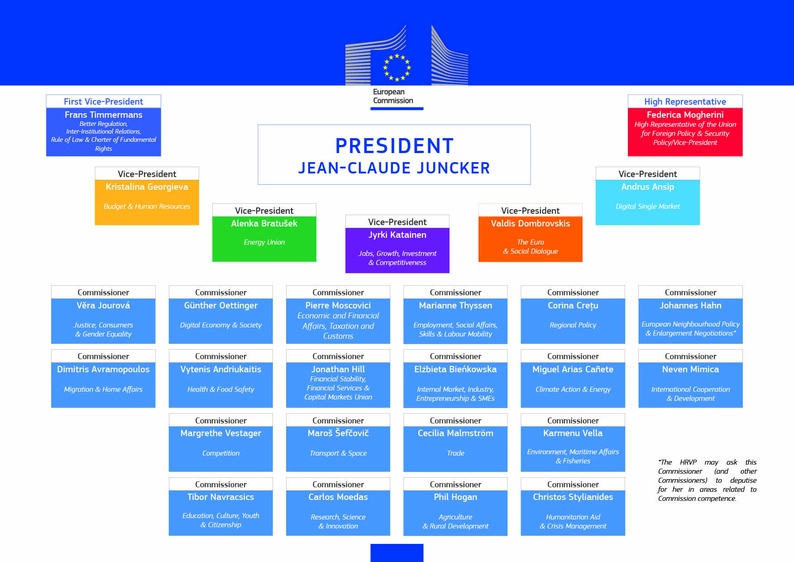 Ambitious organisation chart. The new College would be composed of several former Prime ministers, Foreign ministers, Finance ministers, or well-known MEPs. This is a substantial novelty. Vice-President positions already existed, but they were merely a symbol since a hierarchy is impossible according to the Treaties, though mostly because national governments would simply not accept this idea
Juncker proposed some kind of an alternative. Vice-presidents are for no one "coordinators" of seven key challenges for the EU. For French movie lovers, these coordinators are a kind of 'gentil organisateurs' from the superb movie 'Les Bronzés' i.e. camps counsellors.
They will animate a team of Commissioners on a specific topic, based on policy orientations of Juncker's mandate. However, this kind of 'soft hierarchy' is a new thing and it is too soon to say if those new roles were a nice move from Juncker.
There will be blood?
If everything goes smoothly, MEPs are excepting to audition each potential Commissioner from late September to the 8th of October. But some Commissioners might not pass the test and theirs auditions promised to be stormy.
First target? The Spanish Commissioner Miguel Cañete, designated for the 'Energy and climate' portfolio. After sexist declarations during European elections, his declaration of interests revealed he possesses shares in oil companies.
We should mention also the Hungarian Commissioner, Tibor Navracsics, Foreign Minister of Orban cabinet. His nomination for the "Culture, Education and Youth" portfolio seems delicate in light of the latest laws in Budapest against media freedom (read our article about 'Orban Illiberal State').
The Vice-President for  "Union of Energy", the former Slovenian Prime Minister Alenka Bratušek,  it seems she decided simply to nominate herself as Slovenian Commissioner even if she is not particularly fond of the EU.
But there is also good news with the new Commission. For instance, the incumbent Swedish Commissioner, Cecilia Malmström, became Trade Commissioner and she is way more easy-going compared to former Commissioner Karel de Gucht. It might be auspicious for better transparency at the TTIP negotiations?
In any case, Juncker's aim is to unpack his moving boxes at  Berlaymont  officially as President of the European Commission by November 1st.
*Revision of the text by Danica Jorden