Euro: at last, a unique currency
Published on
Translation by:
vanessa rinaldi
Collectors, get happy. The 2 euro coin is going to profit from a new design; not a national emblem, but a face showing support for Europe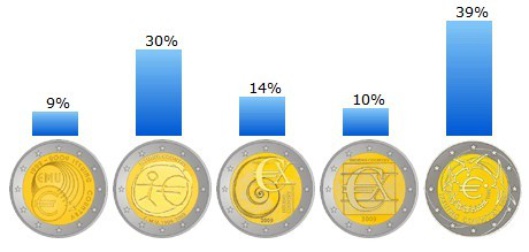 As of 2009, all member states in the economic and monetary union will issue the same 2 euro piece to commemorate the tenth anniversary of the creation of this unique currency. Due to citizens changing over currency in January 2002, the euro has been used for financial transactions since 1999. This has therefore made it ten years that 12 EU countries, having since been joined by two more members, have made it their national currency.
So, what design for our euro coin? You can decide.
The European commission has created a website which is open to everyone. You can vote for your favourite draft from five pre-selected ideas. You have until 22 February 2008 to give your opinion on the euro design contest site. You can even win a prize; one voter will be drawn to win a set of collectible 2 euro coins.
That explains the coin's face; but other faces are also subject to this recent facelift in order to take into account an enlarging EU? Now we can see the new European states of the Ukraine and a small part of Russia. No mention of Turkey...
The main question is: 'Is Turkey excluded so that support can be sped up for it' An embarassed response was released on 6 June 2007: the council of ministers were only reacting to a general representation of the European continent which is not biased against the result of membership negotiations. The debate continues to incite anger.
Debate the subject on our community babelforums, and on the Eurogeneration blog
Translated from Une monnaie enfin unique