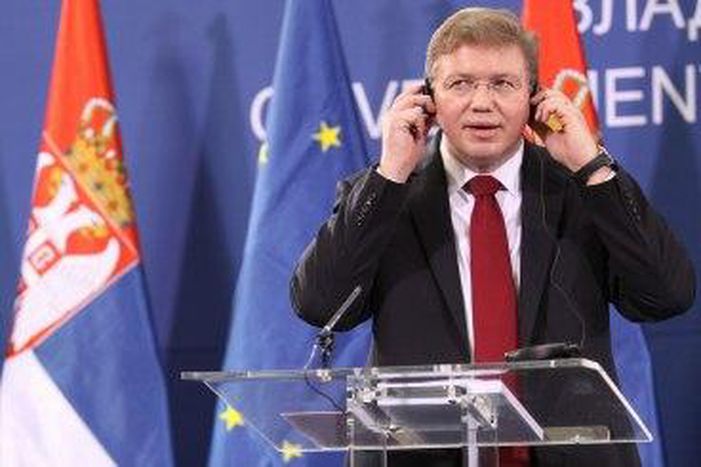 EU urged to commit to press freedom in the Balkans and Turkey
Published on
By Catherine Castledine Across Europe's Balkan countries, journalists continue work in fear of violence or prosecution. To mark World Press Freedom Day, media experts from across the bloc met in Brussels to put pressure on the EU to act.
Today, 57 journalists are being held in Turkish prisons – and an estimated 1000 are awaiting trial.
The situation is equally bleak in several other South East European countries, with recurrent reports of censorship, arrests, attacks or intimidation of journalists emerging from Serbia, Montenegro, Macedonia, Croatia and Albania. Employees of, a Serbian news service, have even been placed under a 24-hour police protection regime – just for doing their job.
They are being persecuted for the types of articles that are regularly published by most Western European countries' news outlets. Often, writing about terrorism or anti-government sentiment, for example, is construed as active support for these activities. Most of Turkey's jailed journalists have thus been charged under the country's anti-terror law.
Money – or a lack of it – lies at the heart of the problem. In South East Europe, some public service broadcasters have about €10m to play with each year – a fraction of the annual budget of the BBC or its equivalents in Germany or France – leaving the countries concerned without a strong, independent editorial voice. At the same time, financial constraints mean private media outlets are increasingly vulnerable to business or political pressures – a situation which has worsened since the financial crisis. In Serbia, the state directly influences editorial policy in several mainstream media outlets. Media owners and editors may themselves be complicit, leaving journalists little choice but to comply, leave, or risk their safety.
The efforts of self-regulatory bodies are often thwarted. They are unable to punish culprits and are quickly targeted by political or commercial powers.
Faced with news services that increasingly take the form of public relations, and which cannot be trusted to deliver informative, non-partisan and transparent information, confidence in the media in these countries is low.
Inadequate legislation compromises press freedom even further. Turkey's notorious internet Law 5651, introduced in 2007, has led to the closure of 5000 sites in the country, among them Google and You Tube. But even with better laws, inadequate legal systems compromise effective application.
Friday's conference involving media professionals and experts from across the region and the rest of Europe gave a long overdue opportunity to air the issue. There was a unanimous criticism of the EU's hands-off approach so far, and a call for the institutions to apply direct pressure on the governments concerned – using the promise of EU membership as a tool to bring their standards of press freedom into line.  These candidate countries' accession must hinge on their application of the Audiovisual Media Services Directive and the Charter of Fundamental Rights.
The Open Society Foundation also called for new rules on transparency in media ownership.
The EU was also asked to support and help develop ongoing grass roots work. Veran Matić, the founder of B92, said EU funds should be granted to investigative journalists and media outlets striving to make a living from making truthful, public service content. And the Balkan Investigative Reporting Network asked for support in providing local training for both journalists and governments on the importance of fair, balanced reporting of sensitive issues like public spending, the electoral process and corruption.
Press freedom is not an issue unique to South East Europe. Indeed, two EU members – Italy and Hungary – have been recently criticised for their records. But the situation in this region is particularly acute, and needs immediate attention. These countries candidacy status give the EU a strong negotiating position, but it must realise that annual progress reports will never be enough to address the issue with the focus and application it needs.