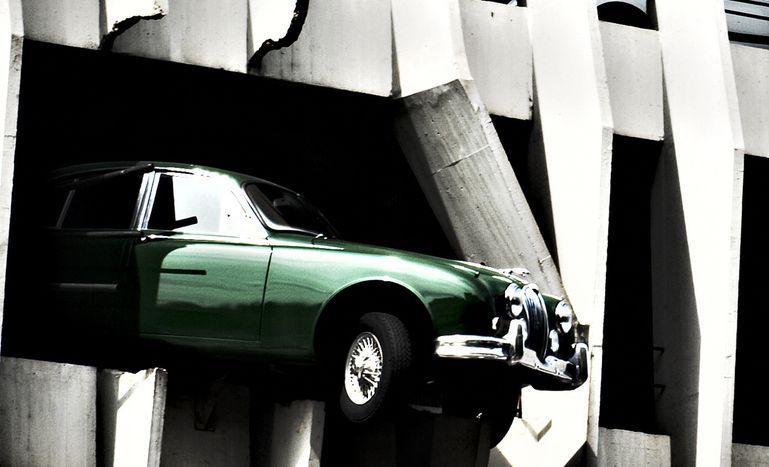 Environmentalism on wheels: car vs bikes in Brussels
Published on
The hectic, grey and formal Brussels doesn't want to lose the opportunity to reinvent itself as a sustainable city. One of the keys to success is changing its concept of transport: how to limit the prevalence of cars whilst fostering public bicycle use? Behold the battle for decongesting the European capital
It'd surely by easier to take a car in rainy Brussels today, but its combustion motor, petrol and C02 represent the antitheses of the green future Europe seeks. In any case, Brussels has turned the tables with eco-driving: encourage the use of cars, to eliminate cars. The city has relied on the private service Cambio since 2003.
Alternative to private cars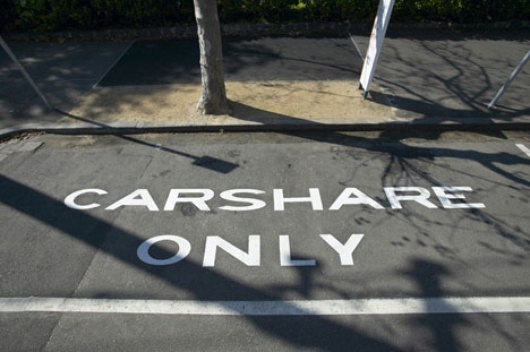 The urban bicycle rental model gave rise to the idea of offering cars by the hour. 'The aim is to use the virtues of the automobile to find an alternative to private cars,' explains Frederic Van Malleghem, director of Cambio Brussels. Rather than promote the automobile, the service aims on giving it a limited and reasonable use. The system is simple: take or drop-off a Cambio car at seventy service points in the city. Every user has a monthly subscription and an electronic card for a key. 'Our service should complement the use of other means of transport like the metro and tram,' explais Frederic Van Malleghem. 'We call this co-modality.' The concept was introduced by the European commission in 2006 to define the different methods of transport and their combinations. According to the EU commission, co-modality works toward the goal of obtaining an optimal and sustainable transportation mix.
A study conducted by Taxistop in collaboration with the EU emphasised that 70% of users turn to car-sharing because it is an environmentally-friendly initiative. Although it could seem paradoxical, the judicious use of rental cars reduces vehicle purchases and city traffic.
Green revolution on two wheels
Together with other cycling associations, ProVelo also does its share for the environmentalis movement. Their Bike Experience programme has changed the paradigm. For two weeks, a selected group must use a bicycle for their daily commutes to work or school. 'The results have been very positive,' says Johannes Grillet, dedicated cyclist and director of communications at Pro-Velo. '50% of the participants assure that they will continue to use a bike in their daily routines. We are advocates, advisors, and we take bicycles everywhere.' Johannes Grillet believes it is possible to raise citizens' awareness in certain ways. 'We can open the door, but we cannot force people to exclusively use bicycles; that is not the goal.' Currently, of all the travel in the city of Brussels, 4% is done on bicycle. This number grows each year, as do new options for travel on wheels. Grillet claims that the private motor is losing its prominence. 'The bicycle is the best way to move around Brussels. They are quicker, provide exercise, are zero-emission, and are no more dangerous than other forms of transport. The consequences of losing control in a car are infinitely worse than those on a bicycle.'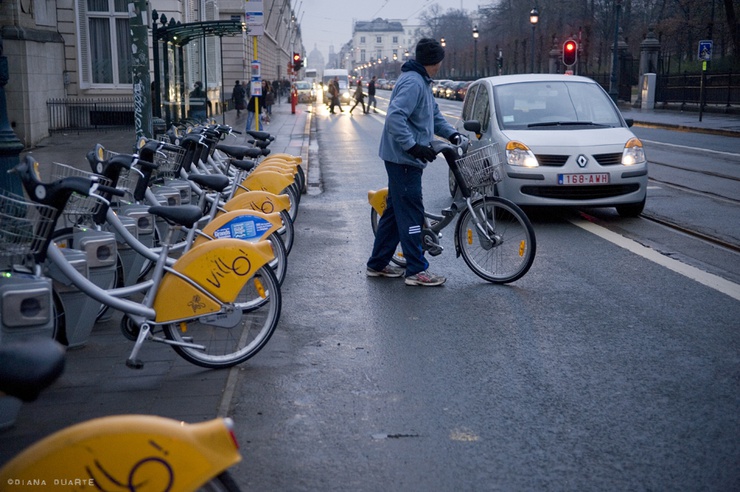 Downtown Brussels is riddled with bicycle stations like public bicycle service Villo!. Since May 2009, the Brussels city council has offered a 30 euro annual subscription for use of these 'community' bicycles like the Velib in Paris, BikeMi in Milan or the Boris Bikes in London. The Villo! are parked in 180 places around the city. 'Villo! helps us to persuade those people who have not yet adopted. The bikes are just there in the streets; you see them every day when you leave your house. It is very possible that you might suddenly think: Why not try it?' This municipal service is not just aimed at Brussels citizens, but offers short duration rentals that would be practical for visitors and tourists.
Read 'Velib: bicycle + freedom on city streets' on cafebabel.com
In Brussels, bicycles do not seem to have any limitations. They journey on and off the road as they heed traffic lights only when it interests. They hop onto the curb to ride through the pedestrian crosswalks if they are in a hurry and ring their bell and slalom through cars and passers-by. Cars carry one or two people, with hardly any fully occupied. Welcome to co-modality in Brussels.
This article is part of cafebabel.com's 2010-2011 feature focus on Green Europe, which has already hit Budapest. Thanks to the team at cafebabel.com Brussels. Watch this space for Green Berlin, Green Rome, Green Seville and Green Paris
Images: (cc) Hauke Sandhaus/ Flickr; ©Diana Duarte/dianaduarte.com
Translated from Ecología sobre ruedas: Bruselas se apunta al verde