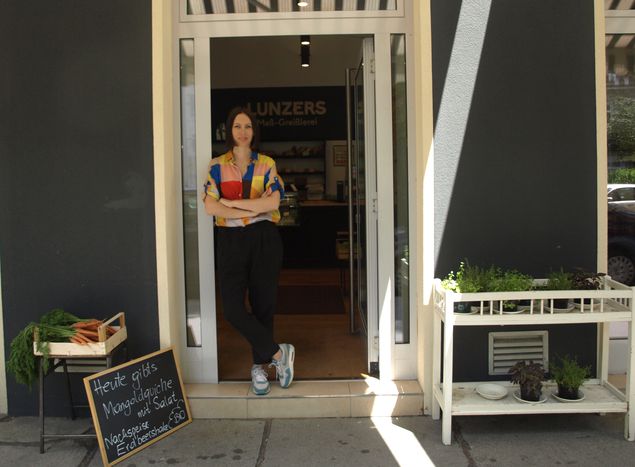 Environmental Shopping — New Hype in Vienna
Published on
Lunzers Maß-Greißlerei, the first packaging-free grocery store in Austria, seduced youngsters on the lookout for healthier and more sustainable ways of consumption, as well as older people who can still remember such shops from their youth.
Lunzers Maß-Greißlerei looks like a good ol' local country store with its dark, wooden furniture, and the fruit and vegetable boxes and various containers on display. Grains, rice and pasta are stored in plastic bulk bins, various oils in metal barrels. The design is sleek, the room spacious, uncluttered by plastic packaging or gaudy publicity slogans. Customers come here to shop at their own pace, unhastened by the screechy playlists or overwhelmed by the never-ending arrays of industrial commodities. Products on display here, although sparse in quantity, are fresh, organic and…unpackaged. This unusual shop only offers food in bulk and the customers are expected to carry their own containers.
The rule of the house is simple: choose, weigh, pay.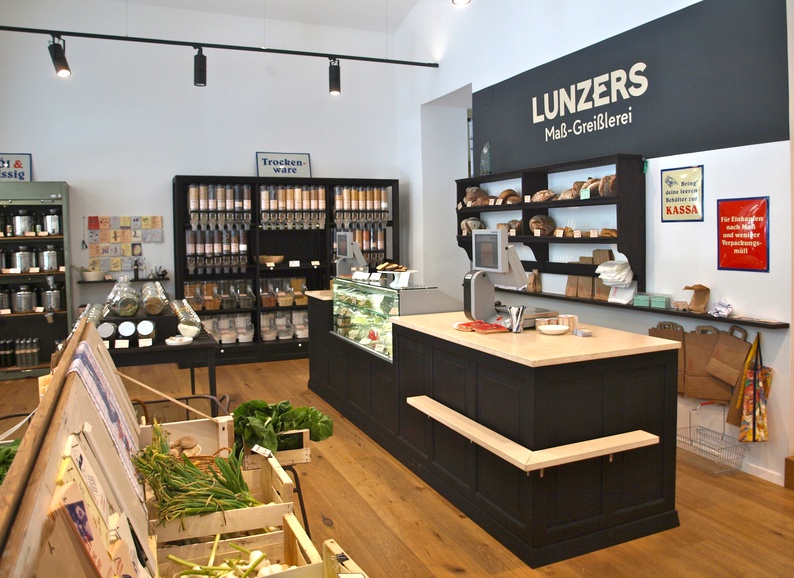 Lunzers Maß-Greißlerei has attracted a great deal of attention in Austria since its opening in Leopoldstadt, Vienna's hip second district, in April 2014. The shop was awarded the 2014 Environmental Award of the City of Vienna even before its grand opening. In the opinion of Elmar Schwarzlmüller, a consultant in waste management at the Viennese NGO Umweltberatung, the shop is a "great solution" to waste reduction. "We [the Austrians] are on top when it comes to collecting and recycling packaging. We are good at dealing with waste but not preventing it." According to a survey by Eurostat in 2012, Austria is one of the leading waste producers in Europe with 552 kilograms of municipal waste per capita, of which 62% is recycled. Instead of "producing more waste and trying to make it ecologically sound", the consultant favours reusable packaging, encourages people to "buy items that are not wrapped in superfluous packaging, shop at the street markets and order Biokistle" (local organic products that can be ordered online with home delivery). 
Frau Quixote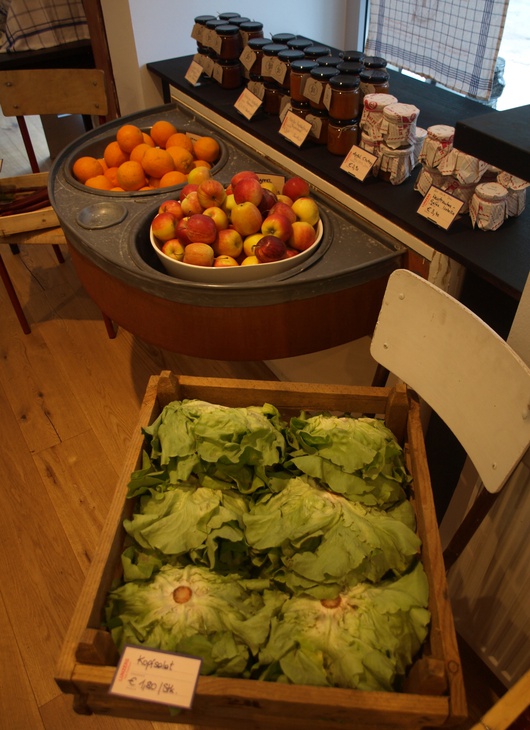 Lunzers Maß-Greißlerei is the culmination of Andrea Lunzers' long-standing struggle to reduce packaging waste. Born and raised on an organic farm in Burgenland — a sunny, flat region situated in the southeastern corner of Austria — Ms. Lunzer started working in the organic trade whilst studying renewable energy and sustainability at the University of Vienna. Her mentor and teacher, to whom she owes "everything she knows about sustainable trade", was Werner Lampert, a man whose looks are a striking combination of Santa Claus' cheerfulness and Karl Marx's nobility. This advocate of ecological farming founded Ja! Natürlich (Yes! Naturally), an organic food brand at the Billa supermarket chain, and Zurück zur Ursprung (Back to the roots) — another organic brand that provides its customers full transparency about the production process and the origins of the products.
Today, Andrea Lunzer admits that many discussions with the customers at Zurück zur Ursprung about the lack of sustainable packaging led her to rethink her priorities and set up a new business. Convinced that her abilities and knowledge in sustainable development could "produce a bigger effect" and "really make a difference" in terms of waste reduction, she turned towards green consultancy. The adventure was short-lived and left her disillusioned. "I quickly discovered that these companies were only interested in greenwashing. They aimed at just small changes with little financial effort in exchange for these green little flags they could pin-up on their websites."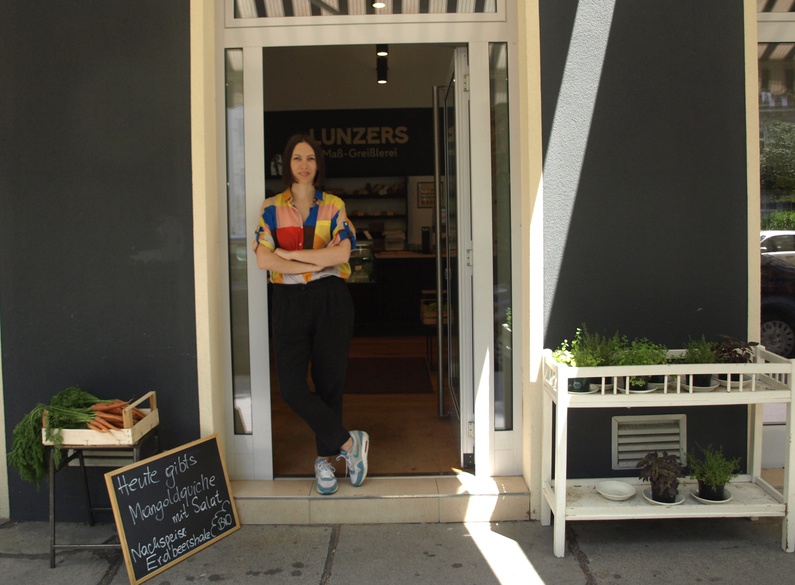 Rome was not built in a day
In the end, Andrea Lunzer decided to open an organic, packaging-free grocery store, taking the Unpackaged shop in London as a reference point. She is convinced that unlike big companies, customers are eager to live more sustainably and effectively contribute to waste reduction. The success of her shop seems to confirm her intuition. Today, Lunzers Maß-Greißlerei offers approximately 400 organic and regional products ranging from raw, seasonal fruits and vegetables to homemade jams and pickles to dairy products and organic detergents. It also has a small café with "solid food and very good coffee" on offer. Small brochures, the so-called Zettelwirtschaften, with advice on food storage and some recipes hang on the wall of the café.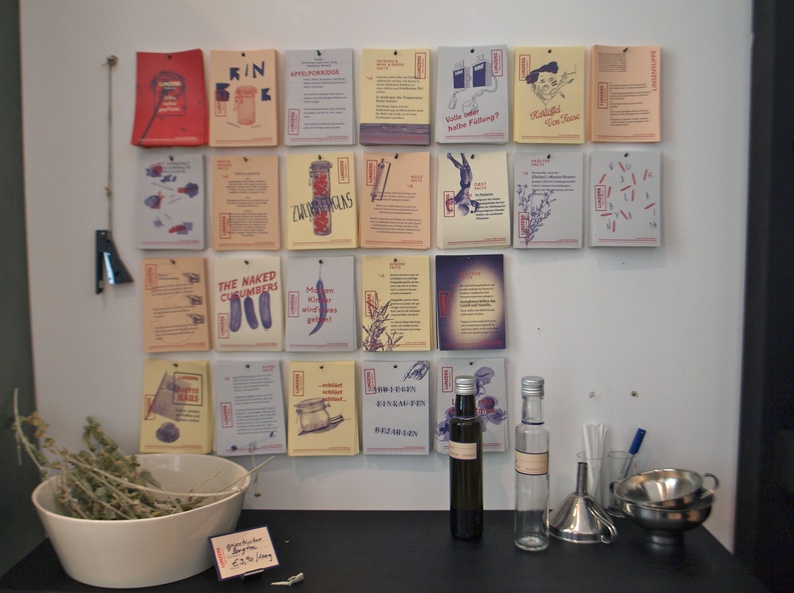 With Lunzers Maß-Greißlerei, Andrea Lunzer has set sail on a durable adventure into the land of sustainability and transparency. The journey might well take a couple more years before the shop becomes fully operational and satisfactorily supplied, but the game is worth a try. Some Viennese districts and Austrian towns have already expressed their interest in hosting Ms. Lunzers' business. Although it might not be enough for changing the way conventional supermarkets function, it may serve as an inspiration and a model of sustainable consumption.
To learn more about the shop (in German):
The shop's website
Lunzers Maß-Greißlerei facebook page
Discover other free-packaging shops in Europe:
Germany's Unverpackt
Italy's Effecorta
Spain's Granel shops
N.B. Catherine Conway's Unpackaged shop closed in 2013.