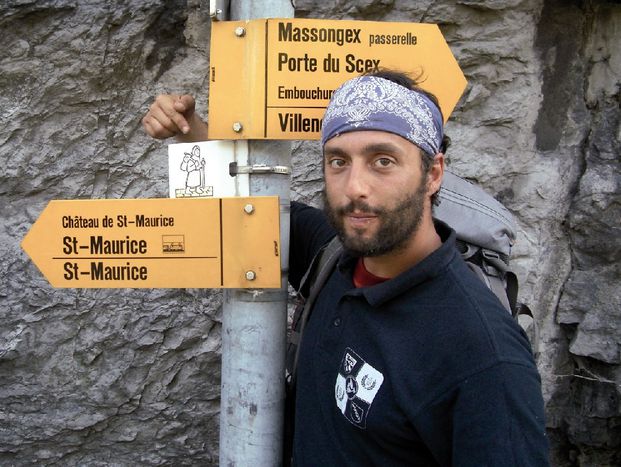 Enrico Brizzi on the sense in walking in the 21st century
Published on
Translation by:
Charlie Tango
There are 1, 600 kilometres and 33 towns between Canterbury and Rome. The 72-day walk follows in the footsteps of Sigerico, the archbishop of Canterbury who was the first to set out the ancient pilgrim's path in 990 A.D. The extraordinary feat is related in the 'Via Francigena diaries' by Enrico Brizzi, who co-authored the book with Marcello Fini
He is well-known to many for the success of his debut novel Jack Frusciante Has Left The Band when he was just 22, a coming-of-age tale which topped the sales charts in 1994. Over ten years and various novels and projects later, Enrico Brizzi has proved to be a passionate narrator of 'walks'. He has documented a journey on foot from the Argentario to the Conero, the Via Francigena walk and, on the occasion of the 150th anniversary of his native country Italy's unification, the recent journey on foot from the Alto Adige to Sicily, in order find out who the Italians involved in the Italica 150 project are. Interview with Enrico Brizzi, a 36-year-old writer from Bologna.
cafebabel.com: Enrico, your journey on the Via Francigena took place in summer 2006. What drove you to set out on it? How long did the preparation for the walk take?
Enrico Brizzi: The main drive was curiosity in a thousand-year-old route: the idea of retracing the footsteps of wayfarers and pilgrims step by step, of being able to do so at the same speed as them, was fascinating enough for me. Six months of research from books, surfing online and through face-to-face contacts made up the viaticum for the start in Canterbury.
cafebabel.com: What's the most unexpected thing that has happened to you, as well as the encounter you look back on with most affection?
Enrico Brizzi: I'll respond to both questions with a single answer: in the Swiss Abbey of Saint Maurizce, meeting the tattooed pilgrim, Bern, a Swabian man determined to reach the tomb of his patron saint on foot. I think he was convinced that my travel companions and I had been sent from above to help him cross the Alps, and so he behaved accordingly, just as you read in the novel The Pilgrim with the inky arms.
cafebabel.com: What did you take away with you from this experience?
Enrico Brizzi: The exact conviction of medieval men: whoever reaches the end of a journey of that nature is no longer the same man who set out.
cafebabel.com: A pilgrim's baggage has a varied form: it changes day by day according to need, climate, shoulder pain. What did you offload as superfluous and what did you have to procure immediately as indispensable and that you didn't have with you already?
Enrico Brizzi: The arrivals of friends that came to walk some stages with me were really valuable: I got them to bring me hiking boots and a snow set before the Alps that I sent back home from Aosta (in the Italian Alps - ed). Once past the Appenines, other heavy articles made their way home.
cafebabel.com: What changes did you notice in yourself at the end of this experience?
Enrico Brizzi: I came back with a very long beard, a tanned body and the knowledge that you can get almost anywhere on foot. I would also add a greater awareness of the rules of the world and its seasons.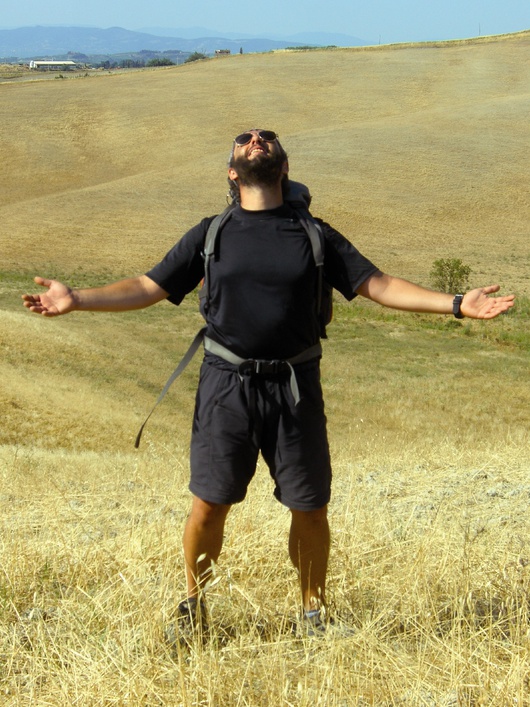 cafebabel.com: You travelled the main road axis of medieval Europe, walking on the vestiges of wayfarers and pilgrims: what heritage has the Europe of a thousand years ago left us? Have you found any common roots?
Enrico Brizzi: In rural France, for example, a peasant stops us and asks where we are going, to which we reply: 'To Rome'. 'Parbleu!' he exclaims, 'and so it's really true what they say in these parts. It's a proverb from around here,' he premises, shrugging his shoulders. And then he astonishes us with 'All roads, we say, lead to Rome!'
cafebabel.com: What sense is there in walking in the 21st century, in a context where many people use the car, even if only to travel a remote route, and where low-cost flights have made us used to bite-sized, weekend tourism?
Enrico Brizzi: People always complain of not having time, but in reality it's a lack of culture: a weekend can also be spent travelling part of the Alpine Way or the Monte Amiata circuit (in south-west Tuscany - ed). An ordinary working day can easily allow for ten kilometres on foot. You don't need to be an athlete or a health enthusiast; you just need to feel the call of the earth.
cafebabel.com: Taking your bike on the Francigena route combined sections on foot with a cycling section. What are the advantages and disadvantages of both means of transport?
Enrico Brizzi: By bike you're still reliant on a vehicle. You can travel over 100 kilometres a day- even with only your body weight, it often only takes half that distance for your calves to become leaden – but a puncture or a problem with panniers are enough to leave you immobile, and with a bike to drag along. On foot, in contrast, it's like you're naked: you literally don't have anything to lose.
cafebabel.com: Aside from your book, what guides would you advise reading up on for anyone who wishes to undertake this walk?
Enrico Brizzi: First and foremost, the detailed guide by Monica d'Atti and Franco Cinti – limited, however, to the Italian version.
cafebabel.com: What advice would you give to anyone wishing to repeat your feat, stage by stage?
Enrico Brizzi: Bring two pairs of well-worn-in shoes with you, a pair with a soft sole for asphalt and the other a trekking pair for trails. But, above all, set out with someone in whom you have complete trust. As on a ship, also walking, living together is a crucial aspect: because you share meals, exertions and guesthouse rooms, it's best if difficult or hysterical people stay at home.
Via Francigena diaries, Edicolo Editore. Images courtesy of Enrico Brizzi
Translated from A piedi da Canterbury a Roma: Enrico Brizzi si racconta