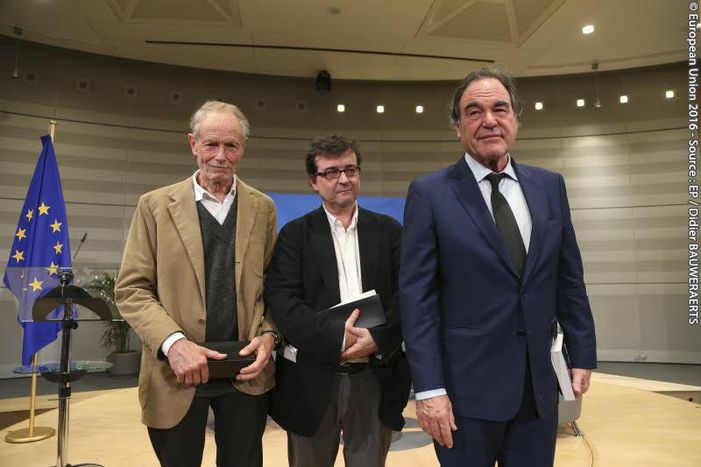 [eng] When an American reminds Europe of its motto
Published on
The 10th European Literature Award was awarded by Oliver Stone during a contrasting night. Halfway between whistleblower and message of hope, Le plus et le Moins (the More and the Less) by Erri De Luca and L'Imposteur (The Fraud) by Javier Cercas each won an award. Cafébabel attended this celebration of culture.
Define where we stand to better move forward, that is the essential message. French-American film-maker Oliver Stone presented his analysis on the state of our world, which he views apprehensively: « I fear for the future, and so should you! Find your independence, be yourselves and with a little luck, one day we will find peace together ». With these words, the jury president started awarding the laureates, smiling again. Moments before Oliver Stone's speech, Frans Timmermans was visibly moved to be awarded a special prize on behalf of the sponsoring committee for Fraternities. An essay presenting a collective tale of our history and urge us to act in defense of what unites us. His speech attested to how impoprtante literature is to him. « Relate, connect, raise » could be a lead from the first Vice-president of the Commission to see beyond the current state of our world. Living in the visible without the imaginary is possibly what will take us to the "post-truth era". Literature has us seeing the world through someone else's eyes, it digests history and allows imagination while reinventing reality with words.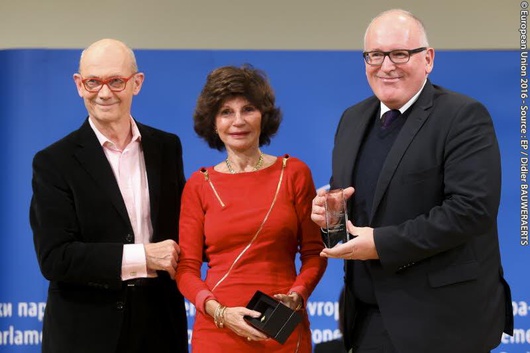 Then came Oliver Stone's resolutely iconoclastic speech, urging all Europeans not to resign to be the followers of the American imperialists. According to the director, the United States are ruthless and want to impose a new world order in which our continent would only serve an instrumental purpose. This is also the reason of the mass surveillance across the Atlantic. Total control operating a significant switch from efficient targetting to mass surveillance. Stone prefers the Europe that he was familiar with as a child, where one could feel independent and unique. Nowadays, Europe seems subordinate to the United States and unified only for economical reasons. No doubt Stone was contrasting with the two laureates' defense of a unified Europe. But his speech is also representative of the identity crisis Europe is experiencing and the debate the award wants to bring. This is another call to make Europe's wealth survive, to value our differences against the rise of hainous voices.
2016 Award for Best Essay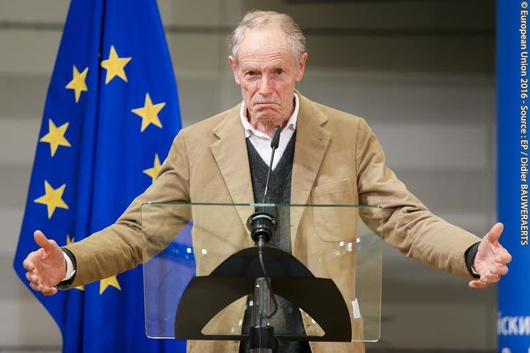 Erri De Luca was already awarded by the president of the jury last year, while he was in the middle of a legal struggle. This year his writing was awarded the award for best essay. His work includes thirty-seven texts, developed around biographical milestones. The Napolitan activist and writer's speech contrasted with Oliver Stone's view of the world. Always optimistic, he seemed very enthousiastic about the path Europe is following. « The less is behind us, the more is still to be created. Good luck and good trip, Mrs Europa ». We are lovin it! A little optimism cannot do any harm in this sometimes too pessimistic world.
2016 Award for Best Novel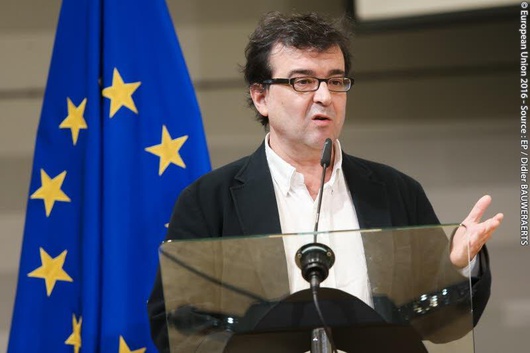 This award for Best Novel is rewarding a thought on the hero and Spanish history, on lies and the building of a myth, through Enric Marco's deception. Javier Cercas writes to understand, to make us reflect on reality and on ourselves. Blended and anti-dogmatic literature is what we inherited from Cervantes and the contemporary novel. Equivocal truths that allowed Europe to be created. Unifying it, for Javier Cercas, is the only reasonable utopia Europeans have forged. No one is satisfied with the EU as it is right now but for the author, it simply means that there is still a lot to be done. It is time to learn from our mistakes: an invitation for politicians to walk into Cervantes' steps.
Four speeches that, once you put them together, are representative of a prize which aims at "gathering differences and consolidating the sense of community». This time, literature was definitely at Europe's bedside.
Translated from Quand un américain vient rappeler à l'Europe sa devise