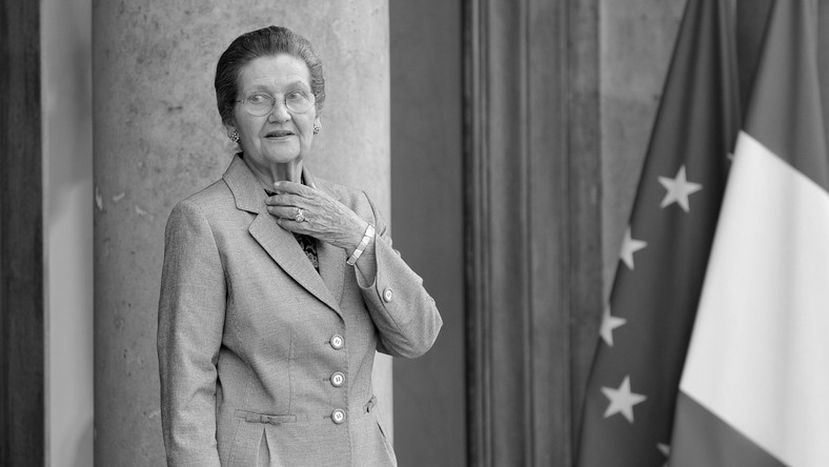 [eng] Simone Veil: the loss of an incredible woman.
Published on
"France has lost the kind of figure History rarely produces" – Edouard Phillipe.
June 30th was a sad day for France who lost a real symbol of its national motto of Liberty, Equality, and Fraternity. Simone Veil died on Friday at the age of 89, leaving behind her a historical life.
A survivor
A Holocaust survivor, she was first arrested, as well as her family, on March 30th 1944. Two weeks later, she, her mother and her sister Madeleine were sent to the Auschwitz-Birkenau death camp to do forced labour after being tattooed with their identification number. After that, they were transferred to the Bergen-Belsen camp, where her mother would die from typhus two months later, her sister barely surviving it.
Once she got back to France, she said she was ready to testify and talk about it but had the impression that no-one actually wanted to hear her story, as she confided in Annette Wieviorka in an interview during June 1990.
Her two sisters (the second one being part of the Resistance) and herself were the only members left of the Jacob family, their dad and brother having never gotten back from the camps.
Political battle
In 1956, she passed the competitive exam for admission in the magistracy. As a senior official of the penitentiary administration during the Algerian War, she would have one of her first significant gesture for Women's Rights: having Algerian women who were prisoners of war transferred to France, as she suspected they were victims of abuse and rape.
But her most important feminist battle, and surely her most famous, will always be the abortion law.
Becoming Health Secretary under Valéry Giscard-d'Estaing's presidency, she presents a draft law on voluntary interruption of pregnancy (known as IVG in French) after the events of the 343's Manifesto and the Bobigny trial. She receives numerous attacks (including one that famously accused her of wanting to "throw [the babies] to The Ovens", which left her in tears) and threats, but after several heated debates plus a vibrant and just declaration from Mrs. Veil, the National Assembly finally voted a law that would be named eponymously the "Veil Law", finally making abortion legal, available and free in France. She would also balance the books of the Pasteur Institue and put in place benefits for mothers of very young children.
From European commitment to Immortality
From Health Secretary, she transferred, to President Giscard-d'Estaing's request, to the European Parliament, and went on to be elected President of said Parliament, becoming the first woman to ever occupy that position. She represented the perfect ideology behind the shaping of that new Union that was the EEC (European Economic Community), as its first goal when created in 1957 (and also of the ECSC in '51) was to ensure that the horrors of WWII wouldn't happen again. Simone Veil being a survivor of the death camps, her election was indeed a powerful symbol to shout "never again!", as she gave a real moral authority to the European Parliament. She actually received the International Charlemagne Price for her commitment to Europe, and the European motto "united in diversity" (unis dans la diversité) is engraved on her Immortal's sword. 
That sword and her title were given to her on the first election round that admitted her into the Académie Française on November 20th, 2008, making her an Immortal. On March 18th, 2010, she was received in its chamber by Nicolas Sarkozy, then President of the Republic and the Academie's protector, and by two other Immortals: Valéry Giscard-d'Estaing and Jean d'Ormesson. She took up the seat left by Pierre Messmer, which had also been occupied by Jean Racine.
Simone Veil will forever stay a significant French symbol, of which President Emmanuel Macron wish it will inspire "(…) our compatriots, who will find in her the best France has to offer."
She was a woman of law, a woman of letters, and an amazing woman of the 20th century, to whom the 21st century's ones owe a lot.
Translated from Simone Veil: la perte d'une grande dame de France