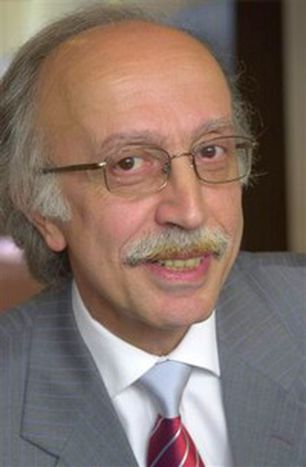 Emilio Caruso: 'I am a European worker'
Published on
Translation by:
mary maistrello
The historical memory of the European commission is pleasantly transformed in the hands of an Italian, 64, who has seen so much and met so many, including Aldo Moro and Jacques Delors
Assistant to the Spokesperson's Service since 1972, Emilio Caruso progressed to the European Atomic Energy Community and has served in the European community (EC), a part of the EU, for 44 years. Dressed in a blue pin-striped suit, with impeccable deportment and elegant manners, welcoming and affable, he ushers us into his office at 5pm. Of the many framed photos on the wall, we glimpse society balls, Margot Wallström (current vice-president of the EC), journalist colleagues, friends and presidents including until-recent Italian president Romano Prodi and EU commission president José Barroso - and an image of Emilio aged seven in Sicily.
'I am a European worker, because we're all public servants. We can all work in these institutions if we want to!' is Caruso's opening gambit. The 64-year-old has loved Europe for ever and moved to Brussels with his Sicilian family at a young age.
'Call me Emilio'
We start with the European commission. 'Dr Caruso…,' - 'Call me Emilio, no need for formalities!' '... Emilio, what has changed during your thirty-five years at the European commission?'
'In 1972, the newly built Berlaymont Palace (the headquarters of the Commission in Brussels, ndr) welcomed thirty journalists, six spokespersons for the commissioners, with some who worked for two countries. All proposals would have to be run past me before transfer to EU parliament.
I assess all the orders of the day, but I receive and read four hundred documents from the commission daily, then just as many from parliament, and then also some from the Court of Justice, from the Social and Economics Committee...
There are 1274 journalists today; I've had to sharpen my memory. Not to mention the fact that at one time we spoke French, whereas now English rules; even when there is a possibility of speaking one's own language, people choose English ... quite strange.'
Living historical archive of Europe
As a living human historical archive of the European Commission, in forty four years Emilio Caruso has met all the presidents and functionaries who have ever had any involvement in it. A privileged representative of journalists and lobbyists, he is known by whoever works within the institutions for his unconditional devotion to the European cause, and for the serious way in which he follows proposals and orders of the day.
A tireless worker - 'On a Saturday, I like to prepare the work for the following week' - he is recognised by everyone in the street and in corridors; he has vivid memories of former commission head Jacques Delors: 'He always used to tell me that he was self-taught,' and of Belgian president Jean Rey: 'He was quite short, the son of a protestant shepherd from Liège, full of humanity. I was about 23, and I met him every morning because he lived opposite the Park Cinquantenaire (by the EU commission, and which contains various museums and the largest mosque in Brussels, ndr), where I worked. He would encourage me, saying that for us young people, Europe is important.'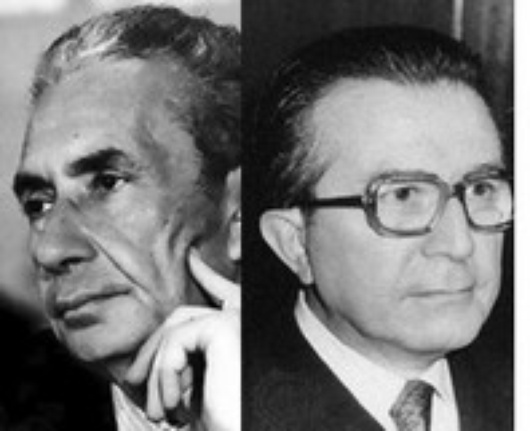 And what of the meetings with former Italian PMS Aldo Moro and Giulio Andreotti? 'I recall an incredible enthusiasm from senator Andreotti. In view of the support agreement between Spain and Portugal which took place in 1985, he 'forced us' to work for 48 hours non-stop. They were epic moments of great solidarity and cohesion.'
Humanity and simplicity in the face of a young generation
We pass to the mundane. I wonder what it takes to follow in the steps of someone like Caruso. 'Of course, one has to apply for the post and be selected; and the competition is still as stiff now as it was in my day. I've noticed though that young people didn't use to take this career for granted – they put their heart and soul into it. Now, I find them a little dull, less flexible. Not as dedicated to the hard work that this job demands.'
Nevertheless, Caruso does not miss an opportunity to engage in conversation with young functionaries and work-experience students who regularly rotate in the commission. And it is to them that he loves giving the most fascinating lessons in history and architecture, having lived these anecdotes; he is almost in a state, if one dares to say it and if the term is allowed, of pure, conscious naivety.
In-text photos: Delors and Rey (Parti socialiste/ Flickr/ European Commission Audiovisual Service), Moro and Andreotti (www.senato.it/ lucacicca/ Flickr)
Translated from Emilio Caruso: «Sono un operaio dell'Europa»