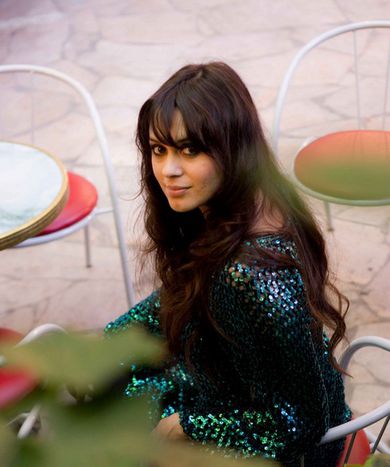 Emilie Simon: 'I don't explore, I play'
Published on
From Montpellier via Paris to New York, where the singer is now based and back with an electro-pop album, released on 21 September. At 31, the dynamic and erudite French singer is trying her hand at the Big Machine, another album composed entirely in English
'So is this your phone then?' Emilie Simon asks, bemused, as she makes a grab for the voice recorder I have laid down before us. I'm meeting the French singer at l'Hôtel Amour (nice touch), in Paris' ever so chic ninth arrondissement. Simon has just left the lobby for the courtyard to answer questions from the press, in a full on promotional marathon. She is wearing a very unusual mirror-embellished, green tunic, and she does so in style. She has a great time with the photo shoot and takes on the round of question and answer enthusiastically - she relishes talking about her new album. The antithesis of the temperamental diva, she laughs when I ask if she gets tired of answering the same questions. 'But you know after all, it's still only just the beginning!'
From Montpellier to New York…
No longer all that French, the Montpellier-born singer moved to New York. She first went there on holiday, and ended up staying, having being seduced by Brooklyn. She loves the energy of the global capital, and she talks about it non-stop. New York, she describes, was a 'challenge' as well as love at first sight for her. It's as simple as that. She goes on to list the areas she has lived in. From Chinatown to Williamsburg, from elitist avant-garde to street-art; New York, in the same way as Simon, is multifaceted, ever-changing, ever in motion.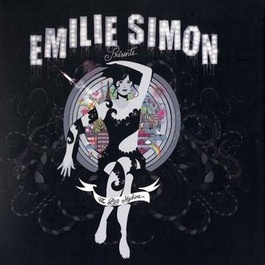 It's also a megalopolis where she is unknown to the public. It's the American version of La Marche de L'Empereur (the 2005 Oscar-winning film featuring her soundtrack that made her a household name in France, but which was redubbed in America), albeit with a different soundtrack: she is starting again from scratch. Today, Simon usually plays in clubs, making the most of the intimate atmosphere of the smaller venues, becoming personal once more. 'It feels great. The people who come to see me don't come to see 'that girl who won the Victoires de la Musique' (she won 'best soundtrack' at the French music award ceremony in 2006 - ed). They come without preconceptions because they don't know who I am. So yes, it's a constant battle, but more than anything it's always motivating. If they leave happy it means I was good. It means I touched a cord.'
On your side of the Atlantic, have you heard about the Hadopi law? With a disarming smile she brushes off any vague journalistic attempt to get a reaction. 'Yes,' she says sincerely. 'But I don't have an opinion. You always have to have an opinion on everything. I prefer to keep quiet rather than talk about things I don't know a lot about.' That's that. I ask her how she finds coming back to Paris, to France, and she thinks it over. 'There's nothing like the same buzz here,' she declares, 'but it does me good.'
…from studies to French awards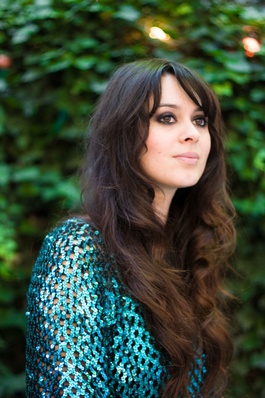 'But I don't explore, I play,' Simon says, correcting me, with the traces of a southern accent concealing her anglicised French accent, the result of speaking sustained English for so long. 'To explore suggests something scientific and organised but none of it was planned. There's no set career path. I learnt to play the guitar and piano, and then to take it further I wanted to learn how to mix. For me, that was just a continuation, the next logical step. It happened on its own, naturally.' So 'naturally' Emilie went from the Montpellier academy, where training is rigorous, to the Sorbonne, and later the IRCAM ('Conservatoire et l'Institut de Recherche et Coordination Acoustique/Musique') in Paris, an institute at the top of its game for the study of sound and electronic music. Emilie Simon's three albums are the kind that you never get tired of rediscovering, whether it be in the privacy of a deserted train carriage or over a blaring hi-fi. Whether she's whispering or raging, the wisest of our modern day singers, knows how to surprise us, and most importantly she's having fun doing it.
The Big Machine is out in English. She denies that it was a tactic to break America. 'It came naturally. I was living in English, reading in English, I ended up dreaming in English. So when I started writing, the words didn't come to me in French.' It was a writing period during which she had to withdraw herself somewhat from the outside world. 'I was already listening to my songs all day. At night when I got home, I couldn't put any music on. It's not a good time to open yourself up.' She is presenting her new work to the public for the first time, evidence of her progress. 'I wasn't used to it. You can't let yourself be influenced too much and always be thinking about the people who will listen to it, otherwise you'll be paralysed, you won't get anywhere.'
If you really had to describe The Big Machine, let's face it, you'd be stumped. You would have a go at describing the play of the creative tones and you would say without too many hang-ups: worthy heiress of Björk, the 'Petite Française' ventures in a Kate Bush direction, someone who Emilie rather obviously cites among her influences. 'I grew up with Kate Bush. She is a complete artist, an incredibly rich world of talent. There are others who also gave rhythm to my childhood - people are always the result of a bunch of influences.' The two share a proven taste for innovation, and a tendency to surprise us with each album. So rather we would say: in a musical landscape where doleful songs reign supreme, this 'Petite Française' is a breath of fresh air. Emilie stands out from the crowd, and that's what's great.
Translated from Emilie Simon: «Je n'explore pas, je joue»