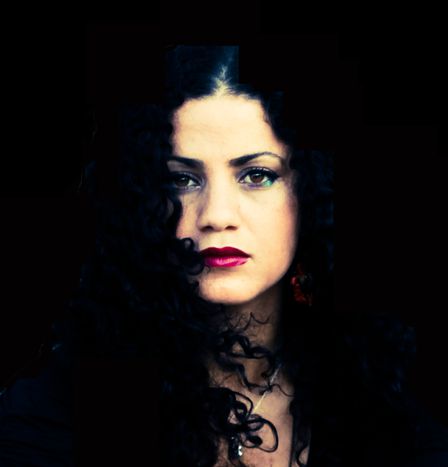 Emel Mathlouthi: Jasmine rebel who sung anthem of Tunisia
Published on
Translation by:
ZoeBBee
The 30-year-old singer is a classic beauty who has spent ten long years travelling restlessly between her native Tunisia and Europe, expressing her fierce sense of injustice through her music. Her new album has just been released and she's getting ready to go on the road in France, where she'll tour for at least a year.
The symbol of a revolution combines her musical journey with real political conviction
'We are free men who have no fear/ We are the secrets which never die/ And we are the voice of those who stand firm.' First performed in 2007 on stage at the African ball at the Bastille, Kelmti Horra ('My Speech Is Free') became the anthem of the Tunisian revolution. With television and radio stations playing this sweet melody on a loop, it became the soundtrack to the popular uprising that brought about the downfall of Tunisia's then-president, Ben Ali. Interview with singer Emel Mathlouthi.
cafebabel.com: Emel, you first sang 'Kelmti Horra' when there was no indication that Ben Ali would be removed from power only a few years later. How did this song come about?
Emel Mathlouthi: A friend wrote it for me; it was a wonderful gift that I've dedicated to Tunisia, and any other country with an oppressive regime. I deliberately set it to an optimistic tune to make up for the backdrop to the song. It's a song that really represents who I am. I've always found the state of my country depressing. I had so little freedom when I was young that I've never been able to resign myself to being passive. Singing was the only way I had of expressing myself freely.
cafebabel.com: Wasn't it hard to pursue an artistic calling under Ben Ali?
Emel Mathlouthi: Of course. I very quickly felt creatively stifled, although you were never prevented from performing. It was more subtle than that because there was no way you could perform if you weren't on a short list of musicians in favour with the government. No theatre would put me on their bill, no-one wanted to sign me - I didn't even have an agent.
cafebabel.com: Do you think you're the symbol of the revolution?
Emel Mathlouthi: Up to a point. When it started to kick off, I was in Tunisia, right in the middle of a tour with my band. My facebookfan page, which had 30, 000 followers, was taken down. At the same time, a journalist also called me to tell me that my songs had been deleted from her radio station's database. I said to myself, 'This time, it's for real. At last things are going to change in Tunisia.'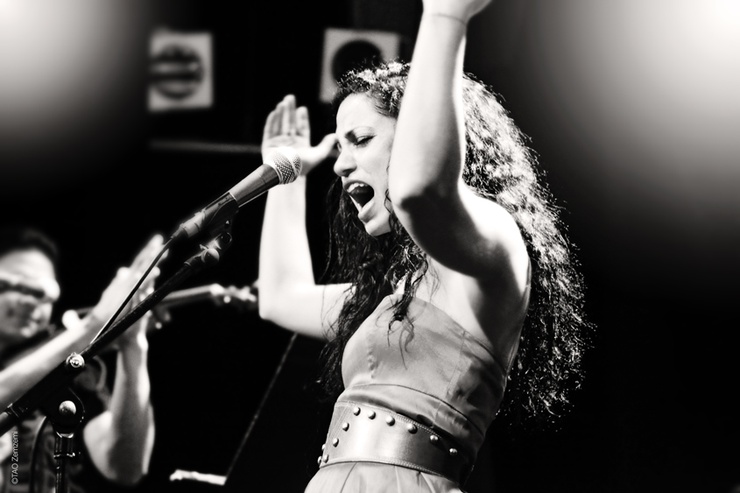 So I decided to support the movement and to dedicate my concert in Sfax (Tunisia's second largest town and an economic hub - ed) to the revolution. Mohamed Bouazizi (the young Tunisian street vendor whoseself-sacrifice became a catalyst for the Tunisian revolution- ed), set himself alight just one week later.
cafebabel.com: Weren't you afraid?
Emel Mathlouthi: People were still sceptical. I felt quite calm. All my lyrics deal with freedom. I speak out so that my people can live with dignity at last. None of it was thought out. First and foremost it was a question of survival because I've always had this almost melancholic sense of injustice. I was disgusted by what I saw on the TV, making us believe we lived in a wonderful country. It made me sick. We were petrified at the idea of coming across a cop in the street. It was appalling.
cafebabel.com: So why did you go back to France after the concert in Sfax?
Emel Mathlouthi: I had to go back to France to work on my project, the album that's just being released, and that really, I've always been working towards. I'd adopted a new direction in my music, with a trip-hop feel. I was caught up in weaving Tunisia's whole history into my lyrics. It was a real race against time because I absolutely wanted to finish it in time to support the demonstrators.
cafebabel.com: How did you feel about being in France and watching the revolution pan out from there?
Emel Mathlouthi: Shocked ... I was shocked by the politicians, Frédéric Mitterand, Michèle Alliot-Marie... all of them. They all turned their backs once the revolution was over. I really tried to use what public profile I have to raise awareness of the massacres. The French media can exert significant pressure on the powers that be. I worked with the 'Tunisian action collective' (Action Tunisienne) to organise a concert a the Elysée-Montmartre (a venue in northern Paris, in Montmartre - ed). Very few French artists joined the cause. And then, when the earthquake struck Fukushima in Japan (in March 2011), I realised what they cared about most.
cafebabel.com: Do you think it's part of the role of the artist to demonstrate a conviction?
Emel Mathlouthi: There is no proper balance in art. Finding a balance is the job of the working man, not the artist. My music enables me to help people in my own way, by getting to the heart of what it means to be human. That's why I think that what I have to say is universal and doesn't just apply to my country. There are violations of human rights everywhere. At the age of thirty, I still have the same sense of outrage at injustice.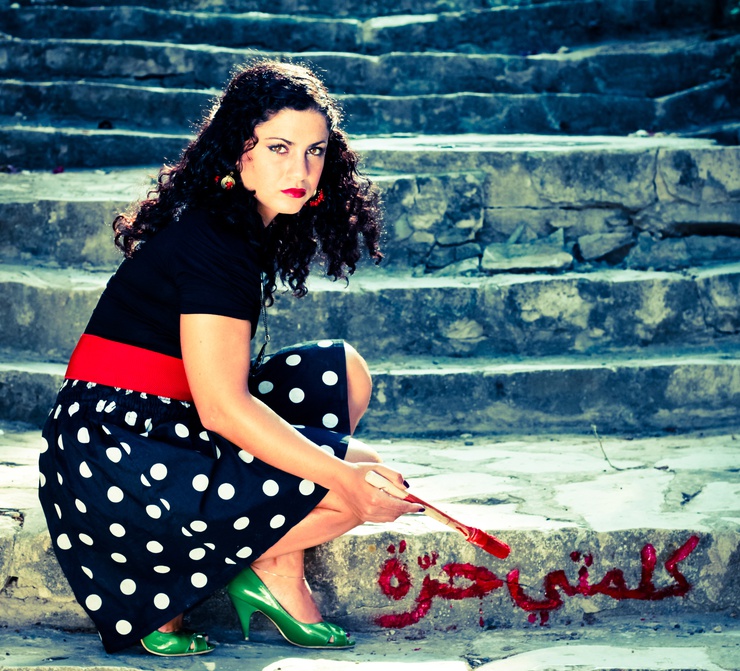 cafebabel.com: What's your experience of the elections in Tunisia of Ennahda, the islamist party?
Emel Mathlouthi: It was expected that Ennahda would be elected. As soon as there's some sort of social crisis, this sort of movement emerges. Now we have to see if they're capable of steering us out of the economic mire. I think they know that religion has never stopped anyone from going hungry. Also, Tunisia's always been a very open country, even if on paper it's not secular.
cafebabel.com: The release of your new album, an upcoming tour and media attention ... Does it feel like getting your own back?
Emel Mathlouthi: Being on stage is getting my own back - before, that was a real struggle, because I sing mainly in Tunisian, and also, because I'm a woman. It's not always easy to manage your band. I'm really proud of seeing this project through. Sometimes I feel like I'm a woman possessed.
Read about Emel Mathlouthi's concert in the French capital on the official cafebabel.com cityblog La Parisienne
Images: main, Emel © AlbimAzza Béji & Gaith Arfaoui; in-text concert © Tao Zemzemi; album cover © courtesy of facebook fan page Emel Mathlouthi/ video (cc) linguisticmed/ youtube
Translated from Emel Mathlouthi, la rebelle de Jasmin