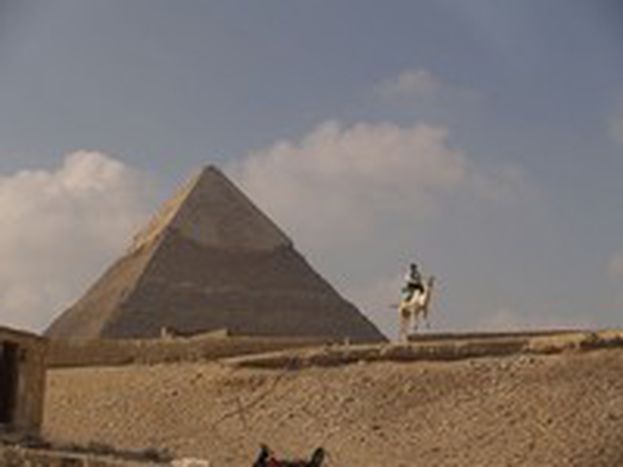 Egypt's bloggers do it better
Published on
UNESCO World Press Freedom Day reminds the world of the need to protect the fundamental rights of the freedom of expression and press on 3 May
In some UN member countries, censorship-free media is still a wishful fantasy. There, the internet becomes the only means to circulate uncensored information. 'In Europe, bloggers comment on contemporary issues, but don't really produce any information. In Egypt, bloggers are not only commentators, but they also engage in investigative journalism,' says Julien Pain, 38, from Reporters Without Borders.
In November 2006, Egyptian internauts published a video showing the torture of Imad Al Kabir on YouTube. In the video, Islam Nabih, a police colonel, and Reda Fati, a non-commissioned officer, are shown to be sodomising Al Kabir with a baton. The video is one of the first pieces of evidence used to expose the government's malfeasances.
More recently, cell phone videos showing ballot stuffing and voting fraud during the 26 March referendum in Egypt, which proposed controversial amandments to the country's constitution, were also posted on YouTube. The content of these videos raises doubt over the validity of the referendum and exposes the undemocratic means of decision making of the current Egyptian government.
Why authoritarian governments fear the Internet
Most authoritarian governments perceive the rising popularity of video sharing websites and blogs as a threat to retaining their power. The Internet is much harder for them to control and censor than the traditional media, where the group of authors is small and easily identifiable. On the internet, the users remain to a large extent anonymous and thus it is hard to punish them for their opinions. Basically anybody can become a journalist and share their views, opinions and multimedia with others.
Pain comments on how the authoritarian regimes deal with these new threats to their omnipotence. 'It's a new dilemma for them, they don't know how to approach it, and most of the time they don't have the technology necessary to do anything about it. So usually what happens is they find one video they don't like and they block access to the whole website.' This has been the case in Brazil, Turkey, Iran, China and most recently Thailand, where governments blocked YouTube's website in its entirety.
Such censorship, however, does not prevent anti-governmental footage from being circulated, as the government usually steps in when the videos have already become popular. Moreover, because of YouTube's popularity, it is generally understood that it has to go back up very quickly, usually after the original videos are deleted by the users who placed them there.
The censorship of media like this could only be efficient for two reasons. Firstly, if the government was able to filter through all uploaded media to find thwarting materials before they become popular. Secondly, if access could be blocked access only to these materials, and not to the whole YouTube website.
Advanced censorship technologies in Europe
Danny O'Brien, 39, a specialist from the Electronic Frontier Foundation, says that such technology is readily available and used in European countries. 'In the UK, British Telecom cooperates with non-governmental organisations, such as the Internet Watch Foundation. They look for websites that contain child pornography and block their users from accessing these sites or individual URLs.'
In France and Germany too, modern technologies are used to exclude websites that contain hate speech from search results lists. If you submit a query for example about a Nazi organisation in France, the search engines do not link to the websites that have been qualified as containing hate speech. The only resources that you will see in your search results will be the ones that have been labeled by the government as containing 'appropriate' content.
Internet - censorship immune?
With help from Western companies, such as British Telecom or Cisco, these technologies could be adopted by authoritarian regimes. This is a costly process however. The more money spent on developing technology that blocks access to information means the less money spent on developing the means to increase the country's technological competitiveness. The internet is likely to remain a free media because as O'Brien explains, 'there is a coincidance of what the companies, users and human rights activists can benefit from – and that is the free and unrestrained flow of information.'
O'Brien argues that the internet is and will remain immune to censorship. 'In the constant battle against Internet surveillance, for the first time the advantage is on the side of the people fighting for freedom – they just have a better hand.'
Fraud during the last referendum in Egypt, on 27 March 2007
Translated from Egipskie blogi walczą o prawdę