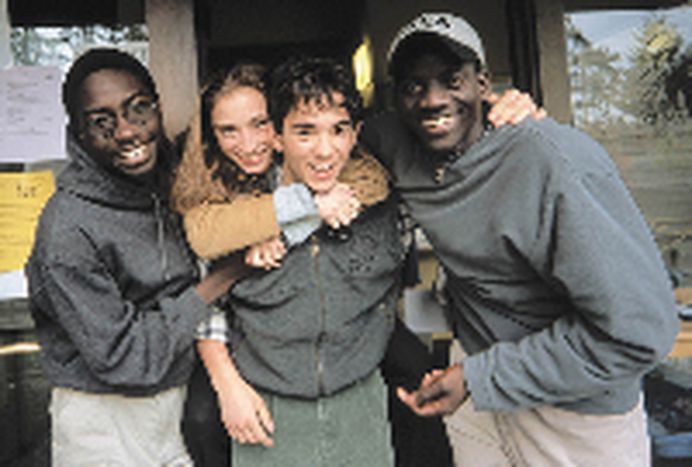 Education without borders
Published on
Translation by:
clea caulcutt
For years, the United World Colleges welcome students from around the world to encourage international cooperation
"When you're 17, to integrate an institution which believes in your capacities and give you the tools to change things, is a unique outstanding experience," Aitor, a Spanish student from Alicante, was lucky enough to enrol at the Atlantic College in Wales, one of the eleven existing United World Colleges across four continents.
Between 1996 and 1998, Aitor lived with fellow students from around the world. In a true United Nations fashion, the UWC aimed at encouraging peace and international cooperation thanks to education.
Established values
"Attending a United World College has enabled me to acquire key values such as solidarity, respect, tolerance while teaching me about social problems," claims Aitor who now works for the Interamerican development bank in Washington.
The pedagogue Kurt Hahn established the first United World College in 1962 in Wales so that youths may address issues of collective responsibility as early as possible. As Jewish exile who had escape Nazi persecution, Hahn believed individual free thought and critical minds could not be fostered without cultural diversity.
In each UWC, youths from 70 countries live together. Tom, a former pupil and student of Public policy and development in Georgetown, asserts that "studying the Middle East with fellow pupils from Israel and Palestine offers you an invaluable insight into the conflict".
At the beginning, UWC were small structures which welcomed students from East and Western Europe. Later, these schools enabled young friendships between nationals from enemy communities such Tutsis and Hutus, Serbs and Bosnians.
Looking towards the future
Today, three United Colleges are based in Wales, Italy and Norway. In each country pupils aged 16 to 19 are selected according to their maturity, abilities and inventiveness and sent abroad. Only a minority of students pay fees high level interviews. Thanks to these contributions and to the investment of private companies, governments and foundations can pay for the education of most UWC students.
But UWC are far from being perfect. Many students accuse them of being too elitist. Furthermore the funding of these schools is under threat. It is difficult to justify the cost of these colleges when compared to the benefits these investments could have if they were channelled to poorer countries.
Nevertheless, the Spanish researcher Pedro Alonso, a well-known biologist specialised in malaria studies, says that a responsible, good-quality education open to different cultures can help change the world. He states, "30 years ago, I was able to work abroad with chidren from around the world. This invaluable opportunity was vital for my studies."
Translated from Educando sin fronteras