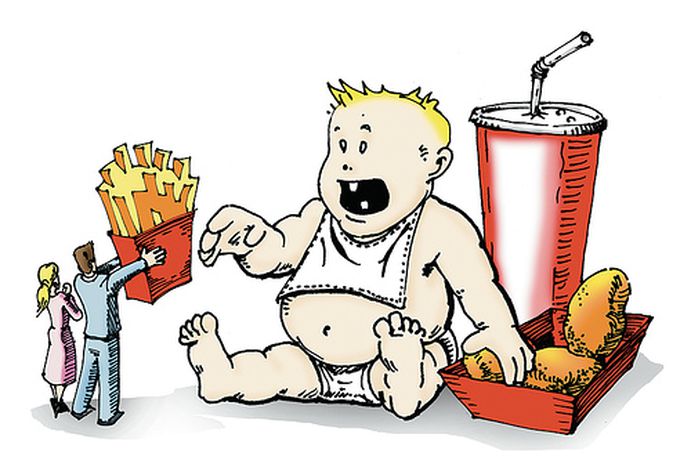 Editors pick: football recipes for Europe's obese children
Published on
Translation by:
Helen Moorhouse
One in every four European children suffers from childhood obesity. Can a book of healthy recipes for children sponsored by UEFA, the European commission and the world heart foundation in collaboration with famous footballers put an end to the problem? This is a food review that is more than just good intentions
What are your New Year's resolutions for 2009? To get a stable job, to find love or to learn English? Perhaps it would be good to start by looking at the health of our children: one in every four European children is obese. Europe is approaching the percentages of the United Sates (the 'fattest' nation in the world), even exceeding the average of the 'fast food nation' in some countries.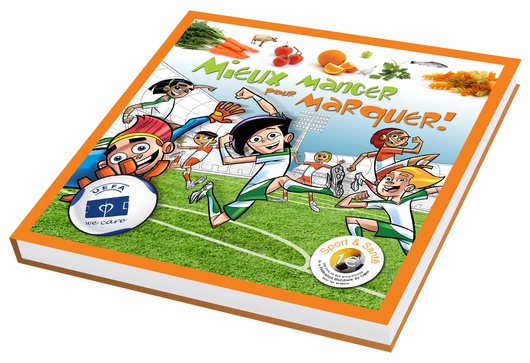 More hours of physical education in schools, more medication, more education....these are just some of the many solutions to tackle childhood obesity. The need to do something is obvious: heart disease is the primary cause of death in developed countries and poor nutrition is a key factor. For that reason, the European commission, the union of European football associations (UEFA) and the world heart federation have brought out a book in which healthy food and football are the main features : thirteen favourite recipes from thirteen elite footballers (men and women) are put together in one recipe book. It is available online in German, French and English. Aimed at children, the book which combines sport, the fan phenomenon and healthy food is available for the modest price of 12.90 euros (£11.57). It contains a lot of pictures, a lot of advice on healthy eating and simple explanations. What's more, one euro (90p) from the takings will go towards projects fighting childhood obesity. Is this enough? It's better than nothing.....
Three cafebabel.com editors tried the recipes themselves, following the guidelines as if they were children.
Cuban rice
by Thierry Henry, French football striker at FC Barcelona
The 38-year-old supports this dish, which contrary to its name, comes from Spain - not Cuba. It is a much 'lighter' version, far from traditional Spanish cooking: the oil is measured in teaspoonfuls and there is no sausage in it. The dish, simple as it is, is taken to its most minimalistic form, of course to favour simple cooking, which is adapted especially for young people, although this implies sacrificing some of the flavours: how about that touch of garlic in the rice? The tomato sauce is from a can. We hope that the healthy children who cook this very well explained recipe don't lose their taste for good cooking nor get obsessed with the quantity of proteins, fats and carbohydrates in each dish that's below the footballer's photos.
Pedro Picón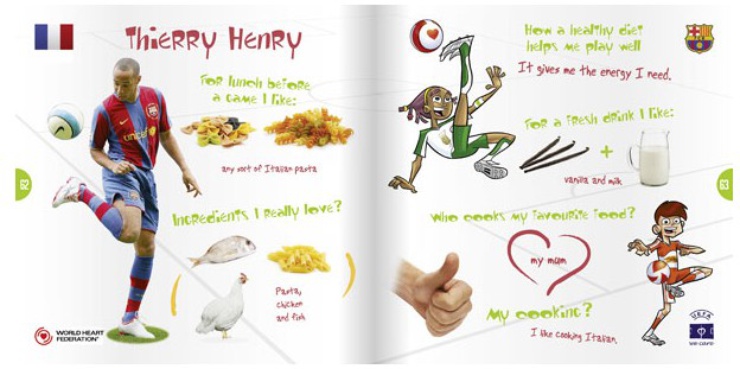 Chicken Salad with Garlic Curried Yoghurt Dressing
by Catherine Paaske Soerensen, Danish midfielder at Brøndby IF
The recipe in 4 words? Great idea, bad execution. If I were ten years old and wanted to make a surprise for my family but had no experience in cooking, this would end up in a disaster; burnt food, burnt down kitchen and/or cut fingers. Everything starts well: we know what and how much we should buy. Even if we don't know what the sundried tomato or avocado look like, we have pictures. But when it comes to the recipe… we don't know how to prepare the chicken breasts, when to add dressing…and what on earth do the words 'tbsp' and 'tsp' mean? Last but not least: should we allow a child to mess about with a knife or with an oven? If not, apart from preparing a dressing, what he can do? Oh, but the salad is very good.
Marysia Amribd
Sicilian pasta
by Fabio Cannavaro, Italian centre back at Real Madrid
Fabio Cannavaro's recipe would be almost perfect if it wasn't for one thing. So that aubergines keep their sweetness and are not rubbery you must dry them out. Here's some advice: after cutting them, put them in a colander with salt and apply constant pressure with a pan for half an hour. To finish, wring them with your hands, handful by handful. You need to repeat this until the aubergines lose all their water. After this, they are ready to be fried in a frying pan with a lot of oil, after having lightly fried a few cloves of garlic. Enjoy your meal!
Adriano Farano
Translated from Comiendo goles: recetas para niños gordos