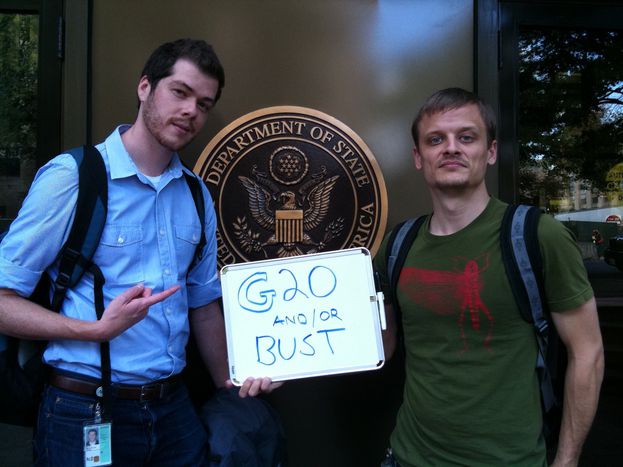 Economic crisis: how G20 summit in Pittsburgh will go down in history
Published on
On 24 September, heads of state and government of the 20 leading industrial and emerging countries come together in Pennsylvania to sketch out a new global financial order. The French, Spanish, Luxembourgish and Swiss press hopes for the best, but voices few expectations for the G20 summit
'French authority' - La Croix, France

At the start of the G20 summit in Pittsburgh the Catholic daily comments on French president Nicolas Sarkozy's ambitions to give France more clout in international affairs: 'In fact France does not lack authority. Take the French management of the financial crisis under our EU council presidency and the role played by Nicolas Sarkozy after the war in Georgia. The results of the past months are really rather flattering for the president of the republic. Paris now has an even better position in the concert of nations. After much hesitation, the French-German tandem, joined by the UK, continues to place high moral demands on the financial system. Even if neither the US - nor even the 27 members of the EU - could go along with the core French proposals on bonuses. Even if the exact way forward will be the subject of heated discussion at the G20, no-one has suggested abandoning the initial ambition of establishing better financial regulation' (François Ernenwein)
'Pittsburgh: right place' - Cinco Días, Spain
The business paper praises the G20 meeting place: 'Pittsburgh is the right place. The Pennsylvanian city hosting the G20 summit was once the scene of one the most profound heavy industry overhauls in living memory. Today it is growing with a modern economy geared towards automation systems, software and biomedical technology.
'Culmination of the global economic overhaul'
This means the world leaders need only look around to know what should be done. For the time has come to act. If the meetings in Washington and London were forums aimed at putting out the fire, avoiding global economic collapse with huge injections of funds in a combined action between politics and the central banks, this one in Pittsburgh should go down in history as the culmination of the global economic overhaul that will set in motion mechanisms to prevent a repetition of the crisis. Otherwise it will be a failure'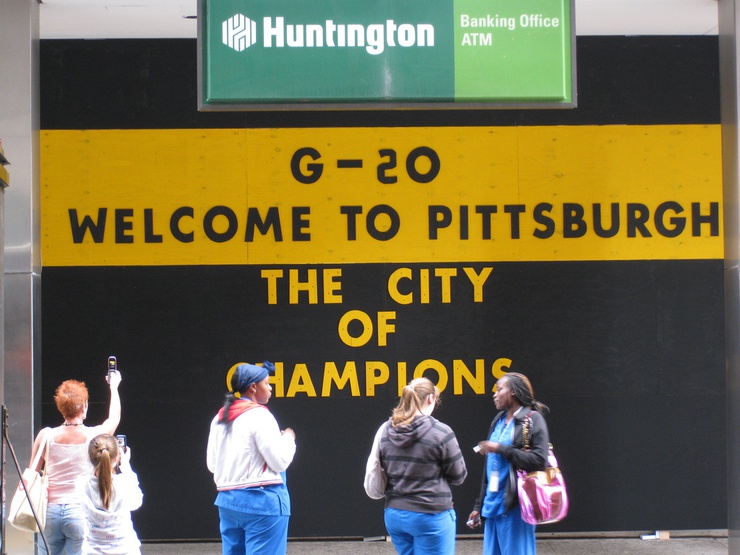 'Havens as a scapegoat' - Luxemburger Wort, Luxembourg
The daily puts little hope in the G20 summit in Pittsburgh: 'The perspectives on how a new economic order should look after the crisis differ too widely between the Anglo-Saxon countries and continental Europe. The leaders of the most important industrial and emerging markets can only agree on one point: they all want to put an end to the so-called tax havens.
'Leaders can only agree on ending tax havens'
True, these havens have little to do with the crash, which started in the US. But they are important as a scapegoat for the big economic powers when it's time to make a show of firmness. That doesn't really pose a problem for Luxembourg. After all, tax rates here correspond more or less to the EU average, which is to say they are very high, and can't be called a haven by any stretch of the imagination. The Grand Duchy has nevertheless come under fire from the G20 because of its banking secrecy, so that it still gets lumped together with Bermuda and the Netherlands Antilles' (Pierre Leyers)
'Typical international summit' - Corriere del Ticino, Switzerland
The G20 summit in Pittsburgh won't change global economic and financial policy, the liberal daily fears, noting that it takes place in a climate very different to that in London last April: 'Back then the state of emergency produced the 'miracle' of an international community united by the struggle to avoid another Great Depression. Because the G20 in Pittsburgh is not acting directly under the pressure of the crisis it lacks the aura of a conclave appointed to save the world. It runs the danger of ending, like so many other international summits, in the formulation of a series of principles aimed at concealing the conspicuous divergences among the participants.
'Lacks the aura of a conclave appointed to save the world'
The crisis is not over. On the contrary, in one of its many metamorphoses: today it affects the job market primarily, with a marked rise in unemployment. Even the economic upturn is not of a solid nature: it is effectively the result of tax incentives and expansive monetary policies the likes of which we have never seen before and which above all cannot go on forever' (Alfonso Tuor)