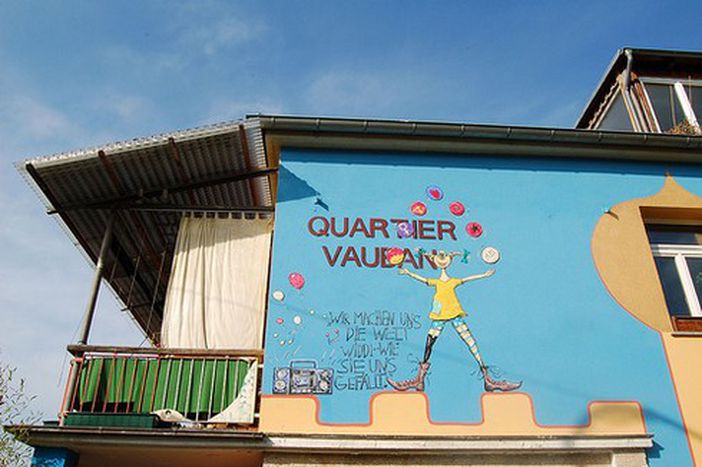 Eco-suburbs: Vauban, Freiburg
Published on
The district in south-west Germany is a pioneering development that puts into action innovative rules for communal living in a unique environment. But this paradise of purity is not without its faults
At the edge of Vauban, to the south of Freiburg city centre, the tone is set immediately in by the words - 'Vauban's Solar Car Park'. Visitors are invited to leave their cars in the solar-powered car park and explore the neighbourhood on foot.
Vauban was originally a barracks for the French Army following the Second World War and was in use until 1992, after which the squatters moved in. In 1996 the land was reclaimed and became the heart of the city council's new sustainable development project. Since then the eco-friendly district has kept on growing, and now covers two thousand hectares, houses five thousand people and provides work for six hundred.
Co-operation and participation
This small village has a remarkable population. Walking around you meet young parents, students (who live in Vauban's own halls of residence), and lots and lots of children. In the early evening the local café is full of under-tens. Free concerts are held every month at Süden, the nerve centre of Vauban's social scene, with the music being enjoyed over an organic fruit juice or a meal. Residents gather here at the end of the day to relax and meet their friends. Strangely though, not all the residents have chosen to live here. Some have landed here by chance, others come and settle for good.
Benno, a cheery retired lady, comes from Lübeck, in northern Germany, and moved to Vauban last September. 'What a difference! In Lübeck we lived in the centre of town, in a five hundred year old house with high ceilings. Here all the flats are modern and we live in the leafy suburbs. In our new home,' Benno explains, 'our neighbour will pop round at 9pm if she needs to borrow some bread. Another neighbour who we only knew by sight gave us his keys so we could feed his cat while he was away. Mutual trust is a big thing here!'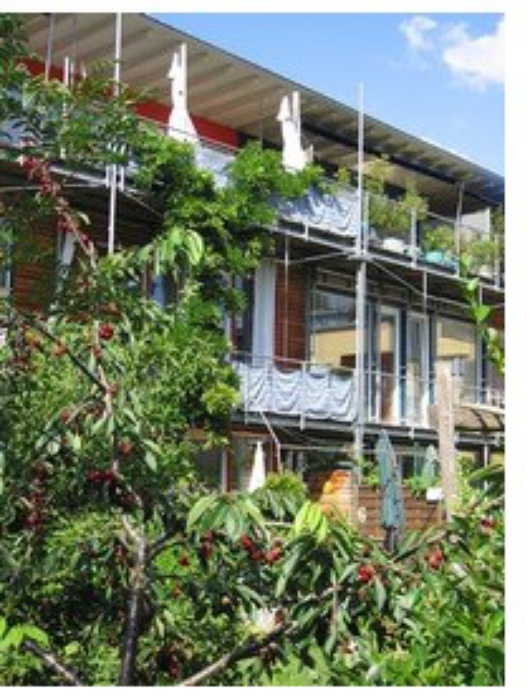 Resident involvement in running their district is the main goal of the Vauban project. Baugruppen are groups of people who want to build their own houses in the area, and who meet frequently to plan the future housing together. The advantage of these meetings is that new arrivals can develop good, considerate relationships with their neighbours-to-be, and tackle together any problems arising from communal living. These initiatives to encourage integration in the community are reinforced by welcome events held honour of newcomers to Vauban.
This sense of solidarity is apparent at every level. Sixteen cars are shared between the residents and can be hired by a simple click on the website. There are well-established support services, such as an advice service for young parents and associations supporting personal development and self-defence courses. Guests who come to visit Vauban residents sleep in dedicated accommodation, designed to avoid building large flats with rarely used spare bedrooms. And of course, due attention is paid to residents' social awareness.
The street names in Vauban tell the story of Germany's political, artistic and scientific developments of the past two hundred years. From Rosa Luxemburg St. to Otto Peters Rd, passing through roads honouring Georg Elser, Kurt Tucholsky and Walter Gropius, no name has been chosen at random and each choice shows an obvious intellectual commitment.
Social life in the district centres around the 'Vauban Forum', a democratic association open to all. The Forum, which has between three and four hundred members, has set up a process whereby citizens participate in decision-making, supporting or opposing the city council's policies. To maintain this link between residents and local government, Forum spokespeople meet with councillors to discuss their expectations and the future evolution of the district.
Cracks in community life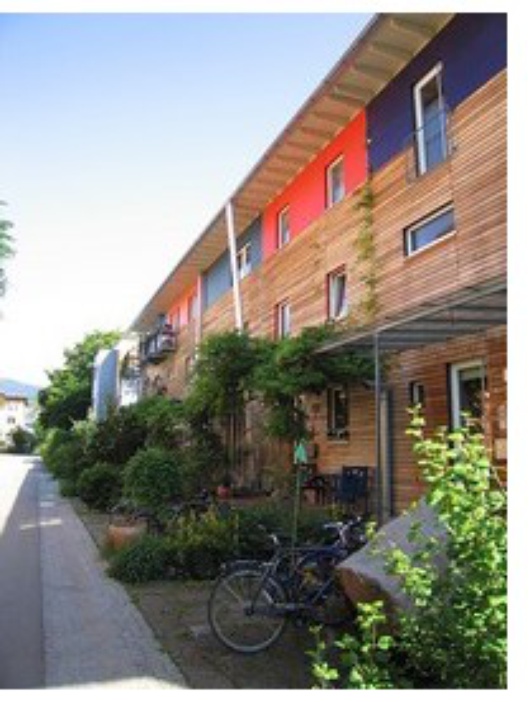 There are, however, some cracks beneath the modern, co-operative surface of this green suburb. The peace and quiet of Vauban may be misleading and camouflages some less than admirable truths about its society. Vauban falls far short of its aim of achieving a good social mix: 75% of its inhabitants are educated professionals.
The broad bay windows of the flats are like shop windows, so it doesn't do to have anything to hide in Vauban. Everything is clean, spotless and on show. In 2005 an incident disturbed this serenity when a family with five children were evicted from their home in Vauban by the local property management company following complaints. The children were too noisy, other residents said, and the parents not strict enough in teaching them good manners.
Eco-suburb : a concept for the future
Freiburg is certainly a European pioneer in the development of ecologically friendly suburbs. The city council is now working on the Rieselfeld district, which will also offer an unusual style of communal living. There will be a lot of scope for its residents to become involved and participate in local life.
With its two eco-suburbs, Freiburg is a model that has attracted the attention of mayors from all over Europe. Alain Juppé, the mayor of Bordeaux in south-western France, went there as an 'eco-tourist' looking for inspiration. But for the moment the French are hesistant about the idea. Dominique, who recently moved to Riesenfeld from France, thinks it's a shame: 'Each time French people visit the district they are full of enthusiasm, but projects like this can't seem to get off the ground in France. French mayors are too nervous of taking on such a commitment.'
Photos: homepage (Rightee/ Flickr), in-text (Rightee/ Flickr), (Carnotzet/Flickr)
Translated from Un quartier éco solidaire