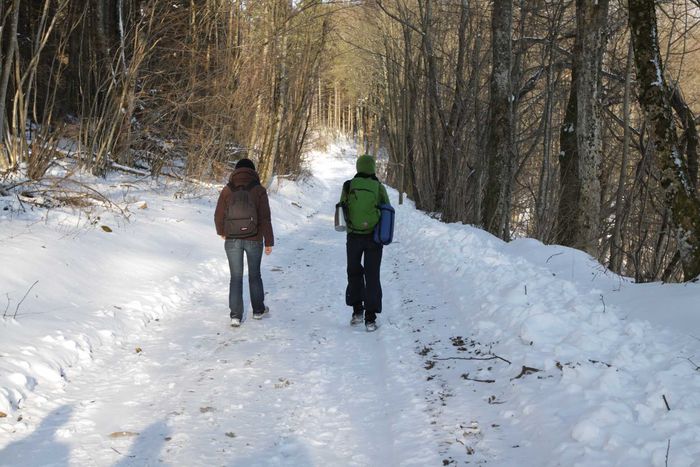 'Eco hippies' on carbon-neutral weekend in the Vosges, France
Published on
Four months on from the Copenhagen summit, the failure of a global climate change policy hasn't crushed or reinvigorated the motivation of environmental activists. In the Vosges region of France, Elise's carbon-neutral weekends indicate that changing our way of life may be key to saving the planet
Concerned about global warming and interested in methods for lifelong learning, Elise Clévenot, a 27-year-old from Strasbourg, decided to take action. She organises weekends that are low on carbon emissions but high on education at her family home in the Grande Fosse, in the Vosges region. For the first one in March, she invited half a dozen friends.
Being green pays off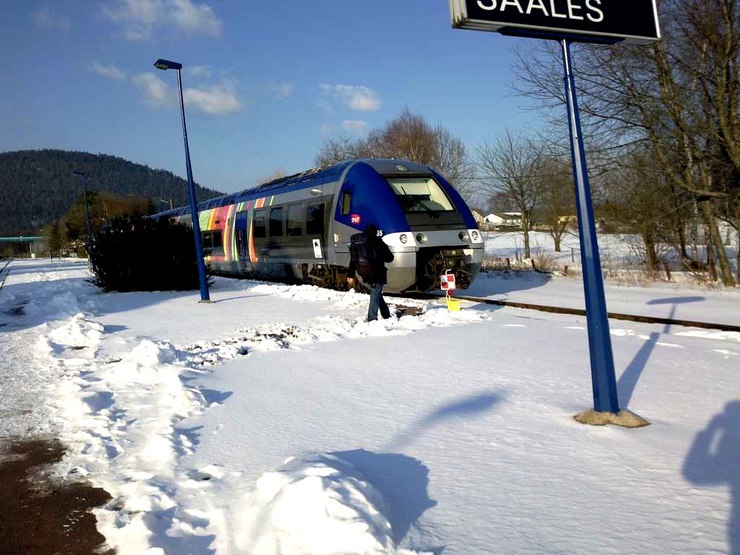 Taking the car down to the Vosges is, of course, out of the question. The regional train from Strasbourg to Saales is the way to go, with a 45-minute walk at the other end to the Grande Fosse. It's more effort, certainly: The journey by train – and with a rucksack on your back - takes one hour fifty minutes, compared to one hour six minutes by car. But a financial saving is thrown in, thanks to the discount card that 32 year-old Ariane, a German teacher, has brought along. The trip has come down to 8.16 euros per person (£7.04), even though five passengers don't have a railcard, whereas the car would have come to 15.36 euros (£13.26) each. Being green is good for the wallet, as well as the planet…
Is it better to support fairtrade producers, even where this generates a higher carbon footprint?
But debates kick off around the question of food. Maïté, a 27-year-old waitress and mother-of-two, lends her expertise. There's not only 'home-cooked' dishes made with local produce on the menu, but also quinoa and a range of different sugars to discover (rapadura sugar, whole unrefined sugar, agave syrup, molasses, sugar beet syrup and rice syrup). Gaspard, who is 28 and works in administration, observes that most of these are imported great distances, and that freight is a major source of greenhouse gas emissions. 'So, we shouldn't drink coffee - it comes from another continent!' jokes Ariane. 'Do you mean we should only buy French?' adds Maïté provocatively, knowing that a 'national preference' is more of a letimotif of the extreme right than of the green movement. It's perhaps an unfortunate association for organisations like the Amap network, a sustainability initiative aimed at encouraging consumers across France to reconnect with locally-produced goods. All of our guests seem to agree that it is better to support fairtrade producers, even where this generates a higher carbon footprint. Talk about being caught between a rock and hard place…
'Returning to land'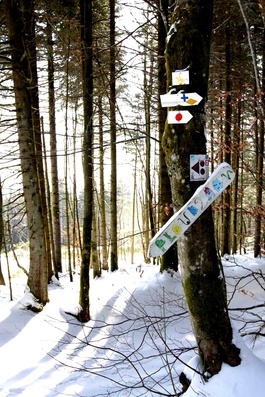 After the meal, Elise leads the group on a visit to the village, where our sustainable development students learn that the roof of the local church is covered in photovoltaic solar panels that could soon be producing up to 20, 000 KWh of electricity. A hike follows, and then a break at the community bar, a meeting place for villagers that is only open on Sundays. Grande Fosse saw a lot of idealists arrive after the riots of May 1968, wanting to live out the alternative lifestyle principles of the student revolution era. Indeed, the notion of 'returning to the land' seems to still be attracting the 'eco' classes here today. Once evening falls, the lifelong learning ethos' dictates that each guest should lead the group in an activity. The most popular is the salsa lesson given by Daniele, who – as an Italian senior executive for a big American multinational – shatters the hippy eco warrier cliché singlehanded.
It's a great atmosphere, yes, but has this mini-break helped to save the planet? Daniele isn't convinced. In her eyes, it's in China or India, where the highest-polluting industries are, that we need to concentrate efforts - not in Europe, much less among a handful of individuals. But our organiser Elise doesn't agree. During this holiday, all the guests have got back to basics and learned a different approach to living together, eating and travelling. And soon new participants will get to have the same experience - our young environmentalist is now more determined than ever to set up more carbon-neutral weekends in Grande Fosse. Next step: creating a La Grande Fosse group on Facebook. The invitations are en route!
Images: ©Max Disbeaux
Translated from Ecolo un brin bobo: le week-end sobre en carbone