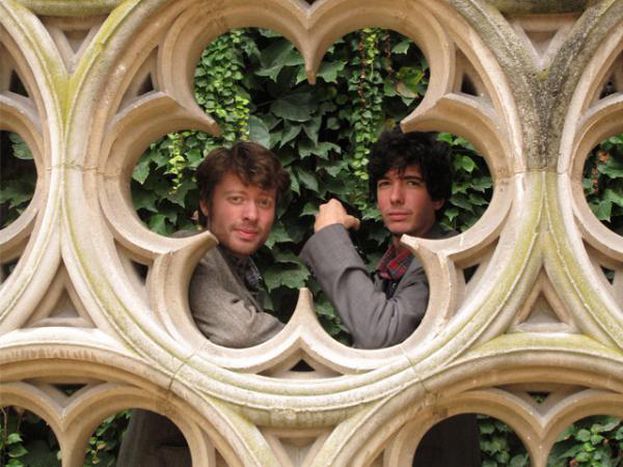 Eating French food with Parisian pop band Destin
Published on
Wednesday, 8.30 pm. I'm out for dinner at Pipos restaurant in the fifth arrondissement of the French capital with my good friends Marky and Louis Georget - or should I say, Destin. This new Parisian group are not only proponents of great European music, but also partial to some great French food
Pipos is specialised in good rich traditional cuisine: so it'll be a thick steak of Charolais beef for Louis Georget whilst the braver Marky opts for beef tongue and macaroni. All washed down with a single (OK, maybe two) first-rate bottle(s) of Gamay. Whilst we wait for the food to arrive, the two friends of Destin fame talk to me about their favourite dishes as they nibble on some bread spread with mustard. Louis declares a real passion for andouillette sausages. 'I often cook them at home, on the hob with sautéed potatoes.'
From Adelaide to Paris...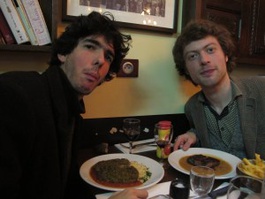 Louis has also invented his own 'Gé-Geort' salad, which consists of pasta, aubergines, tomatoes, mozzarella and grilled courgettes. Marky, on the other hand, doesn't often eat at home as his kitchen is too small. He admits to being 'poor and a bit stingy', preferring to go visit a close friend who can cook him a good leg of lamb or rib steak. He has been known however to pop into his fishmonger for a 'bonito', a small cheap fish (five euros a kilo) which he fillets himself and grills on the hob with onions, cream and herbs before eating it whilst still very hot.
The food arrives. The sight of Marky's tongue covered in a gloomy sauce evokes memories of a school dinner hell, which prompts the question of their own worst culinary memories: 'Without doubt 'some kind of minestrone made with leftover fish, star anise and ouzo,' says Marky, of a dish that his father used to make him. (His father is from Greece, which explains the ouzo - but is still no excuse.) For Louis it's the ketchup that his grandfather used to eke out with milk. (His grandfather didn't have ketchup as a child. But that's no excuse either).
What do Destin eat before a gig?
Marky eats junk food - 'the fattiest kebab I can find' - whilst Louis prefers to avoid 'heavy food' but only because he's 'susceptible' to it, according to Marky. Since the boys are known for their romantic love songs, I assume they must take girls out to dinner all the time, but apparently this is not the case. 'It's 'too complicated to flirt when you're eating,' says Louis. 'The only exception is at my place, where a Ge-geort salad works every time.' Marky hesitates before claiming to remember having already managed to take 'three girls back home' thanks to this very restaurant. 'Otherwise I'd also recommend homemade houmous – works a treat on a hungry girl at five in the morning…'
This article is taken from Zazie Tavitian's food blog 'Les durs à cuire'. Read the full version in French here
Image: main courtesy of © official Destin myspace page; in-text © Zazie Tavitian
Translated from J'ai mangé une langue de bœuf avec Destin