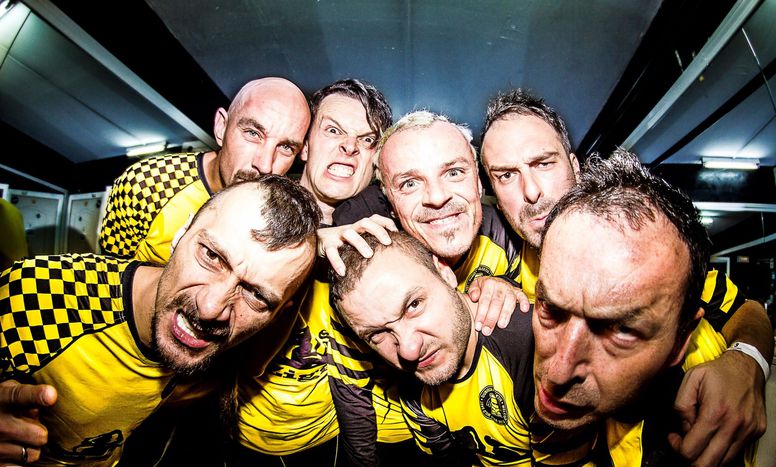 Dubioza Kolektiv: the Bosnian band without a genre
Published on
Dubioza Kolektiv set the stage Côté Cour on fire at Festival Esperanzah on Sunday. cafébabel Brussels interviewed the members of this Bosnian band, which describes its style as anything between "Nirvana and Rihanna".
How would you describe Dubioza Kolektiv for those who don't know you?
Dubiosa Kolektiv (DK): We never really tried to define our musical style or try to fit it into strict genre borders. The important things for us are the messages and ideas that we are trying to promote. We are then trying to find the best musical background for certain lyrics and that's why it all sounds so eclectic in the end. On top of that, we are trying to keep local, with a Balkan touch to our sound so you can hear loud and clear where we come from. In the end you get something that sounds somewhere in between Nirvana and Rihanna, and between Rock and Kozachok…
You want to address some problems of Bosnian society in your lyrics. What are the biggest challenges to solve?
DK: There are a lot of issues that our society has to solve in the future and this process is painfully slow because of the incapable politicians that are ruling the country. We have an administration that is as big as the one in Brussels running a country of barely 4 million people. 14 governments, 250 ministries, 3 presidents… It is a bureaucratic nightmare that is preventing any kind of reform.  
Do you think a closer link with the European Union would help to find solutions?
DK: We need to solve our problems internally. Local politicians are pointing to the EU as a magical solution to all of our problems and by doing that they are trying to transfer responsibility for our problems to someone else who should wave a magic wand and resolve everything. It is simply not going to happen.
If you see what happened in Greece recently, or how EU is dealing with influx of refugees from Africa and Middle East, you see that EU is not omnipotent and that the Brussels administration can be either very helpless or very wrong on some occasions.
How can music help to fight for a cause?
DK: We don't have illusions that music can change the world and that one band can start a revolution and solve all the problems in the world with few songs. But we believe that music can inspire people and makes them think about issues that would otherwise be ignored. We think that the role of artists is to try to influence society to embrace positive changes.
You came through the Bosnian war as you were young, has it had an influence on your group? 
DK: This war experience probably formed us as people. We were just kids when the war started and we learned all our lessons the hardest possible way. This is why the D.I.Y. approach comes so natural to us. That is the only way we know how to do things… We write, record and produce our music in our own studio, design our CD covers and websites and do most of the remaining band-related work ourselves and we think that this is the only right way. Musically - we've learned not to be afraid to experiment and play with different genres, in all possible and impossible combinations, and to try to break as many barriers as we can.
YouTube: Dubioza Kolektiv - "No Escape (from Balkan)"
Take a look at cafébabel Brussels' Festival section!