Drinking trademark Budweiser beer in Bohemia
Published on
Czech beer came to the world's attention again in April after a century-old dispute with the US over the naming rights to its Budweiser beer was settled in a Luxembourg court
In January 2008, Ceské Pivo ('Czech beer') drinkers might have noticed an application for an EU 'appellation of origin' status, which protects products associated with a geographic region. The Czechs had first appealed in May 2004, following in the footsteps of ten other EU-protected Czech beers. Over in Germany, Bavarian beer gained EU recognition in July 2001.
Castles and Staropramen beer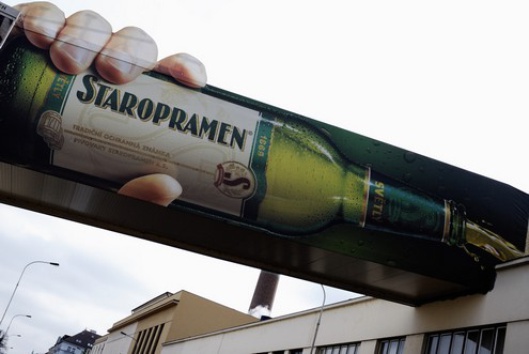 (Photo: ©Boris Svartzman)
'Castles and beer,' a young couple in their mid-twenties cite as their reason for being in Prague. They are taking a short tram ride from the city centre with a large group of mainly British and Scandinavian tourists to Staropramen brewery, whose more famous beers include their traditional lager Ležák and the darker, maltier tasting Granát. 'It is a beautiful city, and as it is cheaper than most western European cities we can afford to have a really nice time.' The scale of the operation and the volume produced in the brewery is quite astonishing; this one facility produces 300 kegs an hour and 500, 000 bottles a day- a daily output of 850 hectolitres! Although prices differ around the most popular tourist attractions, the average price of a pint of beer is around 35-45CZK (1.40 to 1.80 euros), which is well under half price of the average pint in the UK.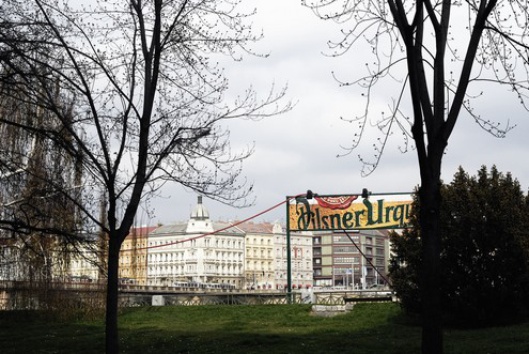 It is a well-known fact that the Czechs love their beer. They consume more per head - some 156.9 litres a year - than any other nation. The quality of now world famous brands such as Plzeský Prazdroj (Pilsner Urquell), Budweiser Budvar and Staropramen is attributed to the agricultural conditions found in the region, which are well suited to the cultivation of hops.
(Photo: ©Boris Svartzman)
The earliest Czech beer brewing dates back to 859, with the first exports back to 903. The majority of over fifty breweries in the Czech Republic export their product abroad. In 2005, Jan Vesely, the chairman of the Czech Brewing Association, estimated that demand for exports was increasing by 125% per year – meaning that over three million hectolitres of beer was sent overseas. The expansion of the European Union has meant that new markets have opened up for the product.
'Prague is the new Amsterdam'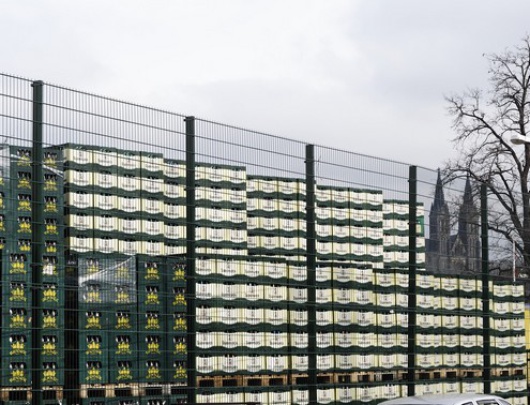 Prague's appeal as a destination for cheap drinks has been well known for over a decade, with companies like British-owned 'Prague Pissup Tours' making it a popular destination for crowds of stag parties who take advantage of budget flights for a long weekend of drinking. 'You sometimes see groups of them in the Old Town acting like drunken idiots,' say a couple of local barmen, 'but we still welcome them because they spend a lot of money.'
Exportmeister Czech beer (Photo: ©Boris Svartzman)
After the Germans, the Brits are the biggest national group to visit the Czech Republic, with an estimated half a million visiting every year. According to a 2007 report by the UK Foreign and Commonwealth Office (FCO), British visitors to the Czech Republic required a 'disproportionate' amount of consular assistance.
Have things actually improved since Prague has become a relatively more expensive drinking destination than Baltic States like Lithuania? 'It is still a very popular destination,' says a spokesman at the British Embassy. 'But it would be interesting to see a breakdown of these figures to see if the demographics of tourists are changing. Whether it is less popular now with stag nights for this reason or because they are simply better behaved, anecdotally there do seem to be less incidents now.' The FCO have been proactive in encouraging responsible behaviour from the influx of beer tourists; poster campaigns and beer mats placed in popular bars 'appear to having helped.'
Ever cheap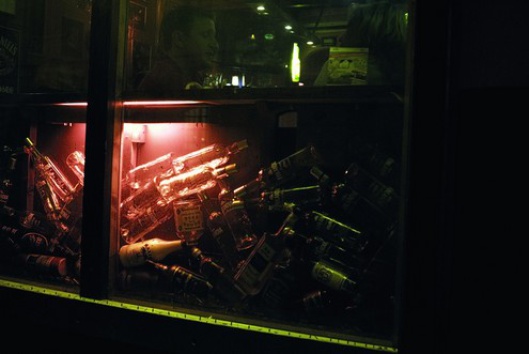 From early on Friday afternoon the bars in the central tourist area fill up with groups of, mainly male, revellers – many still with their luggage as they stop for a couple of quiet beers en route to their hotel. 'The beer is great,' says a member of a group of stags who have flown in for the weekend from Birmingham. This is their fourth visit to Prague and they are quick to sing its praises. 'It's a bit more pricey than when we first came five years ago, but it is still about half the price of the UK.' A pint of Premium Lager in the UK costs around four euros for example. 'The Czechs are really friendly and welcoming too,' adds another. 'There might be a few lads who get a bit rowdy, but I don't think it is anywhere near as bad as a British town centre on a Friday or Saturday night.'
A night out in Prague (Photo: ©Boris Svartzman)
It is about 4am in the Old Town, the evening's revelries are over, although many bars are still open and the atmosphere is relaxed. Groups of English, Americans and Germans totter across the Charles Bridge back to hotels or wait in taxi queues. On Sunday evening, the queues of tourists waiting for the bus to the airport look blearily eyed but content after an enjoyable weekend drinking in Bohemia.
(In-text photos: ©Boris Svartzman)
Thanks to Vítek Nejedlo