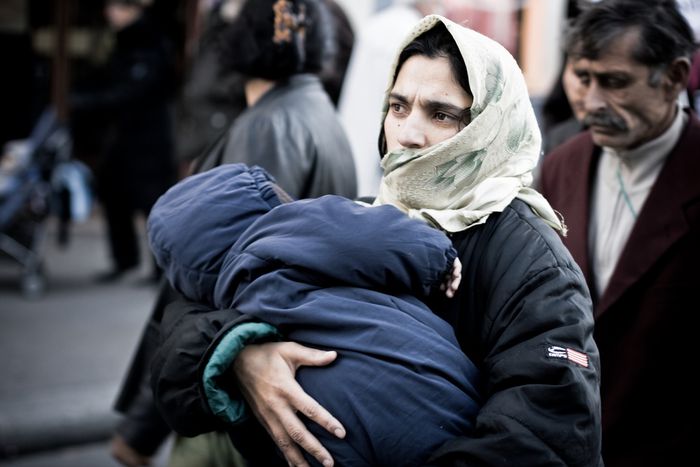 Double discrimination: roma women in central and eastern Europe
Published on
Translation by:
ZoeBBee
Romania has recently announced plans to evict roma from the northern town of Baia Mare, in a move which could leave hundreds homeless. The move emphasises the continued urgency of the theme 'roma women in central and eastern Europe', discussed during the European women's lobby's conference in Budapest on 7 April this year.
The lobby aims to bring the double discrimination that roma women endure to the attention of European decision-makers. Interview with Brigitte Triems, the lobby's president
Cafebabel.com: What sorts of prejudices do roma women in Europe have to face nowadays?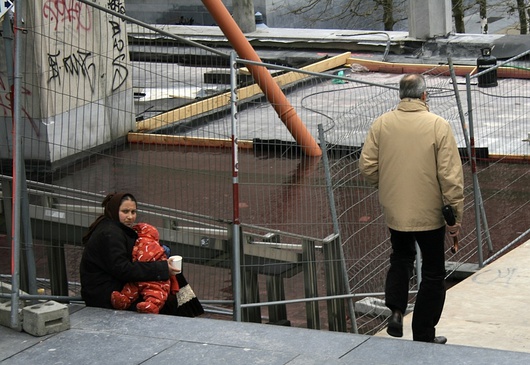 Brigitte Triems: Firstly, I think people criticize them because they are very attached to their traditions, they really treasure them. This prejudice comes from people who have never considered the problems that roma women face. If we take their traditions, we're talking, for example, about forced marriage at a very early age, which makes some people think that these women have no part to play in economic and social life.
Cafebabel.com: How does the European women's lobby plan to address this?
Brigitte Triems: We've been considering this very problem since our last meeting in October last year. We have one member of the lobby dedicated to working on it, and we're in the process of drafting a position statement on the condition of roma women in the European union. We're also building relationships with the different roma NGOs.
Cafebabel.com: In 2006, the European parliament issued a report on the plight of roma women. Since then, no further progress has been made. What needs to happen for things to change?
Brigitte Triems: That's a difficult question, because I don't think gender equality does play the same role that it used to. A number of directives and laws have been created to ensure equality between women and men, but there is still a disparity between the letter of the law and its application in practice, and of course that particularly affects women in disadvantaged situations. This is what we call multiple discrimination. I am counting on the support of the commission and the parliament because without pressure for change from them, things cannot move forward.
10 years to achieve change: the European commission has recently set out a European framework for roma integration to regularise the status of the 10 to 12 million roma living in Europe. The commission has invited all member states to devise a national strategy before the end of 2011 and is giving them a 10-year timeframe to put their respective strategies in place. The framework focuses on four key areas: education, employment, healthcare and housing. The proposal was discussed by the European council in June 2011, with Hungary leading the way, to ensure the agreement of a definitive European framework.
Cafebabel.com: One of the priorities of the Hungarian presidency of the EU (January – June 2011 - ed) was to integrate the roma into mainstream society. How can the issue of roma women be rolled into this strategy?
Brigitte Triems: I think that the best approach is to use the NGOs. These organisations must put pressure on European institutions. The European commission is adopting perfectly formulated strategies but hasn't specified any end dates or objectives. For real results to be achieved, we have to involve society at large. At the conference, we talked about ten areas which need to be addressed as a matter of priority, including improving conditions for roma women, but nothing specific has been agreed. What is needed is a financial plan that would guarantee these women's rights being put in place.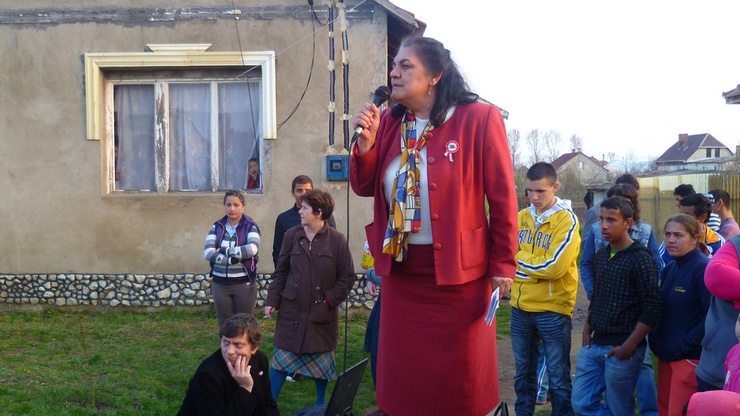 Cafebabel.com: Have you already devised similar action plans for individual countries, and specifically, for Hungary?
Brigitte Triems: Clearly it will fall to organisations and associations at national level to draw up these plans. We did provided the Hungarian presidency with a statement of our ten priority areas. I think that the fifth European platform for roma inclusion is a step in the right direction, but we cannot stop here.
Cafebabel.com: Where should work start? On the ground in the roma camps, or through more widespread inclusion of roma representatives in political life?
Brigitte Triems: I'm convinced that work has to start from the bottom up. We have to engage local organisations to improve education and training for women, and transform society in that way. I think that if efforts aren't firmly entrenched at grass-roots level, then there's really no point.
Cafebabel.com: You said earlier that the roma are very attached to their traditions. Do roma women really want this change, which could well seem radical?
Brigitte Triems: It is a sensitive question. They aren't unusual in treasuring their culture – I treasure my own, as a source of wealth that it's only right to draw on. If we're talking about women's rights, really it's about roma women being subject to oppression right at the heart of the structures within the society in which they live. I believe that generally around the world women are aware that they have rights, but we do still have to cultural differences. This isn't a contradiction: by respecting and engaging women, we create a very real asset that will benefit the whole of society.
Images: Main (cc) philippe leroyer/ Flickr ; Roma woman begging (cc) Infidelic/ Flickr ; Agnes Daroczi (cc) Leigh Phillips/ Flickr
Translated from Etre femme et Rom en Europe Centrale et de l'Est