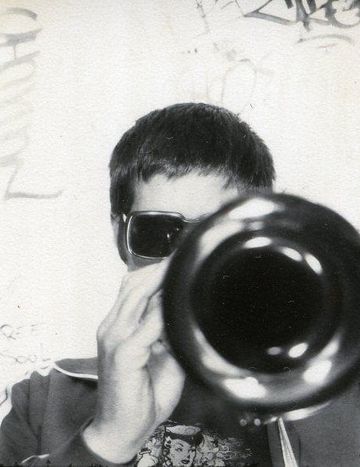 DJ Boris Viande: the Breton who mixes gypsy funk
Published on
Translation by:
Amanda Mulligan
'Boris Viande,' the 26 year-old muses. 'That's my pseudonym, how I am best known.' A trumpet player, like the writer Boris Vian, Romain has now been mixing for four years. The young Frenchman claims that before unearthing his passion for eastern music, he was part of the punk movement
'Only yesterday I was being advised to change my name. But this pseudonym allows me not to have airs and graces.' Wearing a green jacket with a German police crest, Romain orders an American coffee. His story begins in Berlin. It was during a placement in the German capital that he became a follower of the group Russendisko and returned to France with suitcases full of vinyl. For fun he would play his sounds during evenings with his mates. Very quickly, his public told him to seize his opportunity. He started out in the west of France before moving to Paris to study.
Musically, Romain describes himself as  'a little autistic'. The former civil engineering student who went on to do international studies at Paris' Science Po university worked mainly in his studio flat, which he left only to find new sounds. However, after packing in his job in December 2008 to devote himself entirely to music, he left Paris to cross Italy, Greece and Turkey by train and boat. It was a journey in search of musicians. 'I looked for contacts on myspace. It was the type of thing where you send out 100 emails and get three replies. But it was worth it.' He met Matrimia in Sicily, Nesheli Milis in Turkey and other groups who play traditional music. 'Travelling for the sake of visiting a country winds me up very quickly. These encounters enabled me to share the sounds.' A beer, a jam session and advice on remixing pieces of music… musicians understand each other very quickly. It was in Istanbul, a very 'European city' in Turkey, that Romain met supporters of the dub sound who knew all the French music festivals better than he did.
Balkan goldmine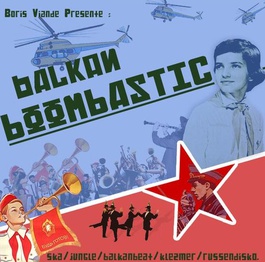 The trumpet player wandered through the streets, markets and ports with a dictaphone, recording the sounds and the musicians that he met in the street. 'Not necessarily to use as it is because the sound is poor. I analyse how they are composed and use them in my own work.' During those three months he discovered sounds that were unheard of in France. He discovered particularly new sounds in Turkey. 'It's a country that doesn't export its music very much and where self-produced music is not very developed.' Besides the tones that he had recorded, he left with some concert tracks, mostly from a festival in Holland.
That summer he went to the unmissable Guca festival in Serbia, the Balkan festival par excellence. Romain tells us that: 'Guca has been running for fifty years. It's a true goldmine because each musician arrives with cases full of CDs.' Without hesitating, he explains the buzz and lure of eastern music with the accession of ten countries into the EU in 2004. 'It is a lot easier to enter these countries when you don't need a visa. Now you have new Serbian, Romanian and Estonian mates.'
Lazy Berlin
Heading east, Romain passes regularly through Berlin. 'The city has a Russian culture that does not exist in France,' he explains. But it's unthinkable for the young DJ to go back there for good. 'There is a very lazy side to Berlin which I would allow myself to get dragged into. I prefer the no nonsense side of Paris which makes you shift your backside.' His favourite venues in Paris are the Bellevilloise and Alimentation Générale, but he is particularly fond of Tuesday evening at the Dame de Canton, a wooden boat on the banks of the Seine. 'Unlike other venues, you haven't won over the public in advance. Also since it's a weekday gig, people don't want to stay late. One song that they don't like is enough to make them leave. It's a real challenge.' So when midnight arrives, skirts are twirling and feet are jumping, Romain is elated.
Besides eastern electropunk, the Breton has created his own record label Vladprod. 'It's a job packed with paperwork but I like it."'He continues to play with Vladivostok, the first group he formed with his friends in Nantes. Together they tour Ukraine, Germany and perhaps soon the Netherlands. Old friends meeting new friends. Finally with 'four or five gigs a week', Romain is doing very well. The next leg of his journey will take place in a train from Paris to Toulouse. He is mixing tunes in the club car, making sure that his sounds from the east are heard even further west.
Translated by Amanda Mulligan
Translated from DJ Boris Viande: «Le Breton qui mixe du gypsy punk»