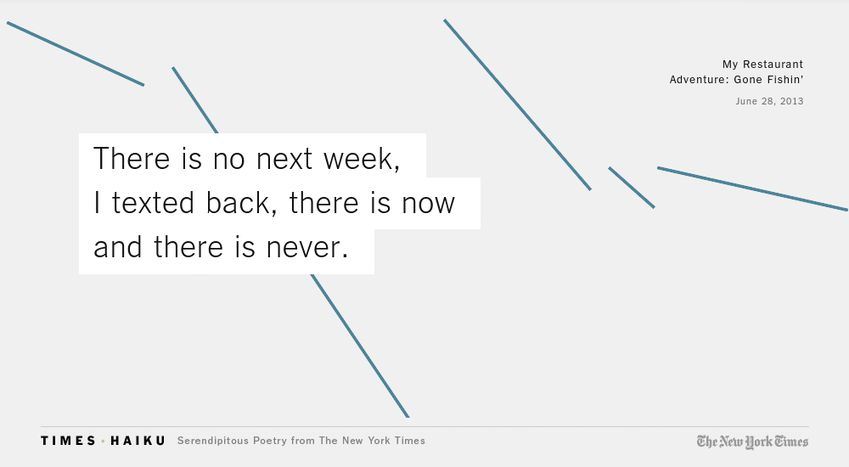 Digital birdsong and messaging Mars
Published on
Poetry and all things scientific are often portrayed as irrevocably opposed to one another. Recently though, we've been enjoying a few projects that have intertwined technology and tetrameters. Here are a few of our favourites
Message to mars
There may not be life on the red planet, but there will soon be poetry. NASA has announced a haiku competition: the three winning entries will be recorded on a DVD to be carried aboard a spacecraft that will study the Martian atmosphere. Whilst we're somewhat disappointed by the DVD aspect of this (calligraphy, anyone?), it's hard not to be swept away by the romance and whimsy of this one. The deadline is 1 July - here's our first attempt:
Nearest neighbour who
tantalises winter dreams.
Blood orange fallen.
New York Times haikus
The Times Haiku page made us want to find a computer whizz and hug him. (Or her - but we have a suspicion it would probably be a him...) The software architects at the New York Times have built an algorithm which periodically scans journal articles for potential haikus. As aesthetic sense is one thing that can't be programmed, when the machine stumbles across something beautiful, funny or both, human journalists select it and post it on the blog. Our favourite is: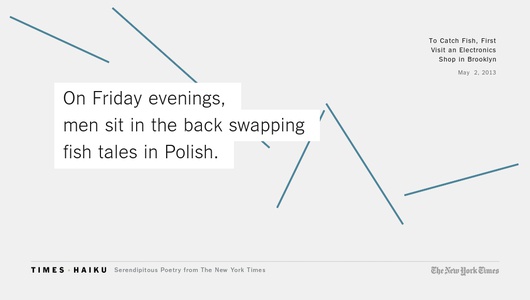 Birdsong in the digital heavens
Take a look at this video if you've ever wondered what a poem would sound like in binary code. Or even if, like us, you haven't. Of course, one could ask why, but we've got a certain amount of respect Mexican poet Yaxkin Melchy nonetheless.