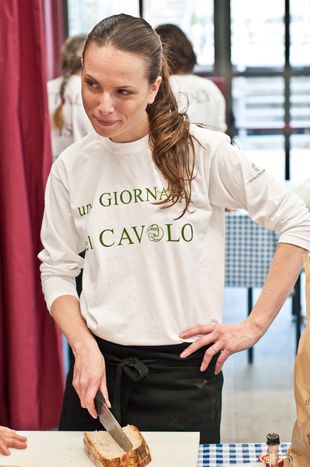 Devouring Sigrid Verbert, a Belgian food blogger in Italy
Published on
Translation by:
mary maistrello
It's not just scrumptious cuisine and pretty photos in a book. Its pages won't just dunk you into Italy, Belgium or Germany, but inside Europe good and proper. Just as gastronomic traditions mix and merge, 'il Cavoletto di Bruxelles' constructs tastier realities
I join the popular food blogger Sigrid Verbert at Eataly, the market in Turin which serves quality food to the masses. We're not really having a proper brunch at a little table on the terrace; we're quite stuffed already, having spent the last four hours in the majestic kitchens of the eno-gastronomic market, cooking cabbage-based recipes in honour of the imminent launch of Verbert's new book, Il Libro Del Cavalo ('The Cabbage Book'). Under a grey November sky which seems to trace all the stereotypes onto this Savoy city quite well, twenty other writers and bloggers invited to the big meeting gather around us and make themselves comfortable in the shadow of the cathedral. My interview with Sigrid becomes an informal multi-voiced chat.
Three passions, one profession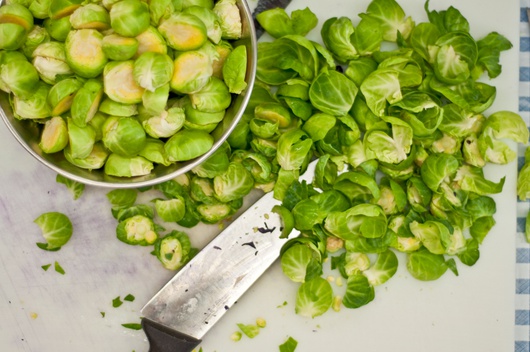 Otherwise known as 'Brussels Sprout' or Cavoletto di Bruxelles, Sigrid Verbert is becoming a household name for web surfers from Italy and elsewhere. With around 7 million visitors and 21, 000 pages viewed daily, hers is the most widely read blog on the Italian web. Is it because she talks about subjects that everyone likes? The main protagonists of her blog are good food, traditional and innovative recipes and photographs. 'But I am the running thread,' says Sigrid. 'Attached to each dish is a story, a memory or a part of me.'
Born in Belgium 32 years ago and having grown up somewhere between Oostende and Brussels, Sigrid has always nurtured two passions: writing and cooking. There is also a third, photography, but her father, a professional photographer, always tried to dissuade her from that. 'I studied languages because I liked to communicate. When I was 21 I went on an erasmus exchange programme in Sicily, where I fell in love with Italy.' It was a small step to falling in love with an Italian, as was the decision to leave Le Soir, the daily Belgian paper where Verbert landed her first job after her studies: she followed her man to Italy. 'In Rome, I quickly understood that I couldn't be a journalist; practicing the profession here is harder than back in my country, and to continue working for Le Soir was complicated.' And so Sigrid decided to fall back on her books, trying to marry her passions together in order to create work. 'I enrolled on an eno-gastronomic communication masters degree with the Gambero Rosso [Italian food and wine magazine - ed]. That's how writing, cooking and photography began to mix for me.'
'Different tastes blend and become special dishes, and so do Europeans'
The Cavoletto di Bruxelles has been delighting palates on the Italian web since 2006. But the past few weeks have given Verbert the real opportunity to wander around Italian kitchens. The occasion is the release of her first book, a collection of the author's recipes and images which are most significant to her personal life. In her travels across Italy to promote it, Verbert is visiting wine shops, vineyards, friendly food shops and staying with some of her blog readers. If inventing a job for herself was something new for her, then her first publication is also something of a novelty. 'The challenge was to make a quality book which paid attention to detail. I chose a small independent publisher and a smaller distributor, as the standard ones demand 60% of the cover price as payment with repeat commission.' 
The ten chapters of Verbert's book include the best of Belgian, French, Italian, Hungarian and Spanish cuisine; there are therefore around ten trips recounting Sigrid's background. 'It's almost funny if you think that I was born in a tiny country which many are trying to divide, though I don't understand why.' Flicking through a few pages, you can see how cultures are blended in the young Belgian. 'Isn't this the meaning of Europe? We are different amongst ourselves, like the tastes of the typical dishes that we eat. But combinations of tastes and gastronomic traditions become something special when combined. It's like us as Europeans - together we can build realities which are tastier.' And so Sigrid is carried away by her memories, telling us about her recent trips, and her very first, the erasmus exchange programme – 'which should be mandatory,' she adds - and which ultimately gave her the curiosity to experiment with new flavours.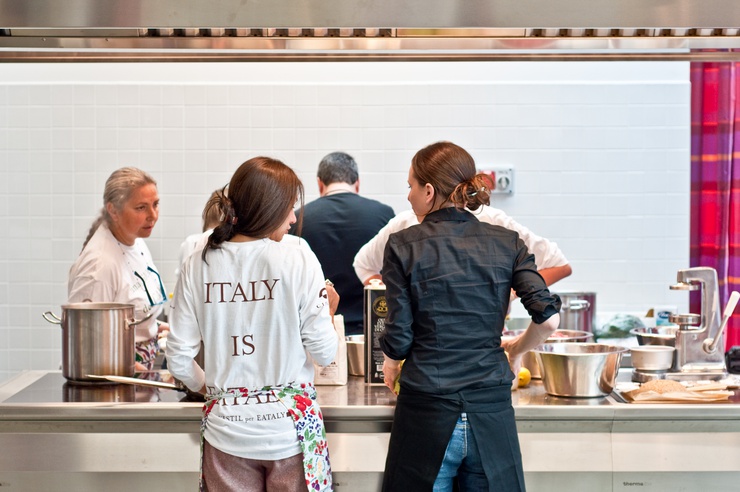 Adrià admirer
On the Eataly terrace, Sigrid repeatedly leafs through her Spanish recipes, all inspired by the talented Catalan Ferrán Adrià, the chef she admires most. 'He's a maestro who mixes different tastes and traditions, coming up with something unique that would have seemed unthinkable.' I suggest a game: supposing we had to invite to dinner people from the four corners of Europe – what menu would be to everyone's taste, what would make everyone happy? She looks pensively through the pages of Il Libro del Cavolo, and brightens up. 'It's not hard at all: to be on the safe side, you need to choose mediterranean flavours which you know everyone will like, with the right herbs and specially chosen ingredients which will recall tastes loved by each one.' For starters, Sigrid suggests swordfish meatballs with pistachios and almonds, and tomato and strawberry gazpacho. To follow, a nice pasta: linguine with asparagus and prawns marinated in orange, a quick dish inspired by Sicilian tradition, with the asparagus and prawns flash fried in olive oil with fresh orange juice while the pasta boils. The linguine is then tossed in the pan with the sauce, lots of parsley and some of the cooking water so that it becomes creamy. And to finish? Looking a little further afield to the far west, some little cakes made with Macha tea and raspberries.
*This article was first published on cafebabel.com on 29 January 2010
All images courtesy of ©sigridverbert.com/; video previewing the new book: cavolett/ Youtube
Translated from Sigrid Verbert: l'arte della cucina con foto