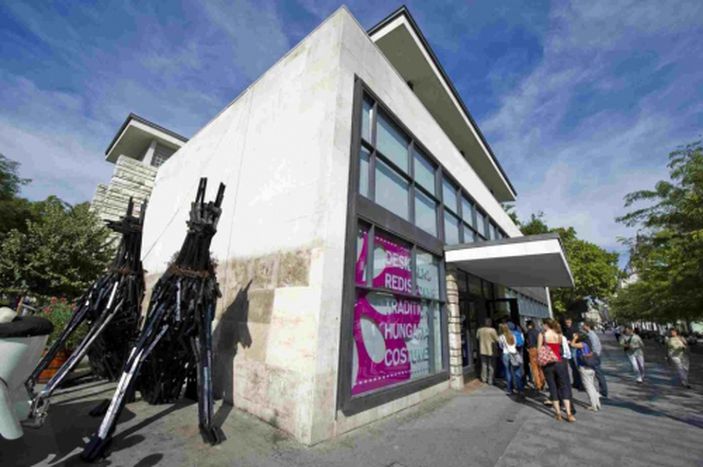 Design – supported by the government
Published on
Design, visual culture, design week, infographics, incubator activities – these were the most common words on August 15th at the Sziget Festival. On the stage of Campus Hungary – Streets of Universities two students from the Academy of Fine Arts and Zoltán Ács, the creative director of the Design Terminal talked about their experiences connected to the profession of design.
Two students and a creative director – they took part in the debate on August 15th at the Sziget Festival. The debate was organised at the Campus Hungary – Streets of Universities tent, which was the official meeting point of students with Campus Hungary Scholarship.
At the debate, Attila Ács and József Gergely Kiss, students from the Academy of Fine Arts, talked about their experiences of the Finnish Design Week. They spent a 10-days-long scholarship in Finland, where they met with the design culture of the North and they visited the Design Week. They created infographics about the country and they organized their own little exhibition of their works. They told at the Sziget festival that they really enjoyed their little journey, and they learned a lot about the design culture of the Scandinavian area and about the way those people work.
'There the research of the design is not a type of art, but a device, a product' – referred Attila Ács to the visual works of the Finnish design culture. Almost 500 visitors attended the opening ceremony of their exhibition about infographics, the artists said it was fantastic, those people were interested in their works, their art.
'The goal of Design Terminal is to help the artists and different businesses connected to the design to find their audience' – said Zoltán Ács at the debate, the creative director of the terminal. He compared the history of the Hungarian design culture with the culture of Finland and other countries like South-Korea, Italy and Netherland, and he told that they work with the design at a really different level, they use it every day at the production of traffic signs, or chairs, or simply at the cutleries. He added, that we also have the background to improve.
Ács also talked about the scope of activities of Design Terminal. The Terminal is supported by the government, and it works with the different parts of design and visual culture. The Terminal organises the Present Terminal at the end of the year, the Central European Fashion Days, with the 'Gombold újra' fashion show, the Budapest 3D Printing Days, but they also help the young designers to present themselves at international meetings.
Besides the different events the Terminal also provides council activities and it takes part in the different researches connected to the creative industries.